Confessions From Real Wedding Guests
Wedding guests tell the honest truth about their favorite and least favorite wedding moments. See what they have to say (and take note!).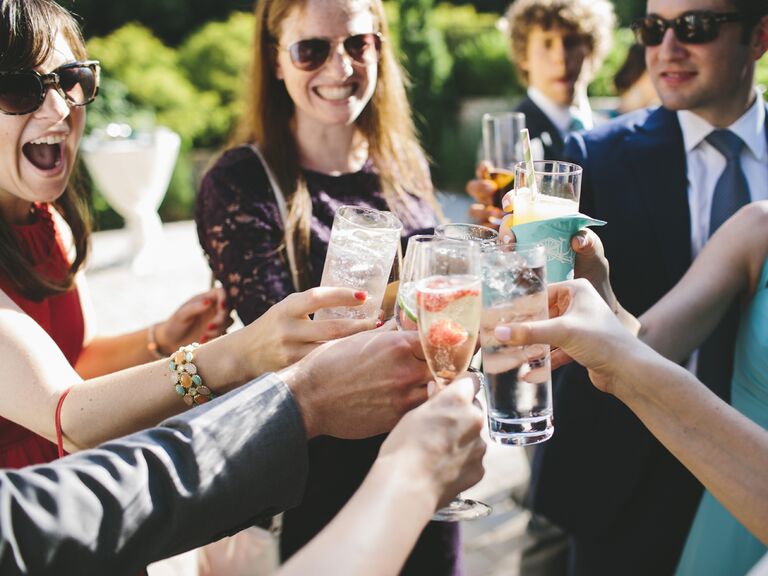 Eddie Winter/Readyluck
We know you can't please absolutely everyone, but these confessions from real wedding guests offer a pretty clear idea of what makes guests happy and what drives them crazy, time and again. It's ultimately your day, but do keep your guests in mind while planning. The main takeaways: Feed them well (and offer drinks!), consider the weather, don't keep them waiting and, most importantly, have fun. If you and your fiancé are in good spirits, the guests will catch the lovebug and enjoy themselves too.
The best thing I've experienced at a wedding was…
"A wedding reception on a yacht that that began its voyage at Chelsea Pier in NYC. The fireworks over the harbor were the highlight of the evening." —Amy
"An open bar and beach wedding, which I've only experienced once and it's so beautiful!" —Andrea
"A rooftop wedding with an open bar, of course."—Ashliy
"Donuts for the road!" —Two Rings and a Kiss Wedding Officiant
The worst thing I've experienced at a wedding was…

"The ceremony lasting almost two hours." —Tonya

"Long speeches with tons of inside jokes." —Lisa
"Bad food, servers taking my food away even when I told them that I wasn't done eating, a mediocre DJ and a rude photographer." —Becca
"Having to wait two hours to eat." —Mary
"Super-long montages. Yawn!" —Sarah
"The first was having it too crowded where we were like canned sardines. The second was an outdoor wedding in the middle of August in the blazing, humid afternoon heat of over 100 degrees with no shade." —Diana
"A very disruptive wedding coordinator." —Kristian Williams
"Waiting an hour for the wedding to start." —Jakeisha
"Waiting four hours for the wedding to start." —Lindsey
"A long commute between venues. I went to one where the drive was almost 40 minutes from the ceremony to the reception." —Stephanie