Tips to Booking Your Hotel Room as a Wedding Guest
There's a way to do it smartly so you don't end up spending more than you want to.
by Ivy Jacobson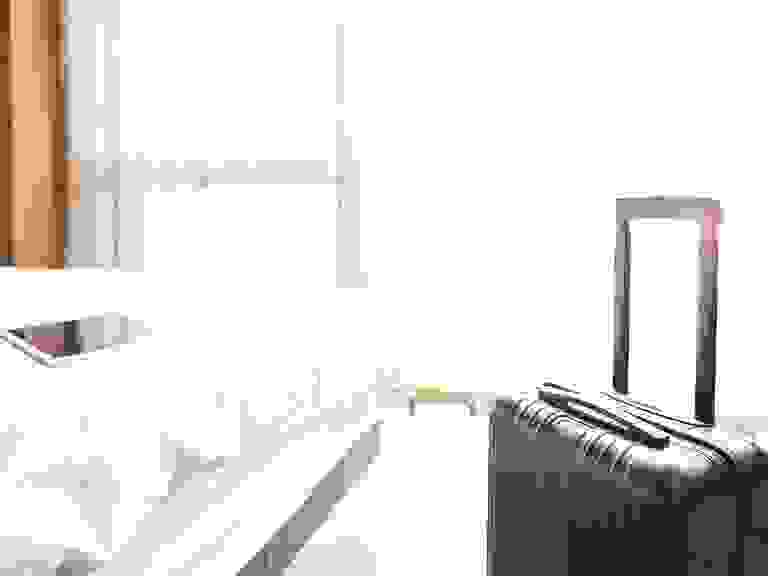 As a wedding guest, you're spending money on lots of things—usually transportation, attire and a gift—but navigating the hotel room booking can sometimes be confusing and costly if you don't figure out your plans early on. Here are our top tips to make sure you can get the most bang for your buck and have a great weekend celebrating with your friends or family.
Book your hotel room early.
As soon as you see the hotel block information provided on the couple's wedding website or in the wedding invitation, it's smart to book right then. In most cases, the couple will have chosen a few hotels to accomodate every budget, and the hotels will be located close to the wedding ceremony and reception areas—and hopefully near an area with restaurants and things to do too. They'll start filling up quickly, so you don't want your only option to be the most expensive room, or a room with twin beds when you'll be with your significant other. 
However, when the couple reserved the room blocks, the hotels either took a percentage off each room with a certain number of rooms booked, gave them a free room but didn't discount any guest rooms, or just allowed them to reserve the rooms in advance and didn't offer any discount at all. So if you do some research and see other hotels in the area with a better rate, it's fine to book there too. You just may miss out on pickups and drop-offs if the couple hired shuttles to transport guests staying at their choice hotels to and from the wedding (which also means you'll have to foot the bill on a late-night ride when the wedding's over, or may miss out on any impromptu hotel after-parties or brunches).
Look around for other lodging.
Like it's stated above, there's no rule that says you have to stay at the suggested hotels. If you know the area well and there's someplace else you'd rather stay (and know how to get around easily) or have family in the area you can stay with, feel free to make other lodging plans. You can also opt for a rental home with friends if your group would rather pool money—get a huge house for the weekend that accommodates everyone and make a vacation out of it. (You can also split a hotel room with other friends if you're all single too.) 
See if you can get an additional discount.
Some hotel blocks won't let you use any credit card points or discounts from travel websites or AAA alongside a room block discount—but others do, so it's worth a try. If you go this route, we recommend calling the front desk directly instead of using a toll-free reservations number to save yourself any miscommunication issues. Customer service reps may never have been to the hotel you're calling about, and may not have the best insight into room block booking policies.
See nine ways to save money as a wedding guest here.
Find 10 ways to be the best wedding guest ever here.