33 Unique Music-Themed Wedding Ideas That'll Hit The Right Note
Creative musical details every music-loving couple will love.
There are numerous ways to infuse your passion for music into your wedding beyond choosing the perfect wedding playlist. Incorporate music-themed wedding ideas into any detail to personalize your special day. Remember, music sets the mood of your wedding and tells your guests who you and your partner are. Whether you're into classical music, '80s rock, R&B or something in between, take a look at these creative ways to join your wedding decor and love of music together in perfect harmony.
In this article:
Music-Themed Wedding Details
If you want to incorporate your love of music into your special day, you're in luck because there are numerous ways to do so. Check out these 10 creative ways to-be-weds put music-themed wedding ideas into their ceremony (and preceremony) details.
1. Musical Note Black Pumps
A subtle way to include your love of music in your wedding is by putting it on the bottom of your shoes. This bride wore these unique musical note black pumps during her wedding ceremony.
2. Colorful Music-Theme Wedding Invitation
If you want to involve your guests in your music-themed wedding, put an insert in your wedding invitation suite asking for song requests, as this couple did. The music cassette-inspired insert complements the personalized bubblegum pink music cassette wedding favor.
3. Personalized Napkins With Rap Lyrics
Adding song lyrics to your wedding decorations is an easy way to continue your music wedding theme. This couple put lyrics from the song "Juicy," by The Notorious B.I.G, and their wedding hashtag on their turquoise cocktail napkins.
4. Sheet Music Flower Bouquet
If you're having trouble deciding which wedding flowers to choose for your bouquet, hire someone to make a sheet music bouquet for you instead. For extra personalization, find the sheet music for a song you love or a song special to you and your partner.
5. Elvis Impersonator Ceremony Officiant
At this quirky wedding, the bride and groom hired an Elvis impersonator as their wedding ceremony officiant. This a fun way for you and your partner to start your new journey together and entertain the guests.
6. Hand-Painted Taylor Swift Ceremony Sign
A bride added throughout the wedding various surprises to make the groom feel special. To honor the groom's love of Taylor Swift, the bride commissioned a hand-painted sign with the lyrics to the song "Love Story."
7. Vibrant Tambourine Bouquet
Instead of having the traditional bridal bouquet, this bride opted for a bright pink tambourine with peach-colored roses attached. This music-themed wedding idea allows you to have flowers and go into a spontaneous tambourine solo.
8. Rose Petals In Sheet Music Cones
At this Phantom of the Opera-inspired wedding, the couple used sheet music from the broadway musical as vessels for the rose petal send-off. We suggest using the sheet music of your recessional song for your ceremony exit.
9. Music Record Guestbooks
There are some ingenious ways you can use music records at your music-themed wedding, and this is one of them. Select your favorite records and ask your guests to write their well wishes on them so you can display them in your home.
Find your kind of venue
From barns to ballrooms, discover reception venues that feel like you.
10. Hawaiian Ukulele Guestbook
To match their Hawaiian-themed wedding, the happy couple used a ukulele as a guestbook. The couple wanted the beautiful signed instrument to be a unique wedding keepsake in their home.
Music-Themed Reception Decorations
We know just the right way to satisfy any music lover on their wedding day. Try jazzing up your wedding reception with these music-themed decoration ideas.
11. Music Record Seating Chart
For this couple's seating chart, they used old records and gold spray-painted records as the backdrop. They even used a guitar case as a container for their wedding cards and gifts.
12. Concert Ticket-Inspired Escort Cards
This couple made escort cards that looked like concert tickets. This music-themed wedding idea was to commemorate the time when the couple first met at a concert.
13. Trumpet Reception Decoration
Use instruments as reception decor for your music-themed wedding. This vintage trumpet is a perfect addition to this romantic wedding.
14. Music Record Sweetheart Table Decorations
These green and pink "Mr. and Mrs." music records are a simple but cute way to incorporate a music theme. Plus, we love the boombox as a unique and retro musical detail.
Music-Themed Table Decorations
Your wedding table decorations don't have to be conventional. Get inspired by these fun music-themed table numbers and names.
15. Song Table Names
Instead of table numbers, use song names for your reception. This allows you and your partner to personalize your wedding since you can choose songs you love and that are unique to your relationship.
16. Music Record Table Numbers
This couple combined their love of music and all things vintage by using music records as table numbers. They repurposed 45 RPM vinyl records for this music-themed table decoration.
17. Playbill Musical Table Names
Show your love for show tunes by having your table names be your favorite broadway musicals. A few musicals this couple included were Show Boat, H.M.S. Pinafore and The Pirates of Penzance.
18. Song Lyric Table Numbers
When the groom, a Merchant Mariner, went abroad for work, he would send the bride lyrics to a different love song each day he was gone. The table names at their wedding reflected this with the same songs and lyrics.
19. Sheet Music Centerpiece
For this whimsical wedding, the happy couple had sheet music rolled up and tied with lace ribbons as their centerpieces. The sheet music was paired with vintage books, antique candelabras and moss.
Music-Themed Entertainment
Music is one of the most important things at a wedding because it helps determine the mood. Consider using these four music ideas below to ensure your special day stays on beat.
20. Live Music Performance
We love having a live band or DJ at weddings, but why not think outside the box? Hire a singer with professional dancers to be your reception entertainment. This couple booked Betty Who for their wedding concert.
21. Beyoncé-Inspired Dance Performance
Honor Queen Bey at your wedding by learning one of her choreographed dances and performing at your wedding with your VIPs. We think matching outfits will definitely add to the theatrics.
22. Wedding Music Parade
A wedding music parade, also known as a second line, is a fun way to include a live band on your special day. We suggest you use this New Orleans-based tradition to move your guests from your ceremony to your reception venue.
23. First Song Performance
Don't want to do a first dance at your wedding? Then consider doing this first dance alternative. This bride and groom were both singers and musicians, so they did a first song, "You and I," by Ingrid Michaelson, together. This was the first song they learned to play together when they started dating.
24. Vintage-Style Phonograph
At this intimate wedding, the bride and groom connected a vintage-style phonography to their phones, which allowed them to have a classic vibe without bringing numerous vinyl records. They played "Great Gatsby"-inspired music all night.
Music-Themed Wedding Cake
Your music-themed wedding doesn't have to stop once the music performance is over. Get your wedding cake in tune by getting inspiration these five creative music wedding cakes.
25. Black and White Music-Themed Wedding Cake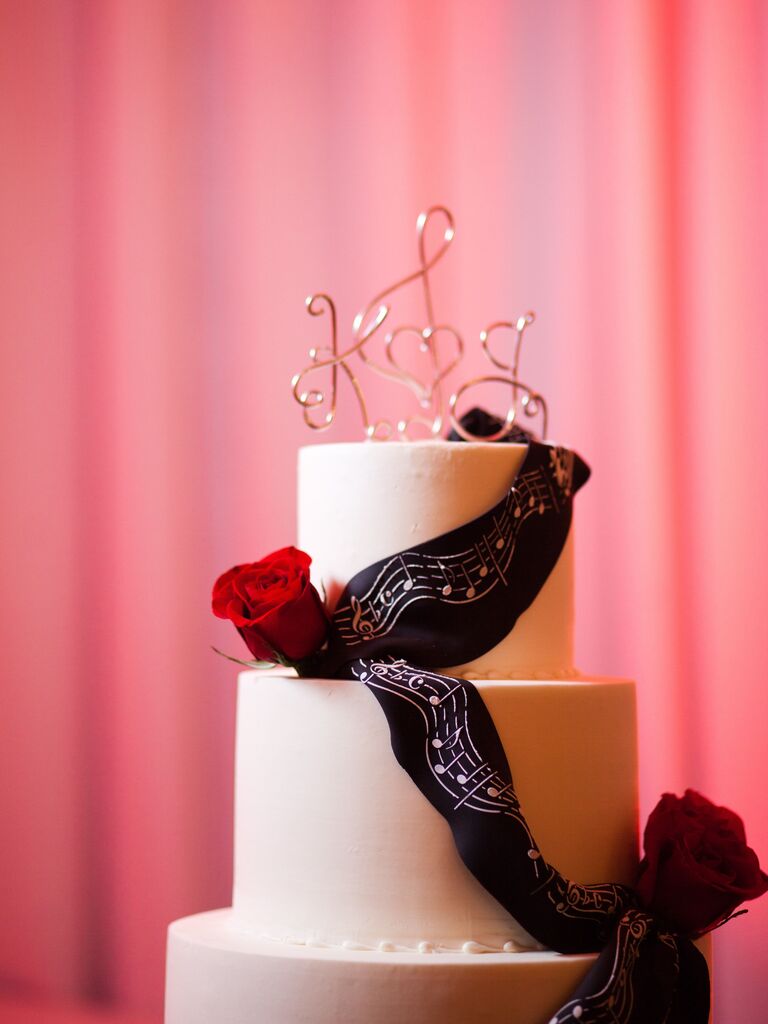 At this modern and music-inspired wedding, the couple had a wedding cake with a treble clef cake topper with their initials. Ribbon-like black fondant with music notes printed on it cascades down the side of the three-tier cake.
26. Guitar Groom's Cake
The bride surprised the groom with a replica of his dad's cherished Jumbo Taylor acoustic guitar. Consider showing your partner some extra appreciation by giving them their own music-themed wedding cake.
27. Elton John Music-Themed Wedding Cake
Want to add lyrics from your favorite song somewhere in your wedding? Then steal this couple's idea. The couple had their wedding cake baker decorate the cake with lyrics from their first dance song, "Your Song," by Elton John.
28. Harpsichord Dessert Display
A harpsichord is a keyboard instrument similar to a piano, but the strings are plucked instead of struck. This instrument emits a beautiful sound when played and brings a touch of elegance to a room, like at this modern and classic wedding.
29. White Vintage Piano Dessert Table
If you're all about doing DIY projects for your wedding, consider going to yard sales and thrift stores to find used instruments for decoration. This couple took a broken vintage piano and used the base as a dessert table at their reception.
Music-Themed Wedding Favors
Send your guests off with memorable music-themed wedding favors they'll love. Look at these four music party favors to help you decide on yours.
30. Koozie Music-Themed Wedding Favors
Give your guests wedding favors they'll actually use by handing out koozies. On these white and gold favors, the koozies had the couple's initials on one side and the lyrics to the song "L.A. County," by Lyle Lovett, on the other.
31. Tambourine Music-Themed Wedding Favor
Make your guests feel special by giving them personalized wedding favors at the end of the night. This music-obsessed couple gifted their guests tambourines with their names in calligraphy.
32. 8-Track Tape Music-Themed Wedding Favor
The bride and groom provided the guests with a feeling of nostalgia by offering 8-track tapes as wedding favors. Each tape was one of the couple's favorite music artists.
33. CD Music-Themed Wedding Favors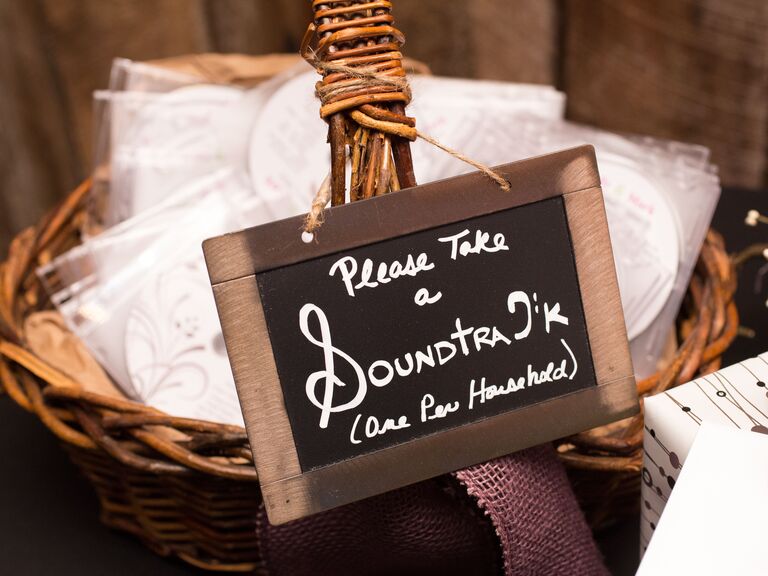 As you're making your ultimate wedding soundtrack, consider putting the songs on a CD or music streaming playlist for your guests. Now your guests don't need to Shazam all of your amazing wedding songs.