3 Wedding Invitation Must-Haves From Ceci New York
by Jamie Miles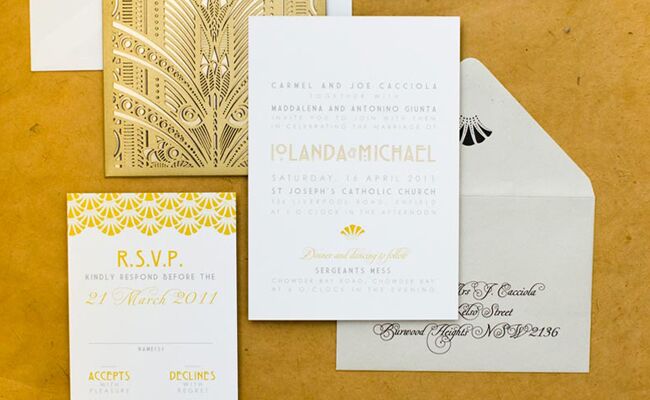 While we know that gold foiled envelopes and extra heavyweight letterpressed invites are amazing, they're not always in budget. So at the end of the day, what do you REALLY need to make sure to think about and include when it comes to ordering your invites? We sat down with luxury wedding invitation designer Ceci Johnson of Ceci New York (one of our Wed 100 experts and designer of The Knot Gala invites) to get her take. See below!
Invite Must-Have: Calligraphy (Even If It's Printed)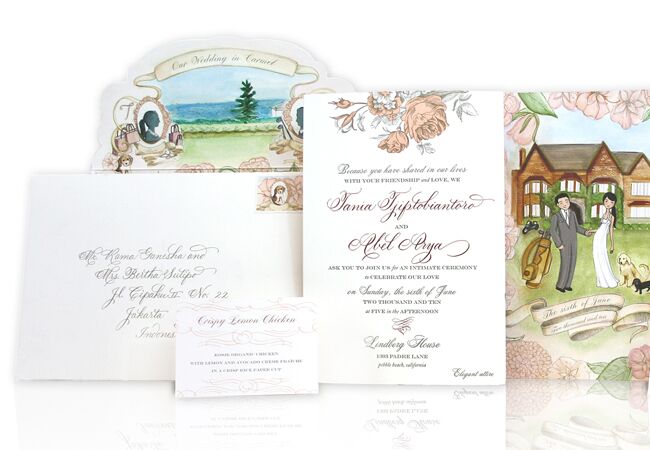 If you can swing it, hand calligraphy makes a big impact on the envelope. Think about it: The invites are truly your guests first impression of what's to come. If calligraphy costs are out of budget, do digital calligraphy. And whatever you do, no sticker labels or anything else that makes the invite feel like a mass mailing!
Invite Must-Have: Something Personalized (Besides Your Names!)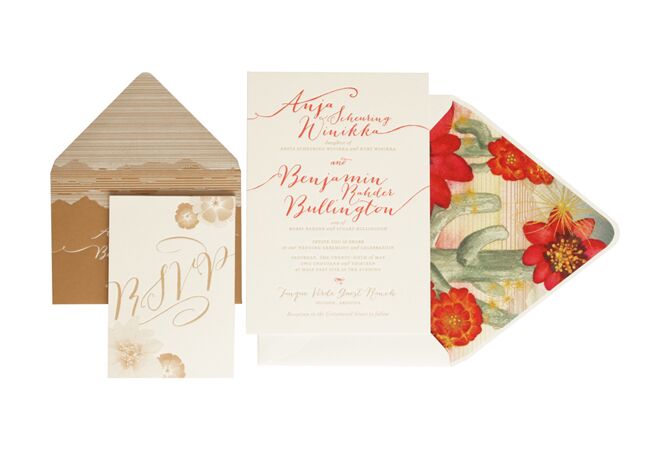 Make at least one part of the invitation completely your own, Ceci says. Even if you're not going all-out custom per se, you can still add your own touch. Use
Zazzle.com
to create a coordinating stamp with your logo or monograms, for example. In this case, the envelope liner was a custom watercolor painting that Ceci created to reflect the colors and theme of a desert ranch wedding. (The bride from that wedding? Our site director, Anja!).
Invite Must-Have: Thoughtful Packaging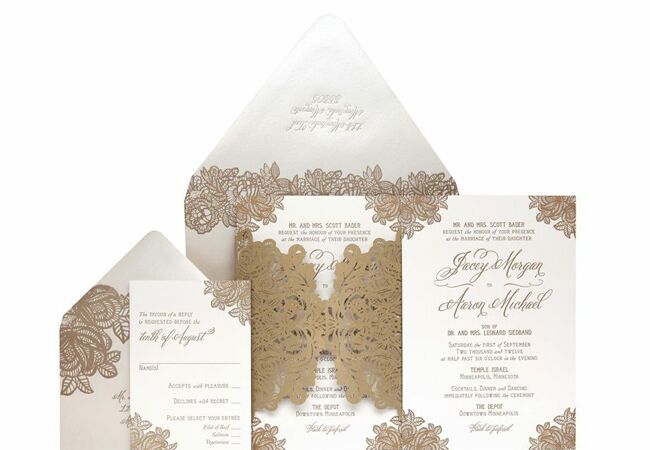 There's nothing worse than opening an invitation and having all the pieces fall on the floor, Ceci says. So think about how to creatively package all of your invitation pieces together. Use a pocket, a sleeve or a bellyband. You could even DIY it with a piece of twine finished off with a sprig of lavender. Anything to make sure that all the pieces stay together!
Want More? Of Course You Do!
> 3 hot trends in wedding invites!
> Get inspired by 100s of real wedding invites
> All you need to know about invitation etiquette