These Are the Bridal Beauty Products You Should Splurge and Save On
Should you splurge or save on lipstick, eyeliner and more for your wedding day? Brittany Lo of Beautini gives us the scoop.
by Brittany Lo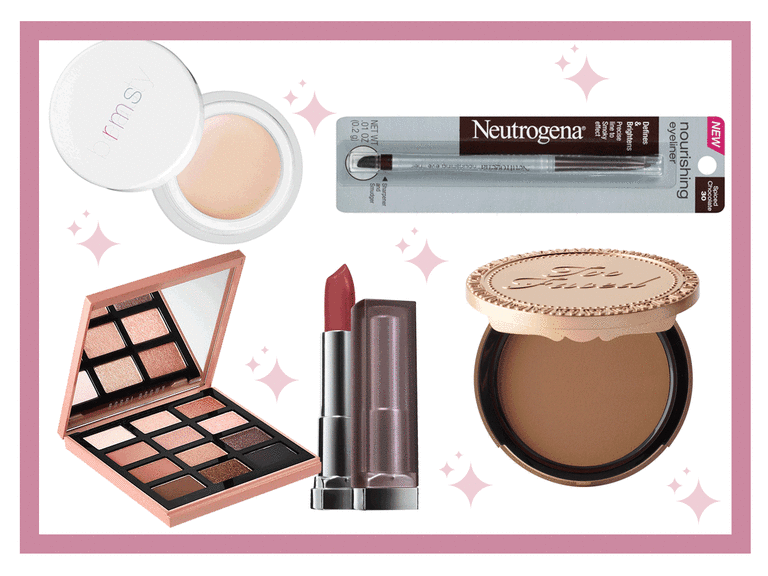 When it comes to your wedding day, there's no question that you want to look your absolute best. However, that can often come at a hefty price. A wedding day is a big investment and everything can add up very easily, so below, I've listed different makeup products and whether you should splurge or can save in each of the categories. 
Lipstick: Save
There are so many different lipstick options in the market that I advise brides to start their search at a pharmacy. My favorite brand for lips is Maybelline as they have a large selection of bridal shades and just released a new lip stain line that also has many neutral shades. One of my favorite shades to use on brides is the Color Sensational Creamy Lipstick in "Daringly Nude." Make sure to buy this color before your wedding so you can keep it for touch-ups throughout the day.

Maybelline Color Sensational Creamy Matte Lipstick in Daringly Nude, $8, Maybelline.com
Foundation: Splurge
My rule of thumb is that the first few products I put onto my skin should be of high quality because these easily seep into our pores and bloodstream. That said, I recommend splurging on a quality foundation and concealer if nothing else. One foundation that I recommend is from RMS Beauty.

RMS Beauty Un Cover-Up Concealer/Foundation, $36, Sephora.com
Face Powders (Blush, Bronzer, Highlighter): Splurge 
Face powders also lay on your skin and tend to give people the most skin reactions, so I would also urge brides to invest in quality blush, bronzer and highlighter. This doesn't mean there aren't any good products to use from a drugstore, but I caution you to put anything on your face that could lead you to spending more money to treat clogged pores and blemishes as a result of wearing low-quality products. My favorite bronzer is Too Faced Chocolate Soleil Matte Bronzer as it's easily buildable. I find that NARS blushes wear the best throughout the day, and my personal favorite highlighters are by Becca Cosmetics and Too Faced. The exact shades to use is based on your skin complexion, so I'd recommend asking a representative at the store to help you find the best shades to make your face glow.
Too Faced Chocolate Soleil Matte Bronzer, $30, TooFaced.com
Eyeliner: Save
Eyeliner is a simple formulation relative to other cosmetics and doesn't need to be extremely pricey to wear well. In addition, since most brides stay simple and opt for either black or brown eyeliner, it makes perfect sense to find this product at the drugstore. For liquid eyeliner, you want to test it out before wearing it on your wedding day to ensure it has strong staying power and won't melt off while you're dancing. A liquid eyeliner I like is L'Oreal's Voluminous Liner Noir Liquid Eyeliner, and a pencil that applies well is Neutrogena's Nourishing Eyeliner.

L'Oréal Voluminous Liner Noir Liquid Eyeliner, $10, Ulta.com
Neutrogena Nourishing Eyeliner, $7, Target.com
Eyeshadow: Splurge
There are several factors that determine the best shades of eyeshadow to use on your eyes, including skin tone, outfit and personal preference. While there are some great shadows for reasonable prices, the reason why I voted this as a splurge is for the quality and variety of colors you can find from a department store. The Urban Decay Naked Palettes remain one of my all-time favorites, along with the Kat Von D Saint & Sinner Eyeshadow Palette and Bobbi Brown Nude Drama Eyeshadow Palette. These all have an array of both matte and shimmer shadows for you to try.
Kat Von D Saint & Sinner Eyeshadow Palette, $62, Sephora.com
Bobbi Brown Nude Drama Eyeshadow Palette, $59, Sephora.com
Mascara: Save
Mascara is another product that doesn't need to be from a fancy brand to work well. I've spent a lot of time comparing department store mascaras to drugstore mascaras and there are some cheap options that work better than some of the mascaras that are going for over $25. My favorite drugstore mascara for volume is Maybelline Volum' Express The Colossal Big Shot Washable Mascara and my top pick for length is Maybelline Great Lash Washable Mascara since you can easily build with this formula without it clumping. No matter what mascara you choose to use, make sure it's waterproof for your wedding day.
Maybelline Volum' Express The Colossal Big Shot Washable Mascara, $8, Maybelline.com

Maybelline Great Lash Washable Mascara, $6, Maybelline.com

But above all, the most important thing to remember when it comes to creating your bridal look is that you feel comfortable with it. If there's a favorite lipstick that you wear every day, then I strongly encourage you to use it on your wedding day too. You want to be able to identify with yourself and feel like the best version of you, so while experimenting with new products is great, you should ultimately do what'll make you feel the best.
Brittany Lo is the founder and CEO of the New York City–based beauty services company Beautini and an ultimate beauty junkie. She's been obsessed with makeup her entire life and knew she'd end up dedicating her professional life to making women feel beautiful for the most important day of their lives.