11 Wedding Nail Ideas Practically Made For Instagram
Ready for your nailfie?
We have included third party products to help you navigate and enjoy life's biggest moments. Purchases made through links on this page may earn us a commission.
From holding your flowers in photos to showing off your new wedding bands, your hands are going to be on display all day. As a result, you'll want your manicure to be top-notch. To help you decide on your day-of look, we rounded up 11 wedding nail ideas perfect for your special day.
Whileyour wedding day outfit will be front and center, your wedding manicure is a smaller detail—which means you can take some risks with it. Go bold with a bright hue or experiment with an intricate nail design. Whatever you decide on, make sure you bring reference pictures to the salon so your nail technician understands your vision. And if you've chosen to DIY your nails for pre-wedding events? Invest in a few essential tools (like manicure kits from sundays or Olive & June) as well as a few fine-tip art brushes. That way, you'll have everything you need to pull off an insta-worthy at-home manicure. Ready to get inspired? Read on to see our favorite wedding nail ideas.
How soon before your wedding should you get your nails done?
The timing of your wedding manicure depends on your schedule leading up to the big day. If you're planning on having a relatively chill couple of days before your wedding, feel free to go earlier. "It is best to get your nails done two to three days before your wedding so they're fresh but also so you have time to schedule other appointments that you may need closer to the big day," says Lexi Suga, nail artist and owner of Notox Nails in Beverly Hills, California.
However, if you've got a packed schedule full of last-minute errands (or you're simply prone to accidental chipping), you might want to schedule the appointment closer to the actual date. "I would recommend 24 hours before," says Kendra Woolridge, owner and CEO of Janet & Jo. in Washington, D.C. "Sometimes people's nails get scratched or you have to do repairs if you get them done too far out."
If you're extra nervous about any nail-related mishaps, you can always get them done the morning of your wedding. However, make sure you have enough time for that and be sure to account for ample drying time so you can put on your wedding outfit and take care of any last-minute touch-ups.
What kind of nails should I get for my wedding?
When it comes to your wedding nails, there are so many options: gel nails, acrylic nails, dip nails, natural nails. How do you choose? If you're unsure about what wedding manicure is best, we're here to help. Experts agree: The best thing you can do is go with what makes you feel confident and comfortable.
However if you're truly undecided Suga recommend going with some more durable than your natural nails. "I definitely recommend at least a gel manicure for your wedding day so that you can ensure that there will be no change of chipping or any issue on your wedding day." she says. "Polish has a higher chance of getting chipped or smudged after a few days, unless you want to get a manicure the morning of your wedding or the night before." She adds that acrylics or Gel X extensions (which are soft, malleable extensions you can add to the tip of your nail for extra length) are great options too.
Whatever you decide, Woolridge recommends adhering to one golden rule: Never go past your regular length. " If you're not used to operating at a certain nail length, then it gets very difficult to do things," she says. "You don't need another distraction on your wedding day." If you want extra length on your wedding day, get it before the actual day so you're used to the feeling.
How to Choose a Wedding Manicure
So you've chosen the type of nail you want to rock at your nuptials, but you're still unsure about what kind of manicure to get. Here's the good news: There are several different ways to narrow down your options. First consider your own personal style, says Suga. "When my clients are getting married we look at the wedding dress or outfit they're wearing, their personal style, as well as the vibe they want to go with." Your wedding day look (outfit, shoes, hair and makeup) can help inform your wedding manicure. For example, a loose slip dress may call for a modern, minimalist design (think: ombre French manicure) while a lacy, boho gown will lend itself to flower-inspired nail art.
Another way to narrow down your wedding nail idea options? Consider your color scheme and floral arrangements when choosing your nail colors, says Woolridge. " I would want a nail look that doesn't clash with your floral arrangements or bouquet," she says. "If you have soft tones throughout your wedding, I'm not going to suggest going all out with a bold color because it's going to clash."
Our Favorite Wedding Nail Ideas
Ready for your nailfie? We rounded up 11 wedding nail ideas to help spark inspiration.
White Ombre
"My favorite wedding nails are a white ombre [manicure]," Suga says. "I've been doing it for 10 years, and it's never failed—my [clients] are always over the moon with this set and usually continue to get it even after they've been married!" To achieve the look, Suga uses a high-pigment white gel and applies it to the tip of the nail. Then, she uses a light dabbing technique with a sponge to blend it down in order to create a faded look.
Gold Tip French Manicure
We love this wedding nail idea because it's expert-approved. "I'm completely obsessed with gold tip french manicures," Woolridge says. To get the look, use gold chrome powder, gold foil or golden glitter nail tips. "It's not too much, it's just enough. I think it's one wedding nail idea that won't go away because it's amazing."
Sparkly Pink Ombre
If you're looking for glam wedding nail ideas, consider adding some sparkle to your ombre nails. "I love a light, sheer pink base with a rose gold or silver glitter ombre detail for a more fun but beautiful wedding look," Suga says. Start with pastel pink nails, and then add the bling with rhinestones or gold glitter (either to the tip of your nail or at the base starting at the cuticle).
Minimalist Nail Art
Yes, you can still rock nail art on your wedding day. The key to ensuring it doesn't overpower the rest of your wedding day look is to keep the colors neutral. "You can have a nude base (like a soft pink), and then you can do some line work with whites, deeper pinks, gold or silver," Woolridge says. "Minimalist nails are great because you still get to be funky with the design, without it feeling too overwhelming."
White Marble
Want to do something a little different? This wedding nail idea is for you. "White marble is modern, trendy and unique while still being elegant for a cool wedding day set," Suga says. "I don't typically recommend nails too far outside of my clients usual nails because I don't want them to regret going too wild for their wedding day." Hence why this chic wedding nail art is so perfect—it's the perfect mix of bold and beautiful.
Lace Nail Art
Another one of Woolridge's favorite wedding nail ideas? Lace nail art. "It's elegant and it doesn't clash with anything," she says. You can paint the design on all of your nails or simply place it on two accent nails. Whatever you decide, Woolridge recommends getting this wedding nail design hand-drawn. If you prefer to DIY your day-of manicure, you'll need the proper tools. "You would need a thin nail art brush to create the look," Woolridge says.

If you've chosen to work with a professional for your wedding manicure, bring reference pictures with you to make it happen. "It's good to bring reference images to the salon with you so your nail artist knows exactly what you want."
Ombre Wedding Manicure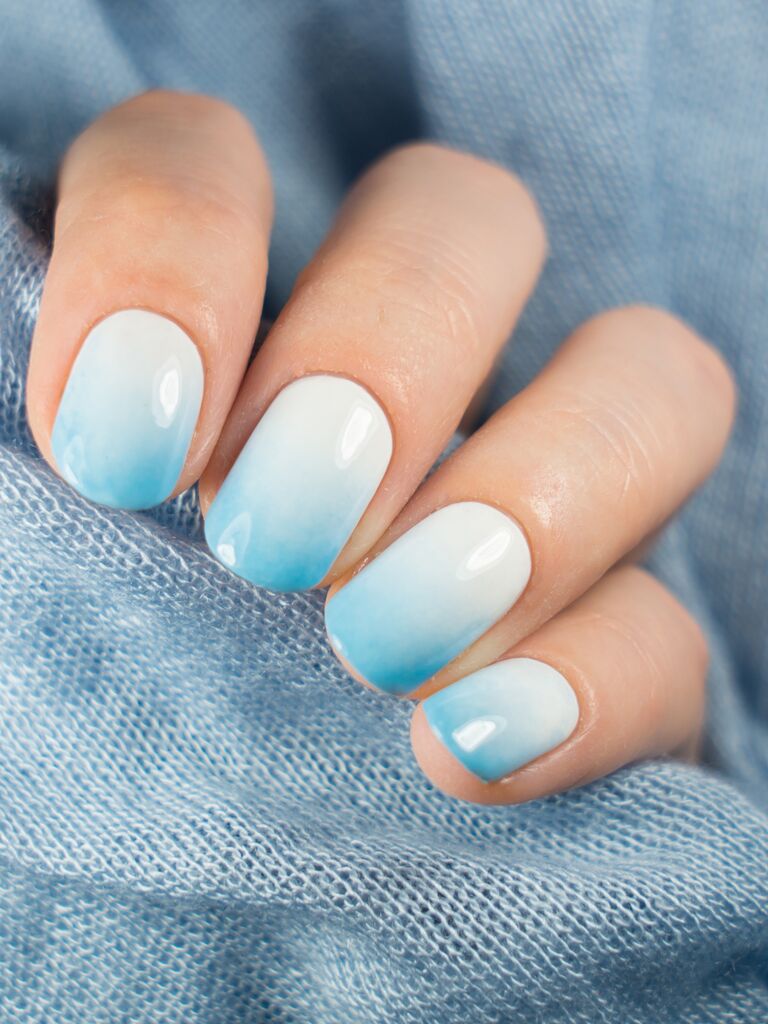 If a plain wedding manicure isn't quite your style, consider an ombre wedding manicure instead. An added bonus? It's easy to do it at home: All you need is a makeup sponge and two different shades of color. "You just want to make sure they complement each other so they don't clash," Woolrdige says. Think about how the two colors look within the color spectrum (pro tip: colors that sit next to each other are always a safe bet).
Once you've decided on your colors, you'll need to set up the manicure. Prep your makeup sponge by pressing a piece of tape against it to get any lint or dust off (this will ensure you get a smooth manicure). Then. paint one half of the sponge one color and the top half another color. Gently dab the sponge onto your nail and repeat three to four times—just make sure each one dries so you don't cause any smudging.
Flower Nail Art
Looking for nail art ideas? Whether you're hosting a rustic wedding or a boho bash, a flower nail art design is a lovely way to embrace your theme. Plus, Woolridge says this idea is particularly DIY-friendly (read: perfect for pre-wedding parties). "You can do polka dots or create little flowers for a rustic wedding," she says. "Use toothpicks or the ends of bobby pins to create the little dots. You can have a lot of fun with nail art without even having a bunch of tools or experience."
Neutral Polish
If you prefer a classic look, a neutral nail is the way to go. Not only will it look clean and timeless, it'll go with any outfit, season or style. Plus, it will highlight your stunning wedding outfit and wedding bouquet. To get the look, use an opaque, neutral shade (think: a light pink mani, white nails or nude nail polish). Finish it off with the top coat of your choice: matte or shiny. Want to take it up a notch? Add a subtle design with another neutral hue.
Multi-Colored Nails
Your wedding nails don't have to be white, nude or pink. Your wedding is your day—so if you love color, embrace that. Have fun with your wedding manicure by painting your nails different colors. Take it one step further by adding fun metallic accents or unique designs.
French Manicure
It doesn't get more classic than a French manicure. The design involves clear or nude polish finished off with a white tip painted on. We love this wedding nail idea because it combines everything we love: neutral tones, minimalist nail art and a crisp, clean finish. It'll pair with any kind of wedding and will highlight your wedding outfit, engagement ring and wedding bouquet. Take it to the next level with a small touch of art.