Need Wedding Manicure Inspo? You'll Love These Gorgeous Nail Ideas
Paintbox manicure studio now offers exclusive bridal mani designs that are too pretty to believe. Steal stunning nail ideas for you and your bridal party.
by Maggie Seaver
Your search for the perfect wedding manicure is officially over. New York City–based manicure studio Paintbox now offers a line of exclusive bridal designs perfect for every wedding event, from that first ring selfie to your sparkler reception exit. Paintbox is known for its wide variety of artful, modern and totally Insta-worthy designs anyone can customize to suit their style, and these new selections are no exception.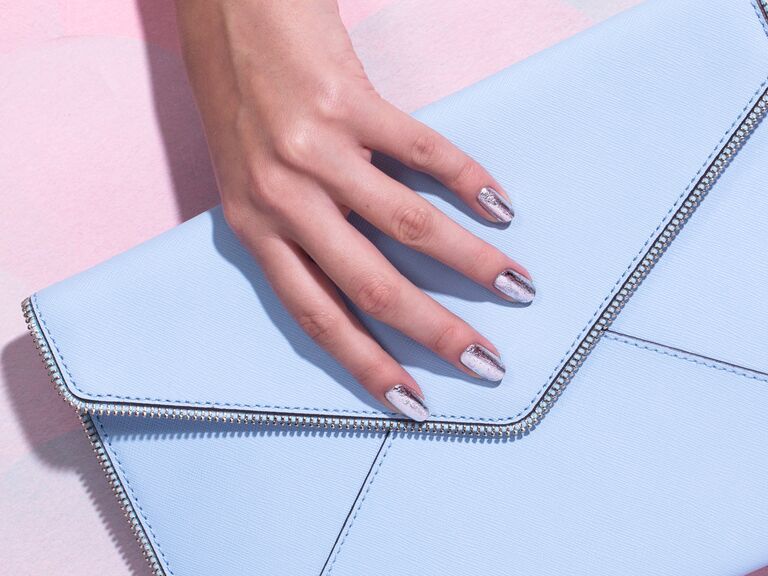 The collection offers  32 distinct designs that run the gamut from graphic to glam and everything in between. And the studio makes it easy for brides and bridesmaids to pick the perfect pattern, whether they want that unmissable wow-factor or something more under the radar.
"The collection is packed with subtle shimmer, luxe-looking foil accents, modern negative space, organic metallic shapes and beautiful, tiny details like studs, line work and chic moons," says Paintbox founder and chief creative officer Eleanor Langston. "We truly have a design for every bridal personality—any look can be customized with colors, glitter mixes and metallics."

According to Langston, creating a bridal-specific design selection was pretty much inevitable. "Many women come to our studio right after getting engaged to find the perfect mani to show off their ring," she says. "Then they continue to come back for regular manis for bridal showers, bachelorette parties, wedding day trials and day-of nails.

"We also have brighter, wilder options for bachelorette parties. Bonus: We serve champagne and wine—perfect for pregaming!" she says. Paintbox also gets tons of requests from wedding parties for nail art that matches their bridesmaid dresses. Just a little something extra to customize their looks.
And while not everyone can make it to NYC for an epic Paintbox mani, Langston encourages brides from all over to get inspired by these gorgeous designs and play around with art, colors, glitter and metallics to recreate one they love. Because what's more fun than an on-point manicure?