These Over-the-Top Milk Shakes Will Brighten Up Your Dessert Table
Shake it up with these mouthwatering desserts in a cup.
by Julia Naftulin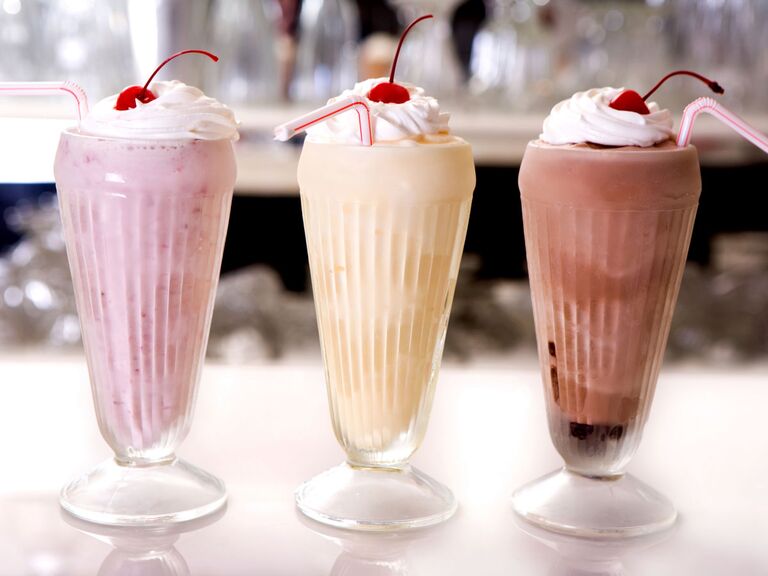 With the new embellished wedding cake trend, you may also want to serve another playful summertime dessert your guests will love. Cue childhood memories of heading to the local ice cream parlor and ordering an out-of-this world milk shake. Whether you swirl your concoction with caramel or hot fudge or top it with sprinkles or cookies, the milk shake will be an instant wedding crowd-pleaser. So bring all of your hungry guests to the yard—or to the dessert table—with these extravagant milk shakes, courtesy of Instagram.
This Nutella and Oreo Milk Shake
A vanilla and chocolate swirl milk shake sounds fairly simple—until you top it with Oreo cookie halves and chocolate-covered pretzels and swirl it with Nutella spread.
This Strawberry Cheesecake Milk Shake
Cheesecake fans will rejoice over the decadency that is this milk shake concoction. Strawberry ice cream, strawberry and caramel drizzle, and a cookie garnish complete this shake.
This Doughnut Milk Shake
Make your shake breakfast appropriate by topping it with doughnuts. This version's Nutella-filled doughnuts complement the milkshake's chocolate flavor.
This Chocolate Milk Shake
Death by chocolate in milk shake form, this treat overflows with chocolate-dipped cookies, sprinkles and whipped cream. We'll have two, please.
These Companion Milk Shakes
Served in supercool barrel-shaped mugs, these chocolate and red velvet milkshakes not only taste great together, but also make for a mouthwatering snapshot.