Top Wedding Mistakes to Avoid, Straight From The Knot Editors
From essential photography advice to must-read seating tips, The Knot editors get real about the top mistakes to avoid at your wedding.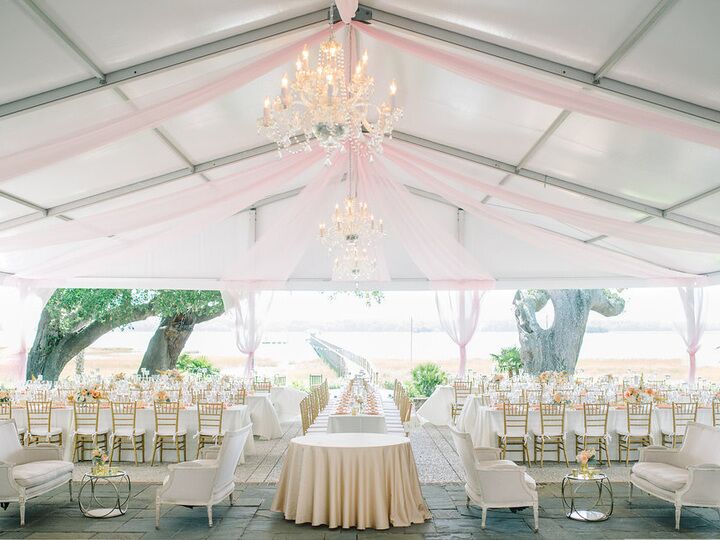 Aaron & Jillian Photography
As editors of The Knot, not only do we know wedding tips and tricks like the back of our hands—we participate in and go to a fair amount of weddings too. With lots of experience from both, we're sharing our list of top mistakes we've noticed firsthand or have been asked about before to avoid at your own wedding. Take it from us—you don't want to be the couple that doesn't have air-conditioning at your reception. 
"For all of the maids of honor and best men out there: Keep your speech short. As in under three minutes. A lot of guests have food to eat and dancing to do, so efficiency is key. Avoid too many personal anecdotes—your speech should serve as a reflection of the couple, not a 15 minute opportunity to discuss inside jokes from college that really aren't that funny."—Rachel Sylvester, Real Weddings Editor
"Seating people with strangers instead of seating people with their friends or people they know is a huge pet peeve of mine. This is the time to catch up with your loved ones, not potentially have awkward conversations with people you don't know."—Kristen Maxwell Cooper, Executive Digital Editor
"I know sometimes it's truly unavoidable, but any warm-weather event that isn't air-conditioned (or equipped with any kind of air circulation plan) makes me crazy—especially at a wedding when I know I'll be dancing and moving (aka getting toasty) anyway. If I'm sweltering to begin with, the last thing I want to do is get up and roast even more on the dance floor."—Maggie Seaver, Digital Editorial Assistant

"If your goal is to share your real wedding story with a magazine or blog, take the proper actions to plan for it before the wedding day! First, think of how your details aren't a replication of what we've already published and load up your day with elements to reflect your personality. Second, communication is key. Have a conversation with your photographer and/or planner prior to the wedding and build in time to your photographer's day-of schedule. While the detail shots may look effortless, it's work on your photographer's part to make them happen so beautifully. Another tip: Bring your stationery suite on the wedding day so your photographer can shoot it for you."—Rebecca Crumley, Weddings Photo Director

"Talk to anyone giving a speech at the reception ahead of time and make sure they know to speak into the microphone. Believe it or not, some people have never spoken into microphones before and think they might sound too loud, but that's just how they should sound. Everyone in the venue should be able to hear clearly—especially guests in the very back. There's nothing worse than someone standing too far back from the mic and speaking softly—people will stop straining to hear the speech after a few moments and become bored and focus on their food or phones, which is a shame, especially if it's a sentimental story that can't fully be appreciated. Tell them to speak loudly, clearly and directly into the microphone, no more than an inch from it, to fully capture their audience."—Ivy Jacobson, Digital Eitor
"The wedding party should always get a plus-one (even if they're single). They shell out money for your bachelorette/bachelor party and other prewedding events, not to mention the wedding itself. Plus they are your support system throughout your whole wedding planning process. Giving them an opportunity to bring their significant other (or just a hot date) to your wedding is the least you can do! And also, if you want to send out save-the-dates, actually send out save-the-dates. Don't just hand them out to people when they happen to stop by your place. It takes away that special moment of guests receiving them in the mail."—Maria Bouselli, Assistant Managing Editor

"Don't try to cut corners by hiring an inexperienced photographer. Your photos will last much longer than flowers, so you want a professional that knows how to make you and your wedding look just as amazing as it is."—Stephanie Cain, Real Weddings Editor
"Please, please, please don't skip the seating chart. Remember that feeling in middle school of wondering who you were going to sit with during lunch? Yeah... that wasn't fun for anyone, and the last thing you want is drama bubbling up due to awkward seating snafus. You don't have to get into the nitty-gritty of who's at each specific place setting, but at least assign tables. Your guests will thank you (and feel less awkward) for it. Another thing to know is that choosing the right venue for the size of your affair is actually super important. When you're initially looking, make sure you ask the average size of a wedding typically held at the venue. A lot of times they'll give you a large range (say, 150–300 guests), which can be a bit unhelpful. Choosing a too-large space for an intimate wedding of 75 will make it feel impersonal and like no one showed up for your day, while cramming a 250-person guest list into a space that just allows that many people may leave guests feeling cramped."—Alyssa Longobucco, Style & Planning Editor