Wedding Planner Jeannie Savage Shares Her Top Tips and Favorite Trends
by Simone Hill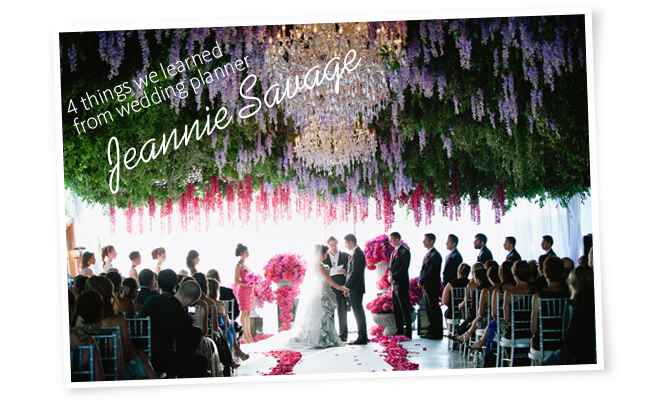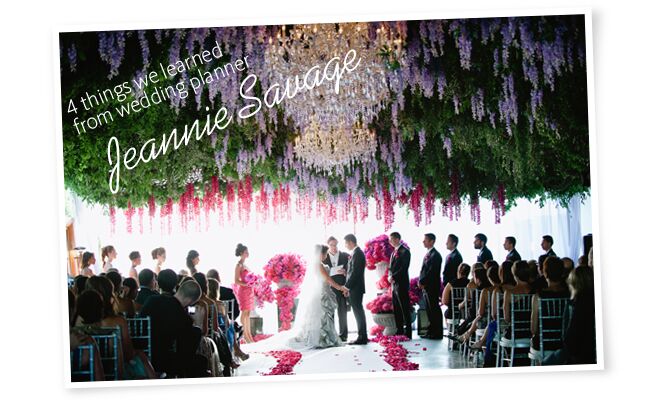 photo by
Hazelnut Photography
When it comes to pulling off luxe touches like a colorful hanging flower garden, Jeannie Savage and her team at Details Details are pros. They're the genius behind some amazing events like the colorful glam wedding in the photos below, plus this classic all-rose gold wedding and this sophisticated, chic rock-n-roll affair. Savage's amazing events focus on romantic elegance, but with a personal twist that's unique to the couple. So of course we couldn't resist sharing some of Savage's insider wedding style tips — read on for our favorites!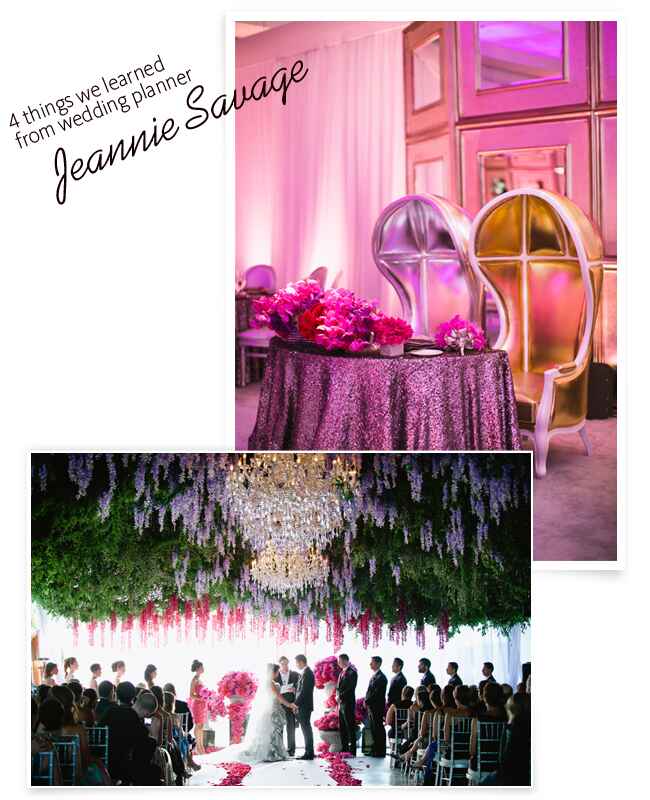 Lighting is your secret weapon. "Whether it's daytime or nighttime and especially in enclosed spaces, lighting is more important than the flowers. If your wedding is not lit properly when you get your photos and video, even the toasts and dancing you'll lose the essence of the day. You can even work with a lighting expert to use gel colors that work best for your skin tone. Everyone needs to learn about lighting and incorporate it somehow," says Savage.
Wow your guests from the start. "Think about that moment and how they'll feel when they arrive. What guests appreciate most is acknowledgement from the staff, like the caterer and photographer when they first arrive. Whether it's the warmth from the staff or being handed a refreshing beverage on a hot summer day, do something that will make your guests connect to the couple in some way. If you're from the south feature a sweet tea station for example. It's those kind of touches that makes it more that they can connect with. You want them to feel a certain spirit when they first arrive, so think about how you can capture it before you see them come down the aisle," says Savage.
Food trends are changing…and fast! "With food trends it was the big candy bar, then the mini dessert bar, now I'm starting to see the twist on the dessert bar, with things like doughnuts. Interactive stations are becoming more of a trend because they create a discussion. With food trends I see a lot more change than with style trends," says Savage.
Use color to draw attention to the most important details. If you love the look of the luxe wedding above then use this design principle to get a similar look. "If you can't afford a massive structure what you can focus on with your flowers is looking at the color to make sure your eye is drawn where it needs to go. Instead of a hanging installation frame the altar with large floral arrangements on the left and right," says Savage.
Want more? Right here!
> 26 prettiest wedding flowers
> 18 of our favorite over-the-top wedding ideas