What Wedding Planners Splurge and Save On
Wondering which areas of your budget should be getting the most—and least—love? We consulted the pros to find out.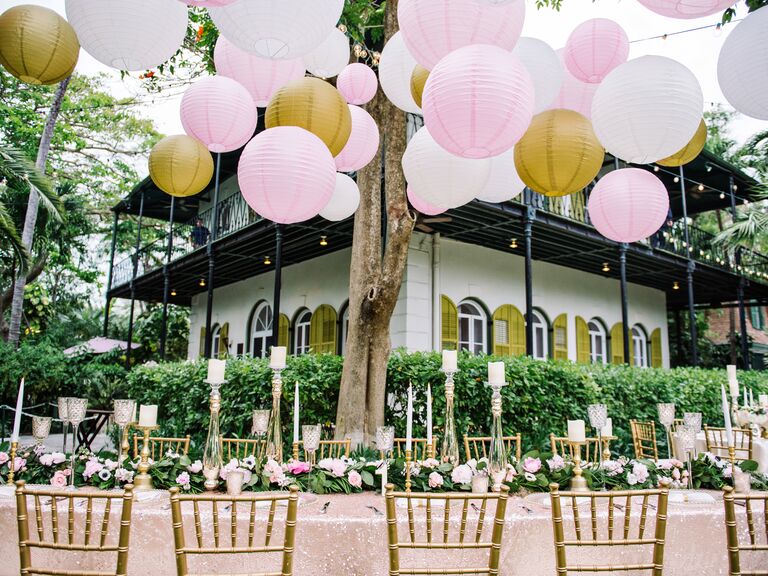 Dear Wesleyann

No one knows better than professional wedding planners how to get the most out of an event budget. From linens and lighting to booze and favors, these experts will tell you exactly where to splurge and save.
Splurge On: The Venue
"The venue sets the tone for the entire event," says Julie Savage-Parekh, founder of Strawberry Milk Events. So spending more money up front on a truly awesome venue can literally pay off, since a nicer space typically means you don't have to buy or rent as many decorations.
Save On: The Bar
Unless you and your future spouse really love to drink, Savage-Parekh advises going with beer, wine and a signature drink rather than a full-on open bar, which can save you a lot on the alcohol tab. If you can't imagine your wedding without all of the booze, she suggests cutting back on the invitations. Digitally printed invites can be half the cost of foiled or engraved ones, but look just as elegant.
Splurge On: Lighting
"Lighting is one of the most critical details," says Lynn Easton, founder and creative director of Easton Events. "There's no reason to have gorgeous flowers or an amazing tabletop design if no one can really see them! Lighting is expensive, but it makes the room feel fabulous." Whether your wedding is indoors or outdoors, at night or during the day, investing in lighting will help you create the proper ambience and effect.
Save On: The Number of Guests
Think quality over quantity when it comes to your guest list, Easton recommends. "It's so much nicer to have a 100-person wedding with all the details you want than a 200-person wedding where you've had to scrimp on everything," she says. "I ask my clients, 'Would you take this couple out to a $500 dinner?' If not, they shouldn't be on the guest list."
Splurge On: Chairs
"If you can only splurge on one thing, make it great chairs for the reception," says Vanessa Van Wieren, founder of Alchemy Fine Events. "There's nothing worse than a venue's standard ballroom chairs that don't go with the overall design."
Save On: Programs
Instead of custom printing your programs, "print them yourself digitally or display the day's schedule on a pretty sign," Van Wieren says. Since most people don't hold on to their programs, it's worth opting for less expensive options.
Splurge On: Valet Service
If you have more than 300 guests attending your wedding or your venue has limited parking, invest in valet service. And never scrimp on the number of valets you hire, says Brian Worley, co-owner of YourWEDDINGS! and YourBASH! "Even if you have a flawless wedding, your guests will remember waiting in line for 45 minutes at the end of the night to get their cars because you decided to cut costs on the valet service," he says.
Save On: Linens
"Having a sit-down dinner means you'll be covering up the table with flowers and glassware, so you don't need a crazy-expensive tablecloth," Worley says. To save money, rent a middle-tier option instead.
Splurge On: Your Favorite Food or Drink
Serving your favorite foods and beverages gives your event a personalized feel, says Lyndsey Hamilton, creative director of Lyndsey Hamilton Events. "Our couples will splurge on oyster bars, raw bars, beautiful cheeses and breads, or other crudites," she shares. "We're also seeing a lot of specialty bars. So in addition to your regular bar, you'll have a gin, tequila or bourbon bar—whatever you and your fiance like to drink." Stock your specialty bar with all different brands and varieties of your preferred beverage, both for "tasting flights" and mixed drinks.
Save On: Portable Restrooms
If you're planning an outdoor or barn wedding, having restroom trailers is crucial. But to maximize your budget, don't choose the top-of-the-line option, Hamilton says. "Get something sufficient—something that has AC—but not the most expensive, beautiful trailer," she says.After all, your guests won't want to hang out in the bathroom anyway:—they'll be eager to get back to the party!
Splurge On: Eye-Catching Details
When planning a wedding, Calder Clark, the owner and creative director of Calder Clark, tries to think like a photographer—and then uses her design budget accordingly. "We usually splurge on big focal pieces," she reveals. "That could be large-scale chandeliers, a mini tent for the cake, a custom bar setup or a hand-painted dance floor. It's the flourishes that make a party feel beautiful and thoughtful."
Save On: Favors
If Clark is trying to save her clients some money, she steers them away from personalized—and expensive!—wedding favors. "After all," she says, "how many people actually want a flask with your wedding date on it or a candle with your initials?" For a more budget-friendly alternative (that's guaranteed not to be shoved in a drawer and forgotten about), give your guests a sweet treat. Any of these 10 edible wedding favors would be the perfect finale.