What Movies and TV Shows Get Wrong About Weddings, According to Experts
No, your wedding planner isn't going to take over your day.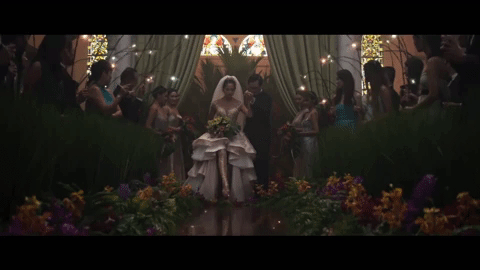 giphy.com
There are many sources of inspiration when it comes to weddings and the planning. To-be-weds can look to Pinterest, Instagram and friends and family to gather ideas for their nuptials, but many find inspiration from movies and TV shows. While it's fun to see your favorite characters wed, on-screen celebrations often depict wedding myths that simply aren't true for dramatic effect.
That's why it's important to keep things in perspective. To help, we consulted wedding pros to debunk 16 different wedding myths from your favorite on-screen celebrations. Read on to see what movies get wrong about weddings, according to experts.
You Don't Have to Wear White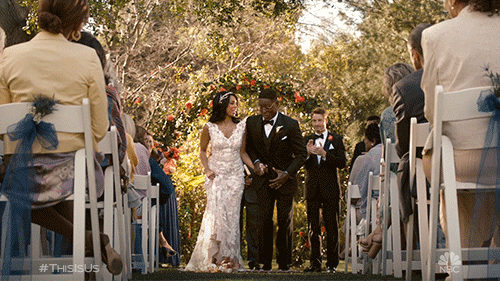 While Beth looked absolutely stunning in her white dress on This Is Us, to-be-weds certainly don't have to wear white for their nuptials. "To-be-weds should wear whatever makes them feel happy and fabulous," says Jove Meyer, owner and creative director of Jove Meyer Events. "There is no study or evidence to indicate white outfits at weddings lead to a higher success in marriages." Rather than simply sticking to tradition, Meyer encourages couples to think outside the box. "Your wedding should reflect your style and personality, that includes your wardrobe."
Vendors Usually Don't Cancel Last Minute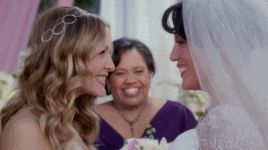 In season seven of Grey's Anatomy, Callie and Arizona exchange vows in a gorgeous ceremony. But the day is a little bit of a disaster, as multiple vendors cancel on the couple. While emergencies happen, it's not very common for vendors to cancel on their couple with no notice. Your vendors are professionals who build their business around helping others with their weddings. However, it's always best to go over what happens in the event they have to cancel (or the other way around) and put that agreement in the vendor contract.
Planners Won't Overhaul Your Wedding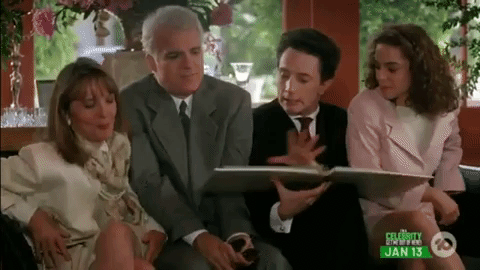 Who can forget Franck Eggelhoffer from Father of the Bride? Franck is extra-pushy in the movie, but Meyer says most planners aren't like that. "On the wedding day, a great planner is in the shadows, not seen, heard or in the spotlight at all," he says. "They are producing the event from the sidelines, while the couple is the center of attention." Meyer does note that unfortunately planners can sometimes overtake couples' weddings. The best way to prevent any kind of creative differences is to talk to your planner before hiring them to ensure you're on the same page (and that you're compatible).
Planners Will Generally Create Backup Plans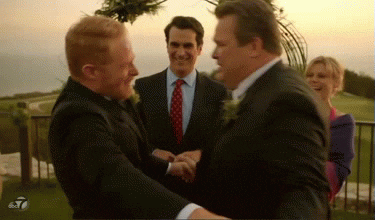 While there are some wedding details you can definitely control, weather isn't one of them. In season five of Modern Family, Mitchell and Cameron plan to get married in a beautiful outdoor ceremony. That is, until a wildfire forces them to relocate. Their wedding planner scrambles to find a suitable alternative, adding to the stress and drama of the day. However, most wedding planners will almost always come up with a backup plan in the event of poor weather situation. "We typically call it a 'rain plan, but it can actually be a plan in place for rain, heat, wind or any other condition," says Meghan Magnasco, wedding and event planner for SoEventful, tells The Knot. "This could be having a tent on retainer, extra umbrellas and hearts or a secondary location at the venue."
You Don't Need a Huge Wedding Party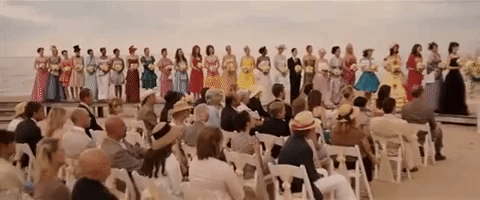 While Jane had 27 of her friends present at her ceremony in 27 Dresses, other nearlyweds certainly don't have to include all of their friends. "To-be-weds should really do what makes sense for them and their friendships," Meyer says. "For some that could mean no wedding party, for others it could mean an intimate group of one or two or three, and for others it could mean a dozen friends. There is no right or wrong wedding party size."
It Doesn't Have to be an Exclusive Spectacle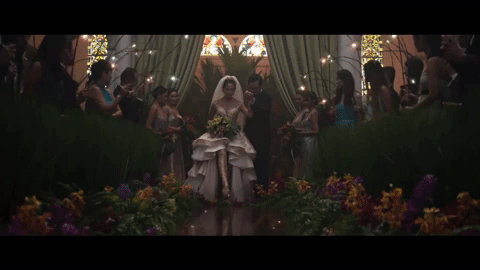 The iconic wedding in Crazy Rich Asians pulled out all the stops: an indoor garden, water on the aisle and fireworks at night. But weddings don't need to be a massive event. "Weddings should be a reflection of who you are as individuals and honor the way you want to and can afford to celebrate," says Danielle Couick, planner of Magnolia Bluebird Design & Events. "We feel that it should be intentional and purposeful more than a spectacle."
Planning a Wedding Takes More Than a Few Days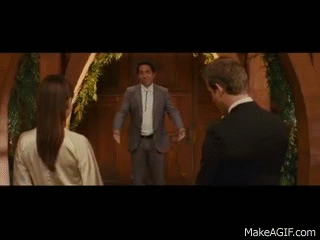 Margaret and Andrew's Alaskan barn wedding is one of the most memorable movie wedding scenes. But Andrew's mother plans the entire wedding in just a couple of days—an uncommon feat. According to The Knot 2019 Jewelry & Engagement Study, the average engagement length is 13.6 months, which means most couples spend more than a few days planning their nuptials. However, as elopement is becoming a popular trend among millennials, that could start to change.
Most Prewedding Events Happen on Separate Weekends

Almost every wedding movie (like Bridesmaids, for example) depicts the bachelorette/bachelor party, bridal shower and wedding happening all in one weekend (or very close together). But in reality, these events are usually more spread out (especially considering the bachelorette/bachelor parties usually involve some kind of travel). Generally, the bridal shower is hosted several months prior to the wedding and the bachelorette is planned a few months in advance of the nuptials. The wedding itself is generally on its own weekend, though some couples do choose to host the events in one weekend.
You Don't Have to Honeymoon Immediately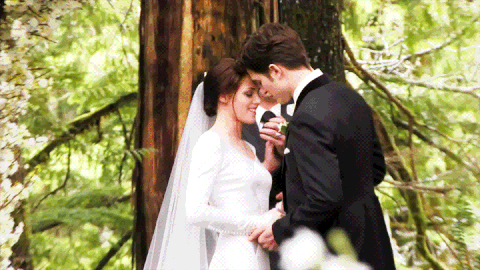 Immediately after Bella and Edward exchange vows in a dreamy forest wedding, they leave for their honeymoon in Brazil. But our 2018 Real Weddings Study found that most couples don't leave straight from their ceremony for their vacation. In fact, 78 percent of couples jetted off to their honeymoons within a week of exchanging vows. But other couples choose to postpone their honeymoons due to work schedules, vacation availability, financial reasons and weather—hence why the minimoon is still trending.
Planners Will Often Help Diffuse Tension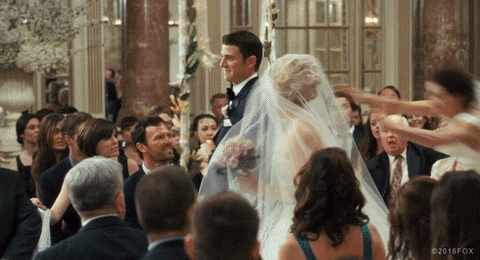 In Bride Wars, Emma and Liv get in some major fights over their weddings, and the wedding planner mostly stays out of it. Weddings can be stressful and extremely emotional, so it's no surprise that tension can arise. Whether you're butting heads with your partner, parents or friends, your wedding planner can usually help diffuse the situations. "That being said, hiring a wedding planner does not mean you're hiring a therapist who can solve family drama or disagreements," Meyer says. However, he notes that planners are experts at mediating differing opinions and making sure that the couple gets their dream wedding. "A great planner will take time to listen to all sides and explain why things are happening the way they are, avoid drama and diffuse possible tensions from arising."
Your Ceremony Doesn't Have to Include an Aisle with Two Sides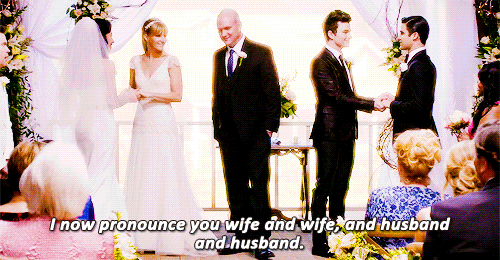 Watch any on-screen ceremony and you might notice that nearly all of them feature an aisle with two sides. Take Santana and Brittany's charming barn wedding in Glee, they walked down to the aisle to the sound of their former classmates voices. But Meyer says couples can (and should) get creative with their ceremony set up if they want to. "Aisles have been a wedding tradition for a while now and are a functional way to seat guests and process to the ceremony, but they sure are not the only way to get married." For couples looking for an alternative, Meyer suggests a ceremony in the round with several aisles or a ceremony with no aisle (guests process to the couple instead down an aisle). "As long as everyone is gathered and your officiant does the legal parts of the ceremony, it is legit—aisle or not."
DJs Don't Only Play Cheesy Love Songs
The bittersweet wedding scene in Love Actually focuses on the songs played during the reception. Specifically, it shows the DJ only playing cheesy love songs (and the guests cringing with each pick). But in actuality, wedding DJs don't only play corny, romantic songs. They will work with you and your partner to create a playlist full of meaningful and fun songs for your wedding reception.
Florists and Other Vendors Come Hours Ahead of Time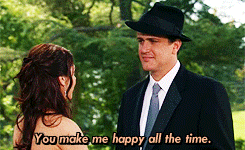 When Lily and Marshall get married, everything seems to go wrong. One of the major issues of the day is the flowers. Right as Lily starts to get ready, she receives a call that her florist won't get there until halfway through the ceremony. However, Lilli Wright, owner of Mimosa Floral Design Studio, tells The Knot that her team usually arrives seven to eight hours in advance. "That usually gives us adequate time to set the room, install the ceremony and put all the finishing touches well before guests arrive and so that your photographer has plenty of time to capture that perfect picture we all covet on Pinterest."
Getting a More Expensive Dress Doesn't Mean the Wedding Needs to be More Expensive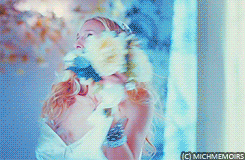 In Sex and the City, Carrie Bradshaw upgrades her vintage store wedding dress to designer ball gown—and then decides to upgrade the whole celebration. Soon it becomes a massive wedding with a fancy venue and tons of guests. In the movie, Carrie blames the dress, saying that it upped the ante of the wedding. But Addie Reese, senior consultant at Mira Couture in Chicago, says that's not the case at all. If your dress is more expensive or grander than anticipated, there are tons of ways to cut down on other costs.
Your Photographer Will Give You Directions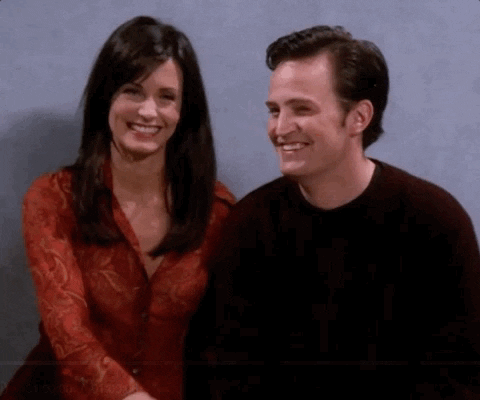 While this technically happens during Monica and Chandler's engagement session, it applies to weddings. In an episode of Friends, Chandler struggles in front of the camera and Monica gives him directions so they can get a good picture—but the photographer doesn't say anything. This is usually not the case, as photographers will work with couples during the wedding to get good pictures. "Any type of direction that I give acts as a distraction," says Michelle Beller, a destination wedding photographer based in Southern California. "Honestly it's distraction that gets camera shy couples there every single time." If you're worried about freezing up in front of the camera, be sure to hire a photographer who has experience giving direction."
Not All Wedding Planners Use a Headset and Clipboard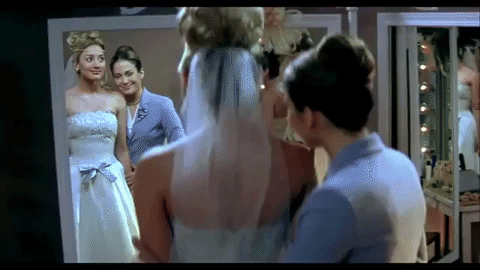 Wedding planning is serious business, but Meyer says that not all wedding planners will show up to your nuptials with a headset and a clipboard (à la Jenifer Lopez in The Wedding Planner). While it adds to the dramatic effect in the movies, Meyer says it's important to remember this stereotype and others (like wedding planners only being woman or dramatic gay men, for example) aren't true. Most wedding planners are true professionals who are committed to making your wedding a memorable and fun experience.