The Knot Editor's Surprising Wedding Planning Advice
Who knows more about planning a wedding than Anja, site director of TheKnot.com? She spills about what she learned—and what she wishes she knew—while planning her own day.
Mel & Co.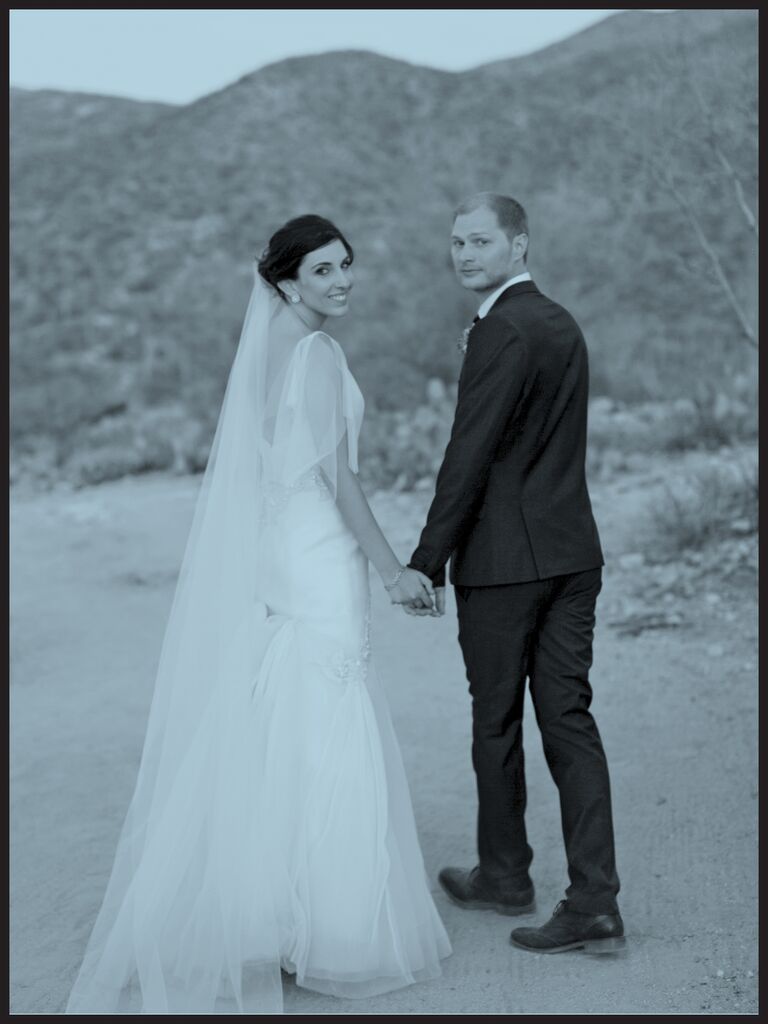 Anja Winikka, Brooklyn, New York
As site director of TheKnot.com, Anja knew practically all the tricks of the trade—but there were still a few surprising things she learned while planning her May 25, 2013 wedding.
I wish I knew…to set some ground rules.
My husband and I decided from the start that our wedding wouldn't have "anything too shiny because we're not shiny people." It meant that we wanted to ensure that all of the style and decor on our wedding day looked like us. It was a great rule because at one point during the planning process, our stylist suggested adding gold sequined tablecloths to a few of the tables. I loved the idea because I hadn't seen it anywhere before. But we ultimately skipped it because gold sparkly sequins wouldn't have looked like us—and I'm glad we did. It was really good that we got on the same page about the vibe of our wedding early on because it really helped us avoid a lot of conflicts.
I wish I knew…to bring my veil to my hair trial.
It all worked out fine in the end, but on the morning of my wedding, there was a little confusion about where exactly my veil should go. The reason I didn't have it with me at the trial was because my wedding dress was custom-made and it hadn't been finished yet. In hindsight, things would have gone a bit smoother if I'd at least brought a piece of tulle to the trial so that we could have talked placement.
I wish I knew…not to worry about a few splurges.
When my husband and I got married, we had a basic budget—but we didn't entirely stick to it. We were married in Tucson, Arizona on a ranch called Tanque Verde Ranch and our big splurge was paying to have the entire property to ourselves that weekend, which meant that anyone there on the ranch was a friend or family member. We also splurged on the wine with dinner, a welcome party for all of our guests the night before, and having the ranch provide fun snacks and beverages to our guests throughout the wedding weekend. I don't regret going over the budget because it helped make our guests feel special and taken care of. Still, there's one thing that I wish we actually did spend a little more on: Shipping our wedding leftovers, like extra programs, signs, and the guest book home after our wedding day. We ended up having to pack it all up and take it with us on our road-trip honeymoon!
I wish I knew...how hectic it was going to be leading up to the wedding.
A lot of the details, like final RSVPs—came together in the last few weeks before the wedding. I wish I had gotten other details—like shopping for rehearsal dinner outfits and honeymoon clothes—out of the way so that I would have had more time to get last-minute tasks, like the table assignments and escort cards, done. Still, despite the craziness of those last weeks, I set a rule for myself that the day before the wedding I would stop all planning details and focus on my friends and family. What didn't get done, didn't get done. The rest was up to the awesome talented team of wedding vendors I had hired. It allowed me to truly feel like I was at my wedding, not trying to run the show. I think it made the day go by more slowly and helped me take mini mental images that I'll remember forever.