Catering Alternatives to the Sit-Down Dinner
If a traditional, sit-down meal just isn't your style, don't worry. There are other catering options that are just as delicious (and more budget friendly).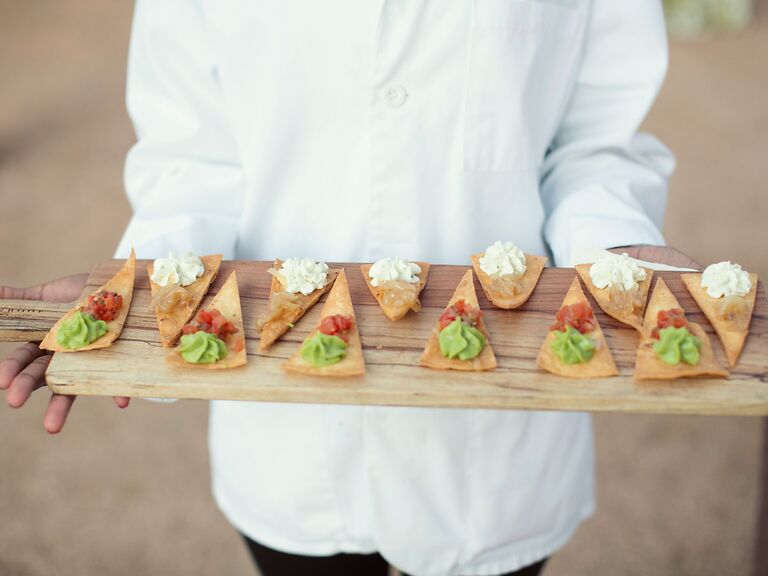 Sarah Kate Photography
Serving a traditional, plated meal at your wedding reception is lovely, especially for a very formal affair. But if a sit-down dinner isn't quite your style or just out of your price range (remember, sit-down dinner includes charges for linens, chairs, place settings and menus in addition to the food), you'll be happy to hear that it's far from the only catering option. Seated dinner alternatives are no longer considered for only casual or low-budget weddings. Here are some creative ways to curb catering costs while impressing and satisfying every hungry guest.
Cocktail style doesn't have to mean casual.
Planning a formal fete but can't swing a sit-down dinner? A perfect, unexpected alternative is a cocktail-style reception. Consider setting up chef-attended food stations that are both delicious and engaging, or have servers pass tapas-style entrées that are small enough to nosh on while mingling, but still fully satisfying (or offer both options at once).
Food trucks are the fun way to feast.
Having a food truck or two pull up to your reception is an awesome catering trend that allows for a relaxed and free-flowing vibe. Just keep in mind that guests won't get fed quite as quickly or simultaneously. Although if you're anticipating a more grazing-style party, this probably won't be too much of an issue.
Seating and service are key.
A huge benefit to forgoing a seated dinner is that guests have the freedom to mingle and dance without being tethered to their assigned chairs. "Rather than formal tables, we utilize high-top tables and lounge-style seating to give the room a better flow and allow guests to stay on the dance floor even during dinner," says Joe Volpe, founder and CEO of Cescaphe Event Group. And remember: Great service is the key to a seamless, first-rate event. "The level of service and the décor around you can make even the most casual station setup seem more formal. The more guests are taken care of and waited on, the more polished it will feel," says Alex Taylor, senior planner at Taylor'd Events.
Make your menu personal.
No matter what catering style you choose, work with the caterers and on-site staff to select a menu that fits your wedding style and you as a couple. Have cuisines that nod to your hometown, favorite city or ethnic background. If you're going for a more relaxed party vibe, pass pizza slices, popcorn or tacos.