Registry List-O-Matic

Take the guesswork out of your registry. Here's a complete list of basics to include on your list.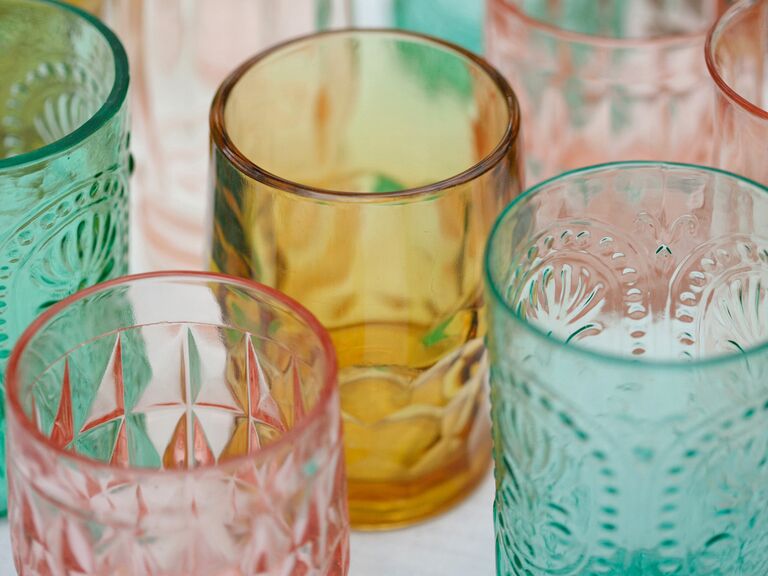 Registries are an amazing invention—they leave practically no room for buyer's remorse. To help you start, we've put together a list of some goodies on a typical wedding gift registry.
Fine China and Casual Dinnerware Checklist
5-piece china place setting — dinner plate, salad/dessert plate, bread and butter plate, teacup and saucer (12)
Rimmed soup/pasta bowl) (12)
Charger (12)
Coffeepot
Teapot
Gravy boat and stand
5-piece casual place setting — dinner plate, salad/dessert plate, soup/cereal bowl, mug (12)
Salt and pepper shakers
Serving platter (2)
Sugar bowl and creamer
Serving bowl (2-3)
Salad bowl
Serving tray (2)
Soup tureen
Butter dish
Cake plate
Espresso cup and saucer (8)
Accent plate (12)
Flatware Checklist
5-piece setting — dinner fork, salad fork, tablespoon, teaspoon, knife (13)
Butter knife (12)
Salad servers
Serving spoon (2)
Slotted serving spoon
Serving fork (2)
Ladle
Demitasse spoon (6)
Glassware and Barware Checklist
Wineglass (14)
Water goblet (14)
Champagne flutes (12)
Double old-fashioned glasses (12)
Iced beverage (12)
Margarita (6)
Martini (6)
Dessert wine (6)
Shot glass (6)
Highball (12)
Juice glass (6)
Beer mug or pilsner (6)
Casual drinking glass (12)
Cocktail shaker
Ice bucket and tongs
Jigger and bar tools
Kitchenware Checklist
Blender
Coffeemaker
Coffee grinder
Tea kettle
Food processor
Hand mixer
Slow cooker
Toaster
4- or 5-inch skillet
10- or 12-inch skillet
2- or 3-quart saucepan with lid
Stock pot with pasta insert
Dutch oven (4- to 6-quarts)
Roasting pan
Steamer insert
Colander
Casserole dish
Baking sheets, cake pans, and muffin tins (2 each)
Nesting bowls
Measuring cups/spoons
Set of steak knives
Chef's knife
Bread knife
Paring knife
Utility knife
Sharpening tool
Pair of kitchen shears
Bed and Bath Checklist
Sheet set (4)
Duvet or down comforter
Bedcover
Bed skirt
Mattress pad (2)
Blanket (2)
Pillow (6)
Decorative pillow (2-3)
Bath towel (6)
Bath sheet (6)
Hand towel (6)
Washcloth (4)
Guest towel (4)
Bath mat
Shower curtain
Scale
Electric toothbrush (2)
Hamper
The Knot and Bloomingdale's present the Get It All Registry Guide, a sponsored series full of tips and ideas for your wedding registry, from what you should include on your list to how to find your signature style. Visit The Registry at Bloomingdale's to learn more about their registry program and perks.