9 Big Registry Etiquette Mistakes You Might Be Making
Not to make you nervous, but there's more to registering than you and your fiancé running around your favorite stores with a scanner gun. You get to do that too— just make sure you don't commit one of these registry missteps.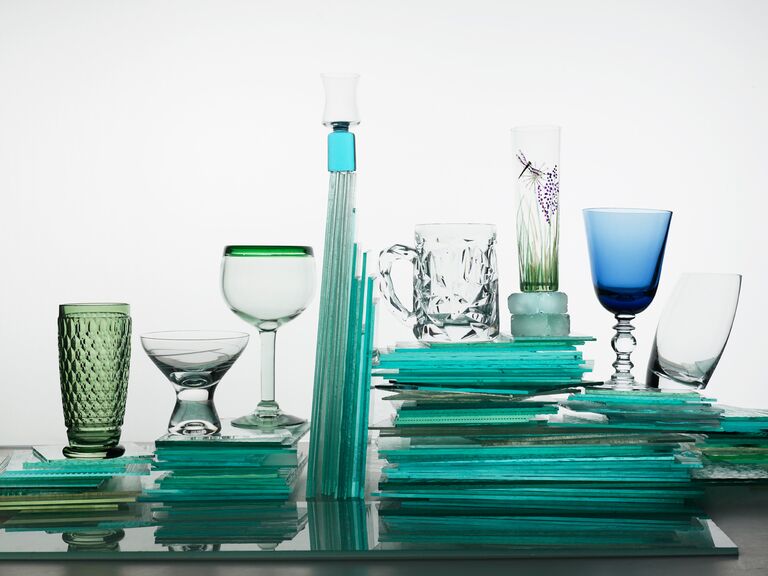 Mistake 1: Not Registering at All
Trust us, your guests want to buy you gifts. And no, it's not tacky and it doesn't look like you're "asking" for things. Plus, registering for gifts saves you time and headaches—it tips guests off to your desperate need for matching towels or your love of colorful dinner plates, and it also ensures you won't get lots of things you don't want or need (as in, no weird glass swan figurines from Aunt Janis).
Mistake 2: Waiting Too Long to Register
It's a good idea to set up a registry soon after you're engaged, particularly if your family or friends are hosting an engagement party. You can always update your list and add more items at any time. Most of your guests will be making purchases shortly before your wedding day, so if you establish a registry early in your engagement, check in and add additional items before you say "I do."
Mistake 3: Not Taking Inventory of Your Own Stuff
You'll want to register for gifts the two of you will both enjoy, today and down the road. To decide on what you need, take inventory of the things you already have and talk about the style of home you'd like to share. Consider things like your entertaining style, your hobbies and what your life may look like 10 years from now (perhaps you do need that gravy boat for Thanksgiving and a set of towels for your "guest room"). Then divide and conquer by category—maybe you have strong opinions about bedding and your other half is more concerned about top-of-the-line pans for the kitchen.
Mistake 4: Skipping the Fine Print
Before registering anywhere, find out about the store's policies. Your registry should be convenient—for both you and your guests. Make sure your registry will be available online or that guests can place orders over the phone (if you've selected a local shop). Ask if the store will ship to your desired address, and find out about the exchange and return policies. This is crucial—you don't want to be stuck with duplicate gifts or return from your honeymoon to find out you only have two days left to exchange items you don't want. On the positive side, there are a lot of incentive programs as well. Some stores will even hold purchased gifts and ship them all at once after the wedding (just like Christmas morning!), and many places offer registry completion discounts (like 10 percent off everything remaining), so check for that too.
Mistake 5: Registering for Only Expensive Pieces
We're not saying you shouldn't put that gorgeous $350-per-place-setting silver on your registry. But you do want to have items in a variety of price ranges, so all of your guests can choose something they can afford. Keep in mind: Your friends and family may be purchasing a shower and a wedding gift. So be sure to register for items that fall into the $50 and under category too. After the wedding, depending on the store's return policy, you could always exchange a few $50 gifts for a bigger-ticket item you both love.
Mistake 6: Only Registering for the Essentials
Household items such as china, crystal and flatware are longstanding registry asks. But nowadays, you can register for anything from furniture to sporting equipment and luggage. Take advantage of your many options and register for items you'll really use—be it a new grill or road bike.
Mistake 7: Not Putting Your Registry on Your Wedding Website
You can't assume guests will know where you've registered—but you also shouldn't be the one to tell them (and risk looking like you're demanding presents). If someone is hosting a shower in your honor, they may list registry information on the invitation. But the very best place to put your registry info is on your wedding website. It's where everyone will look to find more details on your reception, ceremony and accommodations, so it's only natural that a list of the places you've registered should be there too.
Mistake 8: Registering Only Once
Your registry needs to be maintained throughout the time you're engaged and planning your wedding. So revisit your registry often and update it with additional selections as gifts are purchased, to give guests a range to pick from. A good rule of thumb: Have more items on your registry than guests at your wedding, to accommodate for engagement party and shower gifts and to give people choices. Many registries make this easy and will send you an email or a notification when a gift has been purchased, so if that's an option, take it.
Mistake 9: Procrastinating on Thank-You Cards
Be gracious—let your guests know their gifts have arrived. Thank-you notes for gifts received before the wedding should be sent within two weeks of their arrival. Notes for gifts received on or after the wedding day should be sent within three months of your return from your honeymoon. When you sit down to write thank-yous, mention the gift by name and share a few personal details (like how you plan to use it or why you love the color so much).
The Knot and Cuisinart have partnered to bring you Registry for Real Life, a sponsored series showcasing real-life tips to getting everything you want (and more!) from the registry process. To check out more awesome products, visit Cuisinart.com.