10 Big Registry Etiquette Mistakes You Might Be Making
Here's what not to do when registering.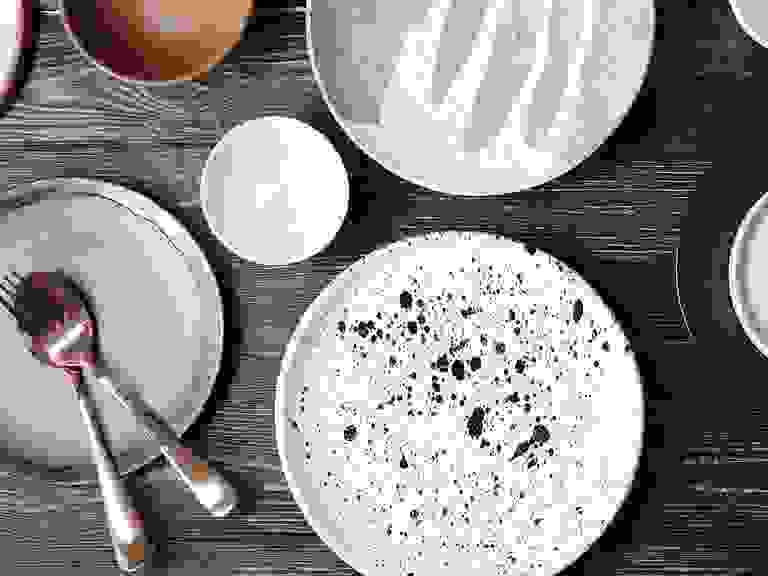 Shutterstock

We have included third party products to help you navigate and enjoy life's biggest moments. Purchases made through links on this page may earn us a commission.
Not to make you nervous, but there's more to creating a wedding registry than you and your partner running around with a scanner gun. (Hint: if you don't know where to start, The Knot Registry makes it easier than ever to curate your wishlist in one shoppable place.)
 
But as fun as it is to create your dream wedding registry, it's important to follow proper wedding registry etiquette—and if you find yourself questioning exactly what that is, we've got you covered. From figuring out what to register for (psst, The Knot Registry Awards is a great place to start) all the way to when you should share your registry, we're breaking down 10 mistakes to steer clear of as you're wedding planning. Don't worry, you can still grab that scanner gun—but in order to give your guests the best experience (and to get what you truly want off your registry), avoid these wedding registry etiquette missteps.
Mistake 1: Not Registering at All
Trust us, your guests want to buy you gifts. And no, it's not tacky and it doesn't look like you're "asking" for things. Plus, registering for gifts saves you time and headaches—it tips guests off to your desperate need for matching towels or your love of colorful dinner plates, and it also ensures you won't get lots of things you don't want or need (as in, no weird glass swan figurines from Aunt Jane). If you already have mostly everything you need for the home, register for experiences like a puppy fund or a newlywed nest so that you're making new memories with some help from your family members and friends. To get started, create your registry with The Knot here.

Mistake 2: Waiting Too Long to Register
It's a good idea to set up a registry soon after you're engaged, particularly if you're planning an engagement party. Even if a soiree hasn't been added to the calendar, you may be surprised by the number of people who want to give you a token of congratulations (think: champagne glasses or a silver picture frame for your engagement photos). You can always update your list and add more items at any time (like, before your wedding shower). Most of your guests will be making purchases shortly before your wedding day, so if you establish a registry early in your engagement, check in and add additional items before you say "I do."
Mistake 3: Not Taking Inventory of Your Own Stuff
You'll want to register for gifts the two of you will both enjoy today and down the road. To decide on what you need, take inventory of the items you already have and talk about the style of the home you'd like to share. Now is a great time to upgrade mismatched wine glasses or ask for a nice set of knives. Consider things like your entertaining style, your hobbies, and what your life may look like 10 years from now (perhaps you do need that gravy boat for Thanksgiving and a set of towels for your "guest room"). Then divide and conquer by category—maybe you have strong opinions about bedding and your other half is more concerned about top-of-the-line pans for the kitchen.
Mistake 4: Registering at One Store
Do yourself (and your guests) a favor and register at more than one store. You might think that registering at more than one place is poor wedding registry etiquette, but it's actually helpful for your guests. Two to three stores is a good mix—enough to offer variety in your gifting options, but not so many that it's hard to keep track of what is coming from where. Local mom-and-pop shops and speciality stores are great, but try to choose at least one big-box retailer, like Amazon.com or Bed Bath & Beyond, to make it easy on those guests who may live elsewhere.
Mistake 5: Skipping the Fine Print
Before registering anywhere, find out about the store's policies. Your registry should be convenient for both you and your guests, so make sure your registry is available online. Ask if the store will ship to your desired address, and find out about the exchange and return policies. This last part is crucial—you don't want to be stuck with duplicate gifts or come back from your honeymoon to find out you only have days to exchange items you don't want. On the positive side, there are a lot of incentive programs as well. Some stores will even hold purchased gifts and ship them all at once after the wedding (just like Christmas morning!), and many places offer registry completion discounts (like 10 percent off everything remaining), so check for that too.
Mistake 6: Registering for Only Expensive Pieces
We're not saying you shouldn't put that amazing (and pricey) pro-stand mixer on your registry. But you should have items in a variety of price ranges, so all of your guests can choose something they can afford. Having great wedding registry etiquette means keeping your guests' best interests in mind. Your friends and family may be purchasing both a shower and wedding gift, so register for items that fall into the $50 and under category too. After the wedding, you could always exchange a few $50 gifts for a bigger-ticket item you both love.
Mistake 7: Only Registering for the Essentials
Household items such as china, crystal and flatware are longstanding registry asks. But you can register for anything from furniture and sporting equipment to luggage. Take advantage of your options and register for items you'll really use—be it a new drill or a shiny road bike. And if you're both in agreement about a pricier addition to your home, like a new grill or coat closet upgrade, put it on the registry. Group gifting is trending! All in all, don't be afraid to ask for things you'll be excited to receive—even if they are a little unconventional by your grandmother's standards. If you still need more registry gift ideas, check out The Knot's Registry Awards winners to find the best wedding registry gifts on the market.
Mistake 8: Not Putting Your Registry on Your Wedding Website
You can't assume guests will know where you've registered—but you also shouldn't be the one to tell them. If someone is hosting a shower in your honor, they may list registry information on the invitation. But the very best place to put your registry info is on your wedding website. It's where everyone will look to find more details, like accommodations, so it's only proper wedding registry etiquette that your wishlist should be there too.
Mistake 9: Registering Only Once
Your registry needs to be maintained from the time you're engaged to when you walk down that aisle. Revisit it often and feel free to update it with new gift selections. This will give your guests a range of items and options to purchase. A good rule of thumb is to have more items on your registry than guests at your wedding. This will help accommodate for gifts from engagement parties and shower gifts to give people choices. Typically, a registry will send you an email or a notification when a gift has been purchased, so if that's an option, take it. You can also aggregate all of your various wish lists with The Knot, giving you one main check point when it comes to gifts. Not only will it help you track your thank-you notes, it's a good reminder to update your list as well.
Mistake 10: Procrastinating on Thank-You Cards
The most important part of having great wedding registry etiquette is expressing your gratitude. Let your guests know their gifts have arrived, and do it promptly. Thank-you notes for gifts received before the wedding should be sent within two weeks of their arrival. Notes for gifts received on or after the wedding day should be sent within three months of your return from your honeymoon. Keep a list of what you've received alongside your guest list (where your friends' and family's addresses also live). Designate a space in your home where you can keep stationery at the ready—a subtle reminder to pen notes—and set aside time each week to chip away at the list. Be sure to mention the gift by name and share a few personal details too (like how you plan to use it or why you love the color so much).
 
Haven't created your registry yet? Now that you're a wedding registry etiquette pro, it's the perfect time to get started on creating your dream wishlist with The Knot. While you're at it, check out The Knot's Registry Awards winners—whether you need some inspiration for your own registry or you're shopping for a friend or family member, these products will surely please any couple.