Find Your Registry Style
Before you even set foot in a retail store, ask yourselves these essential questions—the answers will help you determine where to register and what exactly to include on your wish list.
by Colleen Brewer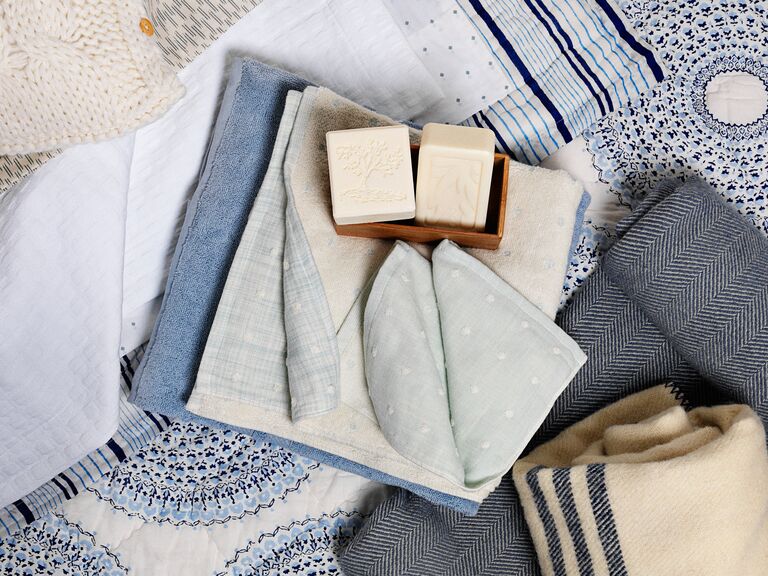 What's our design style?
This may seem like a loaded question if you already know that you're a city slicker and he's a country bumpkin. But it's good to get a handle on your individual tastes and how you can combine them as a couple before you register. Need help coming to a compromise? Try this: Sit down together with a few design magazines and home catalogs, and tear out stuff you both like, or compare notes online with a shared Pinterest board. Find your common ground in colors, accessories and furniture styles.
Do we like to cook?
If the answer is "occasionally," then it's okay to sign up for just a few multipurpose items—you might not need that entire block set of knives. On the other hand, if you both love to cook, you'll probably want to double up on equipment or add specialty items like fancy pasta machines that are perfect for gourmets-in-training.
Do we like to entertain?
And if so, what's our entertaining style? If you're party people, then you'll definitely need large serving pieces and lots of barware. If you like dressed-up events, you're going to want to own that luxe set of china. If the backyard barbecue reigns supreme, you might lean toward more rustic stoneware plates paired with chunky glassware.
What are our hobbies?
If you'll be Mr. and Mrs. Fix-It, then you should consider including a lawn mower, leaf blower and top-of-the-line tools. If you both love movies, think about signing up for a state-of-the-art smart TV or even a digital projector.
What's ready for an upgrade?
Shiny new toys are great, but getting rid of those dated floral sheets that he detests and replacing them with a thread count worthy of a grown-up bed can be even better. In addition to thinking about which items you might be lacking, also think about the hand-me-downs, decor and utensils that have been following you both around since college. Ditch the sticky shot glasses for glass tumblers, the mason jar centerpiece for a timeless vase or a new espresso maker to retire that ancient coffee brewer.
Are we planning on moving soon?
If you envision a newlywed home in your future, whether it's renting a new apartment or buying a house, take your new space into account. This may be hard to plan for if you're still on the hunt, but basics like having extra sheets and towels on hand for a guest room or getting a second TV, can be registered for without seeing the new lay of the land.
Are we planning on having kids?
We're not suggesting you should include the stroller and Diaper Genie on a bridal registry (save that for the baby shower), but if you're planning on having a brood, you may want to add extra towels, sheets, cookware and a big ol' stand mixer for making giant batches of cookie dough.
Ready to register? Start here!