The 411 on Registering for China
Everything you need to know about formal and everyday dishes.
by Lauren Kay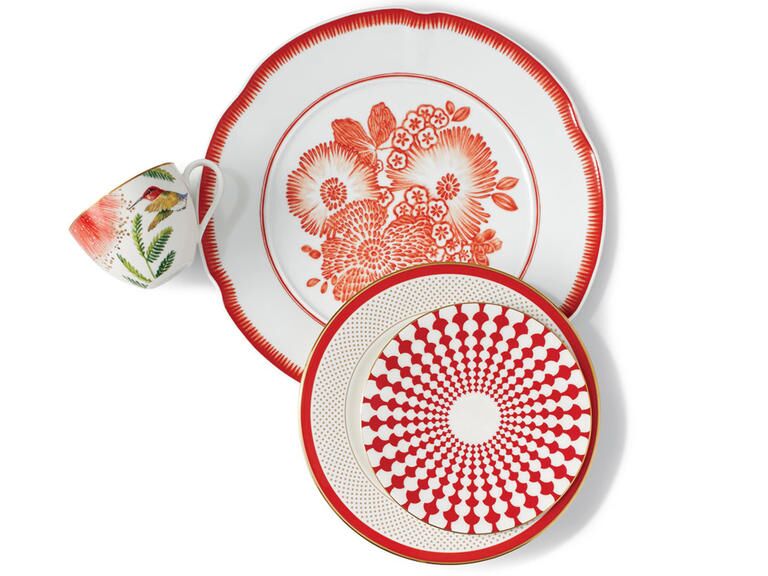 Wedding china is one of the most classic registry items. From everyday plates to formal place settings, most couples add some kind of dinnerware to their wish lists. But if you've never shopped for dishes the choices can be overwhelming—do I really need fine china, how many place settings should I register for and why does china cost so much? There are no rules, but a few things to consider.
Casual or Formal China?
There are two kinds of dinnerware—everyday dishes and fine or formal china. These days, the distinction between the two is a bit blurred—many people use casual china for their morning cereal and for special events (think: Thanksgiving dinner), while some people use their fine china for more casual occasions, like take-out date night. We recommend you register for a set of everyday dishes and a set of more formal dinnerware for special occasions or variety in your table setting.
Everyday China
Everyday dinnerware is much easier to care for—read: dishwasher safe—making it suitable for every meal of the day. Plus it's relatively inexpensive (four- and five-piece settings go for about $30 to $80, and a good quality open-stock dinner plate ranges from $10 to $30). The most popular of casual china, by far, is stoneware—dubbed so because of its toughness. And because it doesn't absorb moisture, stoneware behaves well in the microwave and doesn't crack with quick changes of temperature. Casual dishes come in a range of colors and patterns, many of which can be mixed and matched for a fun table design.
Fine China

Fine china is usually revered for special occasions, in part because it's more expensive and often needs to be hand-washed. It costs more than the casual variety because it's fired at up to 2,800 degrees Fahrenheit. The scorching temps meld particles densely together, making fine china sturdier and longer lasting than its more porous everyday counterpart. Even though fine china is lightweight, it's actually really strong, which allows for the thinner design. And some china patterns are super luxe—think: 24 karat gold designs or hand-painted details, which add to the cost. Within the category of formal china, there are two main types:
Bone china is often heralded as the best of the best, in part because it contains bone ash, which gives it a higher translucency and creates a warm ivory color.
Porcelain is made with an ingredient called kaolin, which results in stunning bright-white china. Although it's often fired at temperatures higher than some types of bone china, the two are almost equally durable.
While most couples pick china based on design not material, convenience also plays a role. Some patterns are both beautiful and dishwasher safe, which means you're more likely to break out the good stuff in between holidays. Bottom line: Choose something you love that also suits your lifestyle.
What comes in a place setting?
Place settings generally come in four-to five-piece sets. The four-piece set is more common in casual china, like stoneware or outdoor melamine, and includes a dinner plate, salad/dessert plate, soup/cereal bowl and mug. The five-piece setting is more typical of fine china and includes a dinner plate, salad/dessert plate, bread plate, and a cup and saucer. Most china patterns can be registered for in four- or five-piece place settings, or as "open stock," which means you can add extra soup bowls or dessert plates to your wish list. Open stock often comes in handy if a dish chips oryou find yourself entertaining larger groups.
How many place settings do I need?
It's up to you. Most couples register for 8 to 12 place settings. The right number all depends on how you entertain. If you have a big family and plan to host holidays, you may want to register for extra sets. If you're more of a guest than a host, six to eight settings should suit you just fine. It also never hurts to have a spare place setting or two, in case a saucer breaks during dish duty. And don't forget to register for extra-small plates—many salad plates double as dessert dishes, but who has time to wash them in between courses? If your pattern includes serving dishes or platters, register for them too. Most patterns stick around for a while before being discontinued, so you can also always add to your collection after you say "I do."