Wedding Rehearsals + Brunches: Toasting 101
Win over rehearsal dinner guests with your witty words and sentimental stories.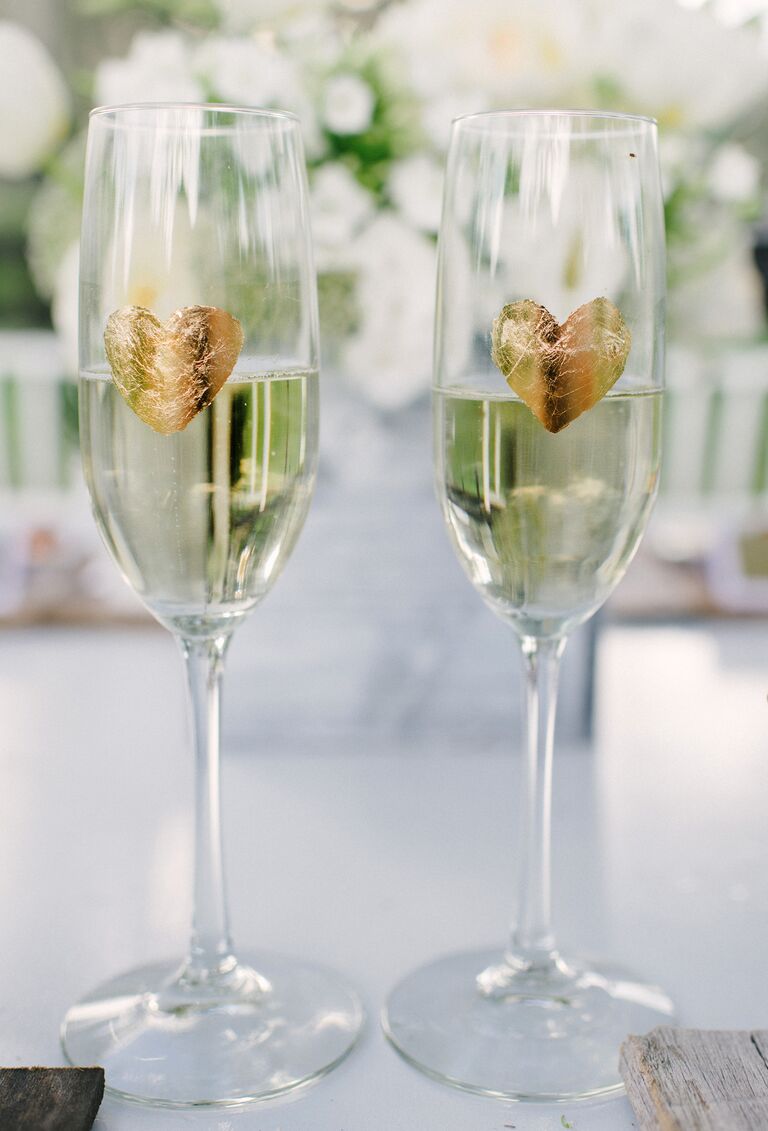 photo by
Rustic White Photography
From the engagement party to the big day, a wedding gives rise to all sorts toasting occasions. Stick with these tips and your time in the spotlight will be full of witty words not cringe-inducing faux pas.
Who Should Toast
Usually the parents, best man, maid of honor, and close friends will toast the bride and groom. Often the groom also toasts his new wife. But technically, anyone who has something to say can seize a moment in the spotlight to honor the newlyweds, and more freeform weddings may include several impromptu toasts. If you've got a member of the immediate party who doesn't want to give a toast (like a bridesmaid with severe stage fright or a father of the bride who doesn't speak English), let them know right away that there's no pressure, and work in another gesture for them during the day. Perhaps the father of the bride could choose the song he dances to with the bride, or your bridesmaid can add a line of thanks on your programs. Toasting is one way the people in your party can show their love, but it's definitely not the only way.
When To Toast
The father of the bride typically begins the salutations at the start of the meal, but there's no hard-and-fast rule -- some couples choose to have the toasts after dinner or to have the groom kick it all off. If your wedding is casual, toast it up whenever you have the inclination. If you have several people who want to toast, encourage them to each speak one at a time between a served course -- this helps pass time while your guests are waiting for the tenderloin to come out, and also gives people a break between speeches. Of course, if a particularly rowdy best man asks to stand up, you may want him be one of the first toasts, lest a few too many rounds of passed champagne alter his, er, judgment.
Toasting Etiquette
Remember to keep your toast light, fun, and most of all short: Two to three minutes should suffice. Try not to memorize your speech but instead, to speak extemporaneously if you can (you can rehearse a bit before). If you're worried you'll forget what you want to say, read off note cards. Remember, what's important isn't polish but sincerity.
What to Say
The bride and groom:
After someone toasts you, respond by rising in thanks and toasting back. This is a wonderful opportunity to thank loved ones and to publicly recognize your family for all they have done for you. Don't forget to acknowledge how lucky you both are to have found each other.
The best man, maid of honor, or close friends: Start by introducing yourself, since it's possible many guests haven't met you yet. Include random and funny anecdotes of times you've spent with the bride and groom, particularly any memories you have from when your friend first told you about their new spouse. Of course, inside jokes will always wind their way into the tales, but go easy -- find a way to include that funny story without making others feel left out. Be sure to speak about both the bride and groom even if you're just friends with one or the other.
What Not To Say
A good rule of thumb? Nix anything -- bad language, drunken anecdotes -- that you wouldn't say to the bride's grandmother's face. Sure, everyone knows you mean well, but you don't want the couple's memory of their big day sullied by the embarrassment of a too-juicy tidbit broadcast to 200 guests. And never, ever bring up exes, no matter how funny or perfect the story.
Wing It
While it's always smart to have something prepared, you should also be ready to speak off the top of your head if the occasion calls for it. Also, if you've got a serious speech and the wedding gets raucous, or had planned a sidesplitting line for a buttoned-up crowd, it's okay to ditch or amend your talking points at the last minute. Whether you go off on a tangent that cracks everyone up or just find yourself too emotional to speak, just remember to add an "I'm so happy for you two -- I love you guys. Cheers!" to the end.