48 Wedding Songs For Your Style
All the tunes to get you through your big day -- your way.
by Caitlin Moscatello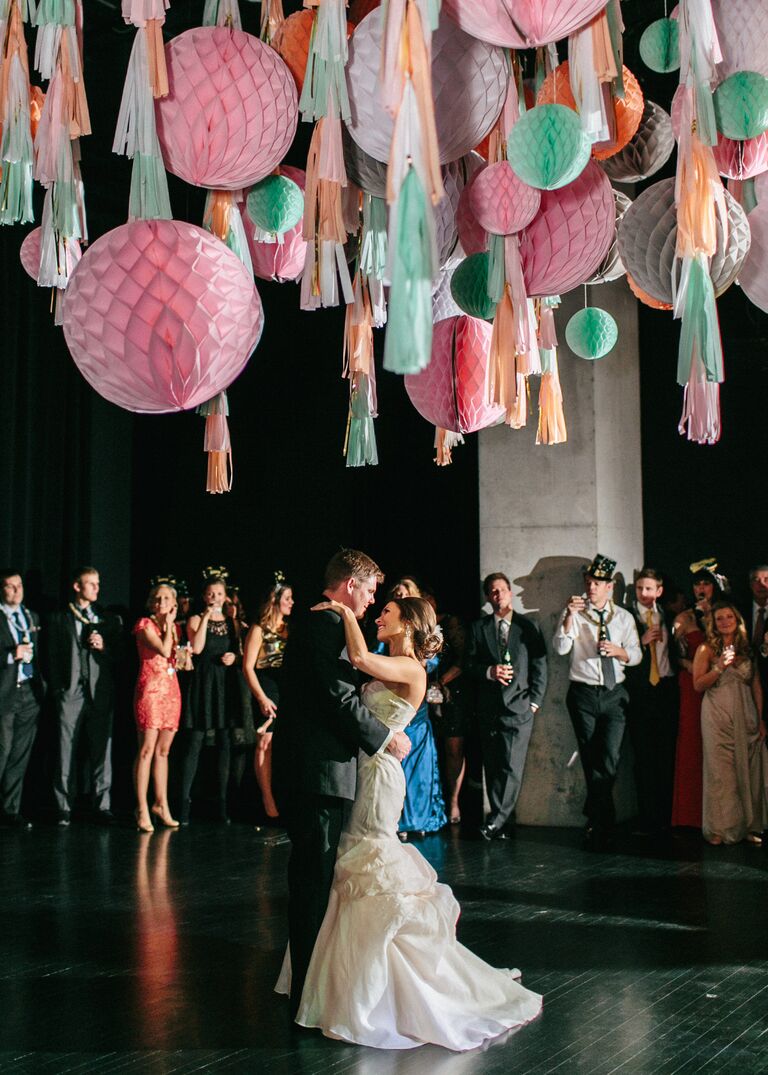 Is anyone else going to scream if they hear "Macarena" one more time? Thought so. With so many different music choices, there's no reason to go with a by-the-book wedding playlist. Show off your couple personality with songs that reflect your style -- and don't sound like every other wedding you've ever been to. We've even done the work for you! Go straight with one sound style, or mix and match for an eclectic assortment that'll have your guests up on their feet all night.
Your Wedding Style: Indie
Your wedding is as unique as you (hence the funny video montage you both created for your wedding web page). Your style is understated with quirky details, like the Converse sneakers he's wearing with his suit or the fabric clutch you found on Etsy.com that goes perfectly with your casual, vintage dress. When it comes to music, you're anti-Top 40 for your wedding (or any other day, while we're at it).
Ceremony Recessional
"Hello Sunshine" by Super Furry Animals
"Love and Some Verses" by Iron & Wine
Reception Entrance
"La La Love You" by the Pixies
"Baby I'm Yours" by Arctic Monkeys
First Dance
"First Day of My Life" by Bright Eyes
"Question" by Old 97's
Father-Daughter Dance
"Gracie" by Ben Folds
"Flood of Sunshine" by The Posies
Mother-Son Dance
"Opened My Eyes" by Straw Dogs
"Only You" by Joshua Radin
Cake Cutting
"Tonight Is Forever" by Acid House Kings
"Love It All" by The Kooks
Bouquet Toss
"Give a Little Love" by Rilo Kiley
"Miss Magnolia" by Matt Costa
Last Dance
"You Are the Best Thing"by Ray LaMontagne
"December Night" by Laura Warshauer
Your Wedding Style: All-American
You prefer giant, outdoor rock concerts with über-famous headliners to tiny bars with no-name bands. Your wedding mixes tradition (of course you're wearing Vera!) with plain ol' fun. To pack the dance floor and keep it that way all night long, you want music that your best friends, as well as your partying grandma, can get down to without missing a beat.
Ceremony Recessional
"All You Need Is Love" by The Beatles
"City of Blinding Lights" by U2
Reception Entrance
"Stay" by Dave Matthews Band
"Rock'n Me" by Steve Miller Band
First Dance
"If I Should Fall Behind" by Bruce Springsteen
"My Best Friend" by Tim McGraw
Father-Daughter Dance
"Just the Way You Are" by Billy Joel
"Father and Daughter" by Paul Simon
Mother-Son Dance
"Learning to Fly" by Tom Petty
"Kind and Generous" by Natalie Merchant
Cake Cutting
"Brown Sugar" by The Rolling Stones
"Love You Madly" by Cake
Bouquet Toss
"Just Like Heaven" by The Cure
"P.Y.T. (Pretty Young Thing)"by Michael Jackson
Last Dance
"Celebration" by Kool and the Gang
"Love Shack" by B-52s
Your Wedding Style: Trendy
Your shoes: dark red patent leather. Your dress: short. Your veil: a hatlet. Your wedding helps showcase your up-to-the-minute style, starting with your gemstone engagement ring all the way up to your rooftop ceremony and bright blue signature cocktail. Cheers!
Ceremony Recessional
"Something Coming Over" by O.A.R.
"No One" by Alicia Keys
Reception Entrance
"If It's Lovin' That You Want" by Rihanna
"Love Like This" by Natasha Bedingfield
First Dance
"I'm Yours" by Jason Mraz
"Bubbly" by Colbie Caillat
Father-Daughter Dance
"This Is My Now" by Jordin Sparks
"Daughter" by Loudon Wainwright III
Mother-Son Dance
"Blackbird" by Sarah McLachlan
"Viva la Vida" by Coldplay
Cake Cutting
"Candyman" by Christina Aguilera
"Green Light" by John Legend
Bouquet Toss
"Single Ladies (Put a Ring
on It)" by Beyoncé
"Womanizer" by Britney Spears
Last Dance
"Let It Rock" by Kevin Rudolf
"Just Dance" by Lady GaGa