10 Creative Wedding Transportation Ideas
Looking for an out-of-the-box exit or entrance? Then direct your attention to these dune buggies, dogsleds and more.
by Ivy Jacobson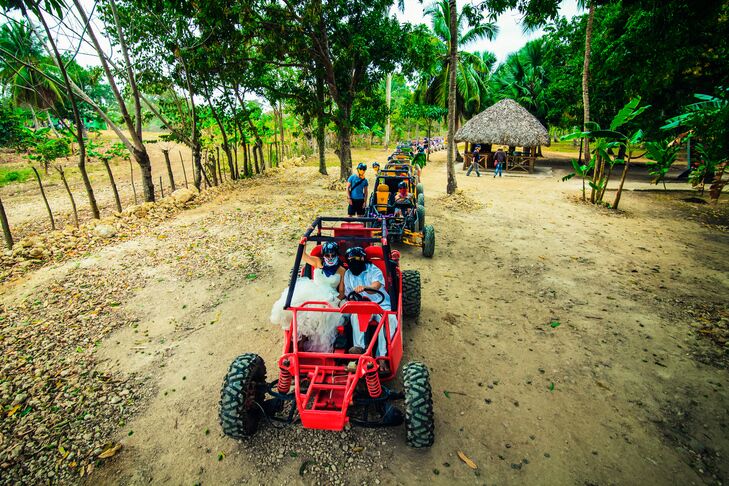 photo by
The Wedding Traveler
Yes, limos are definitely a great way to transport your wedding party, and they make for fun and glamorous wedding photos—but you know what else could make for a cool wedding photo? A paddleboard or tractor to start! Here are 10 ways real couples thought outside the box to get to and from their wedding.
1. This Tractor Exit—That the Bride Thought Was Sexy (Come on, We Had to)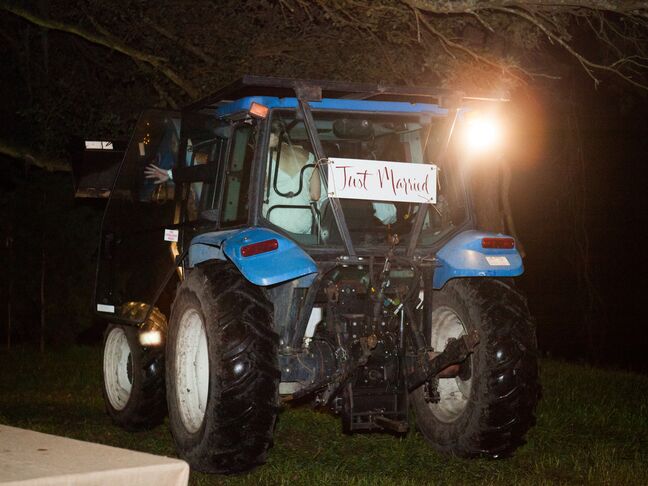 photo by
Lindsi Jones Photography
It was fitting that the newlyweds drove off on a tractor with a "Just Married" sign, since they married at the bride's family farm.
From the Album: A Farm Wedding at a Private Residence in Nashville, Georgia
2. This Whimsical Pedicab Arrival
photo by
Karen Feder Photography
This couple decided to buck tradition and make their entrance count, arriving at their ceremony in a yellow pedicab with an "Almost Married" sign on the back.
From the Album: A Charming, Brunch-Themed Wedding at the Town and Country Club in St. Paul, Minnesota
3. This Hay Ride the Whole Bridal Party Arrived On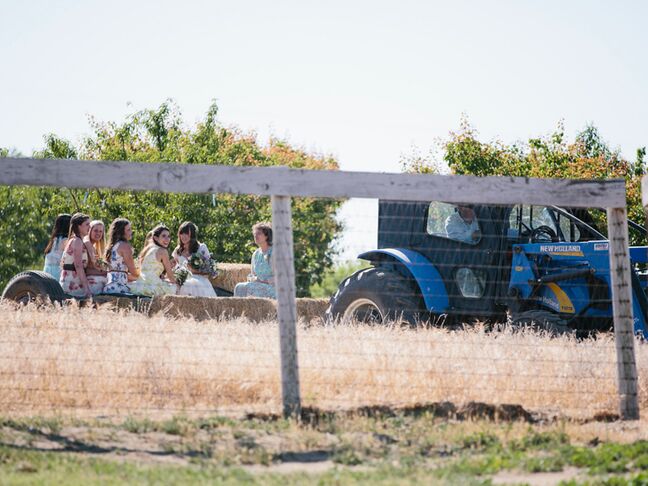 photo by
Roots Photography
Hay rides can be fun all year-round, and this bride and her bridesmaids proved that by arriving at the ceremony on a tractor-pulled wagon stacked with bales of hay for them to sit on. Perfect for a country-themed wedding!

From the Album: A Pretty Country Wedding at Lederhos Farm in Bakersfield, California

4. This Paddleboard Photo Op (That's Not for the Faint of Heart)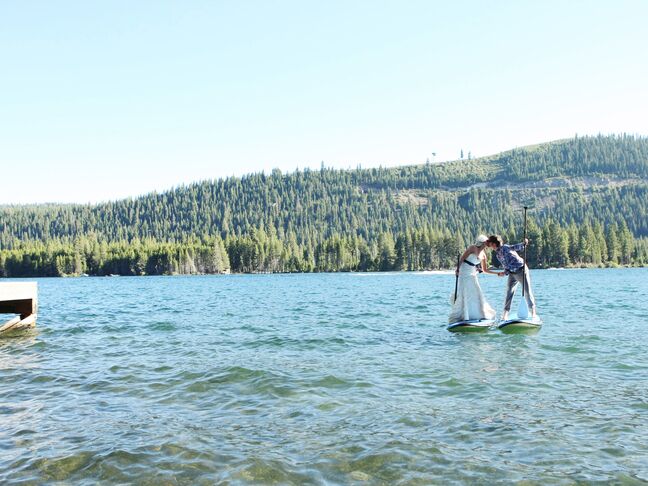 photo by
Dekker Photography
Paddleboarding amateurs probably shouldn't attempt to make their way to the middle of a lake on their wedding day (dressed head to toe in their wedding ensembles), but clearly, this couple knows what they're doing.
From the Album: A Whimsical Wedding at Chalet View Lodge in Graeagle, California
5. This Amazing Dune Buggy Decampment
photo by
The Wedding Traveler
This couple—and all of their guests—left their Dominican Republic wedding in complete style, zooming along in dune buggies to complete the day.
From the Album: A Traditional, Multicultural Destination Wedding at Paradisus Punta Cana Resort in Punta Cana, Dominican Republic
6. This Cool-As-Ice Dogsledding Exit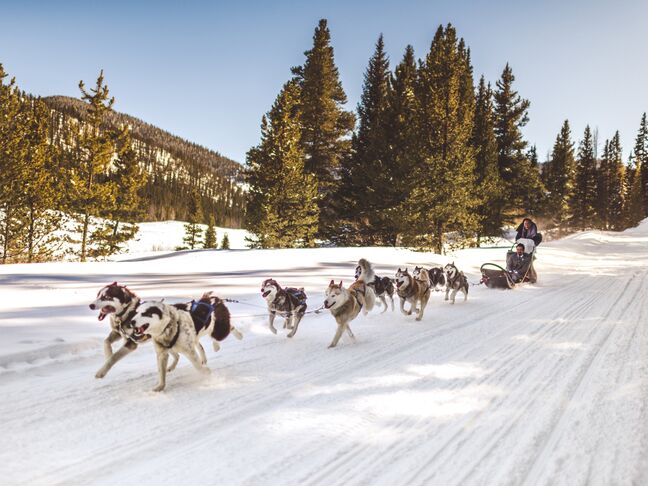 photo by
The Photogenic Lab
The bride sported Timberland boots when she and her husband dogsledded to and from their wedding ceremony in snowy Colorado.
From the Album: An Adventurous Dogsledding Winter Wedding at Good Times Adventures in Breckenridge, Colorado
7. This Color-Coordinated Bicycle Exit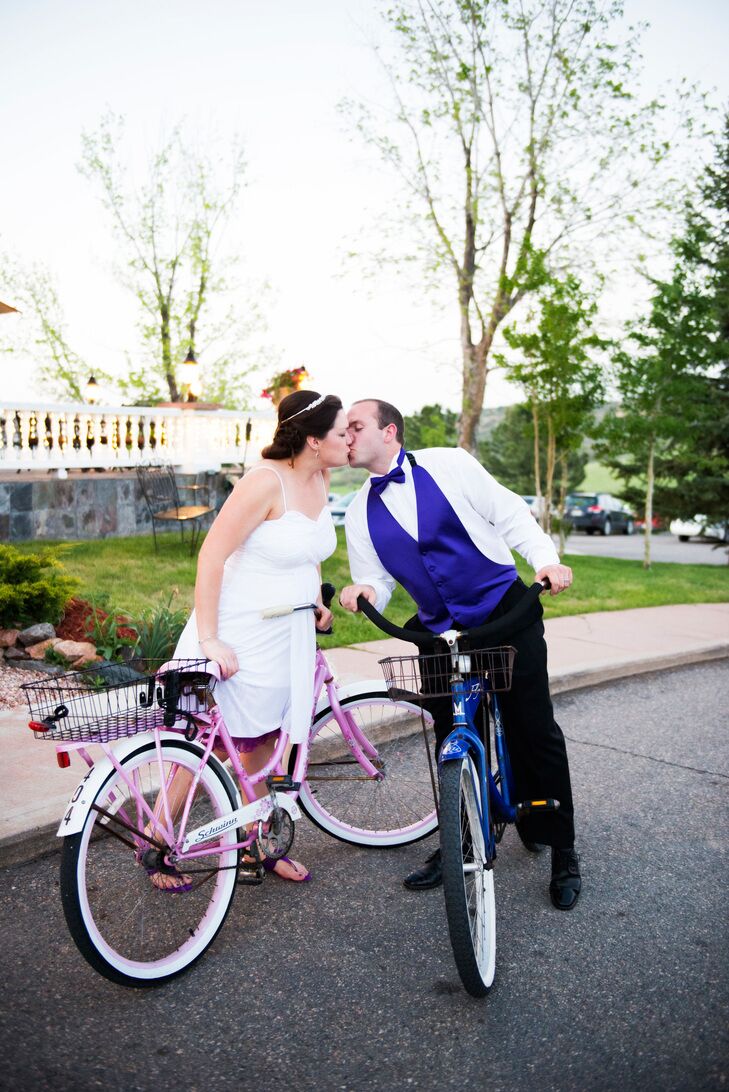 photo by
Two One Photography
It was wheels up for this couple, who chose to ride into the sunset on two bikes that matched each of their wedding outfits.
From the Album: A Peacock-Themed Wedding at The Manor House in Littleton, Colorado
8. This Amazing Car-Shaped Boat Voyage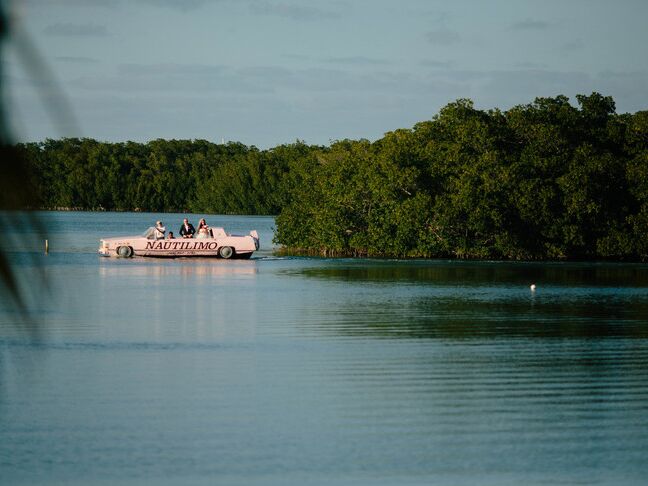 photo by
Kallima Photography
Nope, your eyes aren't playing tricks on you—this snazzy Nautilimo—a boat in the shape of a car—took the newlyweds out for a spin.
From the Album: A Fun Waterfront Wedding at Pierre's Restaurant in Islamorada, Florida
9. This Wild West–Inspired Exit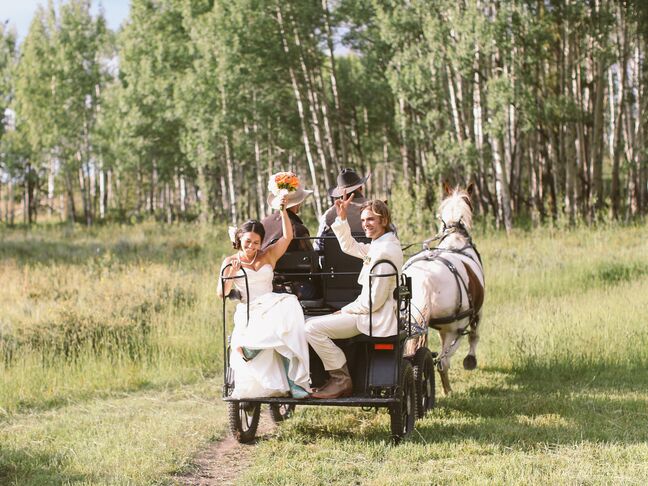 photo by
Love Roots Photography
It was nothing but happy trails for this couple, who drove off to the reception in a horse and buggy—wearing cowboy boots, naturally.
From the Album: A Simple, Rustic Wedding at The Devil's Thumb Ranch in Tabernash, Colorado
10. This Romantic Moonlit Canoe Adieu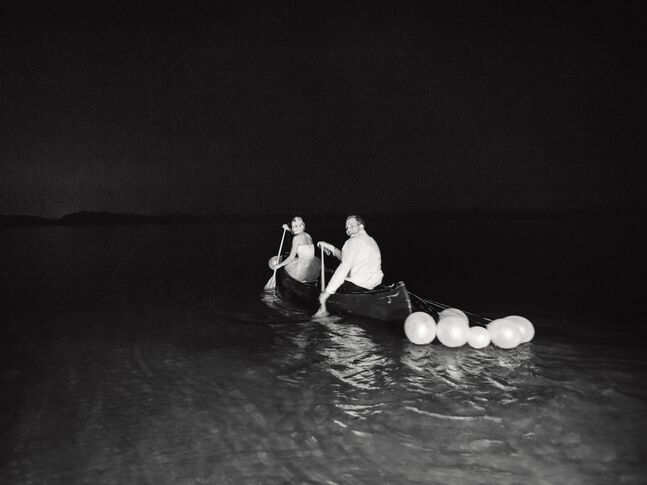 photo by
Lacey Gabrielle Photography
A canoe exit was the perfect send-off for this couple's lakefront ceremony.
From the Album: A Natural Waterfront Wedding at Lake Lanier Islands Resort in Buford, Georgia