Watch 5 Real Vow Exchanges That Will Melt Your Heart
Emotional wedding vows that are equal parts inspiring and ugly-cry inducing.
by Vanessa M. Buenger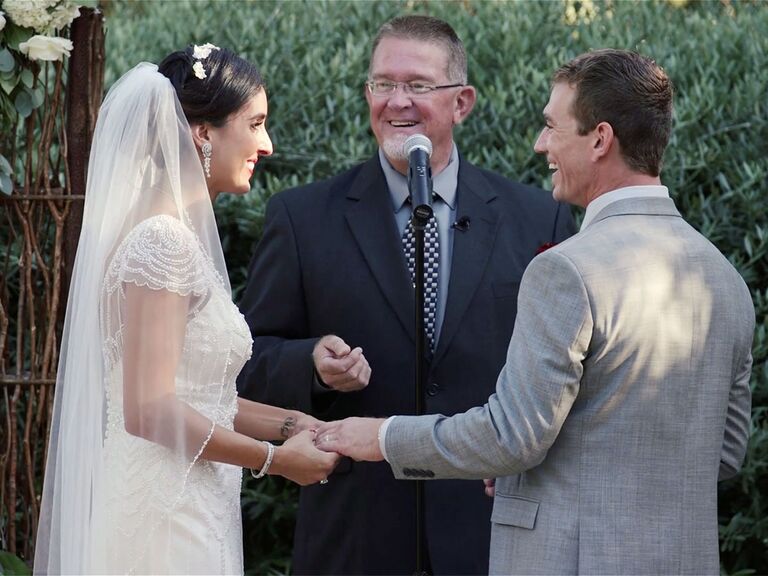 Having trouble writing your own vows? Watching wedding videos of real couples exchanging vows is an easy way to find inspiration. Let these gorgeous films from Love Stories TV—the best place to watch wedding videos—take away the pressure of finding the perfect thing to say (by the way: there's no such thing!) and remind you why you're writing your vows in the first place. So sit down and get comfortable—you won't want to stop watching these heartwarming wedding reels.

1. Michelle and Jemy's Vows at Luxmore Grande Estate in Winter Springs, Florida
Video by Make Your Marq Videography
Quote that made us cry: "Grow old with me and make me the happiest man on earth."
2. Becca and Melina's Vows at Grand Isle Lake House in Grand Isle, Vermont
Video by Dan Hopkins
Quote that made us cry: "I promise to always be there, to always listen, to always hold you close. I love you…so much."
3. Lisa and Alex's Vows at the Quiraing in the Isle of Skye, Scotland
Video by Vow of the Wild
Quote that made us cry: "You are my greatest adventure. I'm so excited to spend the rest of my days with you."
4. Ali and Garrett's Vows at Anodyne Coffee Roastery in Milwaukee, Wisconsin
Video by: Happy Camper Films
Quote that made us cry: "I knew you were something special from the first morning coffee date we had, when I got up an hour earlier than I had to."
Video by: SidebySide Cinema
Quote that made us cry: "I promise to love you always, never sometimes, for all the days of my life."
Vanessa M. Buenger is the head of growth at Love Stories TV, the place to watch and share wedding videos. Browse the library of curated and categorized real wedding films to get ideas and inspiration for your day, and share your wedding video on LoveStoriesTV.com to inspire others.
Can't get enough sweet moments from Love Stories TV? Watch five emotional groom reactions here.