We're Obsessed With This 'Beauty and the Beast' Graffiti Proposal
by Ivy Jacobson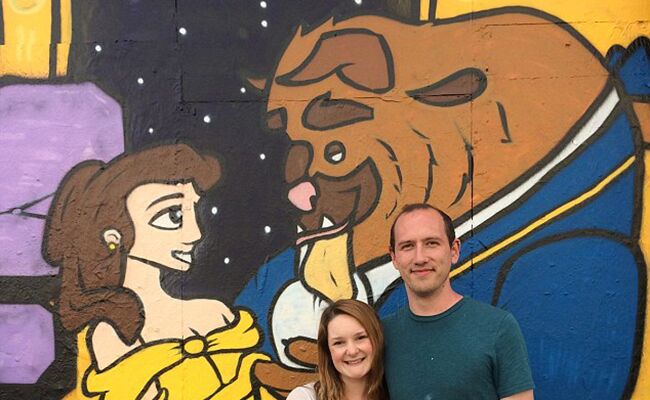 photo by
Henry Barnes / SWNS.com
Henry Barnes got Belle and the Beast involved in his proposal to his girlfriend of three years, Stacey Smith — it just took a ton of paint. Henry, a graffiti artist in Bristol, England, took two days and used 30 cans of paint to create a 50-foot Beauty and the Beast graffiti mural on a street in Bristol, since it's Stacey's favorite movie.
"[Henry] rang me and asked if I wanted to meet up for a drink in Stokes Croft (in Bristol) after work and I didn't have a clue what was going on," Stacey told the Daily Mail. "Henry didn't even say anything to me. I walked around the corner and just saw the piece, it was so unexpected I just burst into tears. It did all feel a bit unreal and then Henry got down on one knee."
She continued, "It was incredibly romantic and it also felt very strange because there were a lot of people around who started clapping and cheering. The whole thing happened so quickly, it was a bit of a whirlwind. I really didn't see all this coming but it will certainly be one of those things I always remember."
Henry also told the outlet that this was the biggest art project he's ever worked on.
"I have never done anything as big as this before," he says. "I spent the first day painting the wall over and the second day I spent all day painting."
Besides the mural, Henry is clearly a thoughtful groom-to-be, since he included Cogsworth and Lumiere too.
See the full wall below: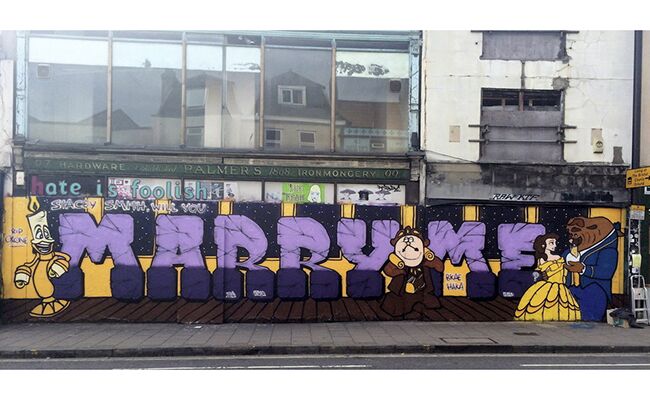 photo by
Henry Barnes / SWNS.com
Want more? Right here!
> Can you believe these newlyweds spent their wedding night in jail?