Real Talk: When Are You Too Old For Your Parents to Pay for Your Wedding?
We've got actual data on the subject.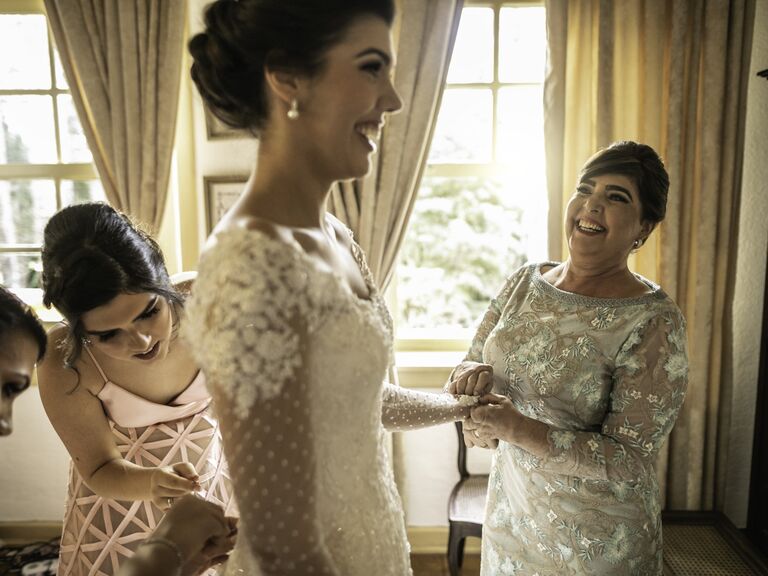 Photo: FG Trade | Getty Images
According to tradition, a couples' parents typically contribute in part or in full to their wedding expenses. However, as more couples tie the knot at older ages, that begs the question: At what age do parents not pay for weddings? To help answer this, we chatted with a couple of experts on the topic. So if you're newly engaged, or you're a parent of someone who is, keep reading to learn the etiquette behind age and parents not paying for weddings as well as guidelines on how much each partner's parents typically provide for the wedding and if they do, how to best thank them for paying.
In this article:
Is There An Age When Do Parents Not Pay for the Wedding?
The truth is, there's no "right" answer, as it's different for every couple and family. The Knot Real Wedding Study has some hard data on the subject, though. According to the study, the parents of Gen Zers (those born after 1997) pay for 63% of the wedding, while parents of millennials (those born between 1981 to 1996) pay for 52%. But we see a sharp drop off for the parents of those in Gen X (born between 1965 and 1980), who pay for just 18% of those weddings. So based on this data, it seems like once couples hit their late 30s or early 40s, parents pay for a smaller portion of the wedding, or don't contribute at all.
In short, there is no age limit or exact etiquette for when parents do not pay for their children's wedding costs, says Tonya Hoopes, owner of Hoopes Events. If the parents have the means and are willing to contribute or pay in full, Oniki Hardtman, owner and creative director of Oh Niki Occasions, says the couple's age really doesn't matter. Rather, the parents' and couples' financial situations are more of a determining factor on whether or not the parents contribute to their child's wedding. For instance, Hardtman says, in her experience, typically couples whose parents pay for their wedding in full come from a long line of generational wealth. And in many instances, she says couples pay for 100 percent of the wedding themselves regardless of their age because they out-earn their parents or have budgeted for the costs.
Another reason older couples may opt to pay for their wedding themselves is that they have specific tastes and desires when it comes to their wedding, and having their parents contribute financially may mean they must also incorporate their wants. "When you are older and more established, you often are more set in your ways or have things you like and dislike," Hoopes says. "If your parents are paying for your wedding as an older couple, you will probably want to find out what kind of say they would like to have in the details. By doing this upfront, you will be able to navigate the planning process and hopefully eliminate any tension that might arise over what you want versus what they want."
Regardless of who is paying for the wedding or the couple's age, Hardtman emphasizes that the most important thing is to have the money conversation very early on in the wedding planning process to establish the wedding budget and boundaries, as some parents may want to invite their list of friends and family members. "It is best that the couple come into agreement of what those boundaries look like and their relation to who is paying to cover the cost of these guests and any other expenditures," Hardtman says. "As a planner, it also helps establish who the decision makers are as well as those that we should be communicating with, regardless of age."
How Much Does the Bride's Parents Provide for the Wedding?
As for the bride's parents' financial responsibility, Hoopes says they typically cover around 70 to 80 percent of the wedding cost. However, Hardtmands adds that in some cases, the bride's parents pay for 100 percent of the wedding.
How Much Does the Groom's Parents Provide for the Wedding?
For the groom's parents' financial responsibility, in her experience, Hoopes says the groom's parents usually cover about 20 to 30 percent of the wedding costs. Often that includes things the groom's family traditionally pays for such as the rehearsal dinner.
If Parents Pay for the Wedding, Do They Give a Gift?
Hoopes says there is no set etiquette on whether parents should give the couple a gift if they are helping to pay for the wedding. "This really depends on the parents' circumstances and sometimes on family and cultural traditions," she says. "Some parents will give small gifts such as small kitchen appliances, bath towels and sheets at showers. Some parents will give larger wedding gifts such as paying for the honeymoon, a down payment for a house, or a financial gift." Hardtman adds that parents contributing to wedding costs also often buy the couple something small and sentimental as their wedding gift.
How to Thank Parents for Paying for Your Wedding
If you or your partner's parents do contribute in part or in full to the wedding costs, etiquette dictates that you give them a gift as a thank you. There is no right or wrong gift for this purpose. Consider thank-you gift ideas for parents such as a sentimental art print, a personalized wedding album, or a custom-painted illustration. Or, it could be something else you know they would love and enjoy, such as their favorite bottle of wine, cozy robes, or a coffee subscription. You know your parents and your in-laws the best, so as long as it comes from the heart you can't go wrong.