What You Absolutely Must Do Before Registering for Gifts
Wedding expert Geomyra Lewis has the advice your need to keep registering from getting overwhelming.
by Carrie Anton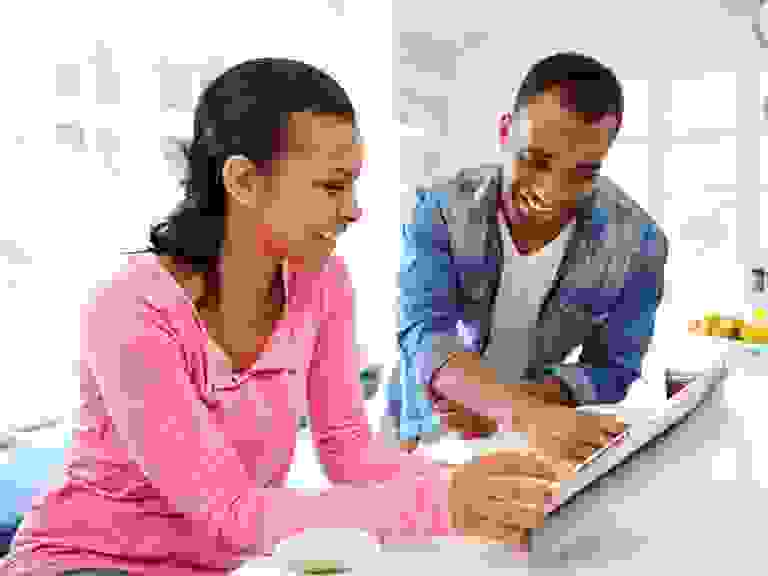 Filling your newlywed home with new housewares, trendy décor and more—all with someone else footing the bill—is a definite plus to getting hitched. But before you approach registering for gifts while wearing rose-colored glasses, remember that things can go from fun to stressful in seconds flat.

It all starts with the giddiness that comes from getting the retail scanner in hand—it's easy to feel like a kid in a candy store, pointing and clicking at every item that catches your eye. But that feeling can quickly fade walking endless aisles and home sections of the store, hit with more product options than you even knew you needed.
Making a List
Whether starting a new home together or replacing your secondhand sheet sets, stocking up on everything you need is a big undertaking. It's not just about the obvious new towels and plates—it's forgotten items too, like measuring cups, under-bed storage and tools for everyday maintenance.
"Before heading out to various stores or logging into your computer, make a list of the items you need for each room," says Geomyra Lewis, owner and lead planner of Geomyra Lewis Weddings & Events. "By addressing the things you need first, you can focus on needs versus wants. After you've selected the essential items from home, do preliminary research on reviews from real consumers."
Online vs. In-Person
Shopping online has become easier than ever, with more stores offering great newlywed-focused housewares and wedding registry options. Still, there's something to be said for being able to engage your senses with the texture of a new comforter and the firmness of couch throw pillows, not to mention to check if the "indigo" you see on screen is the same as it is in store.
The good news is you typically don't have to choose between one or the other, and Lewis recommends doing a mix of both. "It's always nice to touch and try out certain products before registering," she says. "For example, feeling towels and sheets in the store makes it easier to decide on which brand you want, whereas registering online allows you the freedom to work slowly and add to your registry during your downtime."
Start online to make your initial list, going through each home category to consider items you might've otherwise forgotten. By doing your research from home, you can be more efficient when you go to the store, looking specifically at items you liked online but needed to see up close before deciding.
Finesse Your List
Depending on how many guests you have, as well as how many wedding showers are being thrown in your honor, it's important to give guests plenty of options at varying price points without overwhelming them.
"Often couples will over- or under-register for items," says Lewis, who recommends that registering for gifts should be about quality over quantity. Fill your registry with must-have items first. If more are needed, add on those "nice-to-have" products next.
Lewis suggests checking your registry status often leading up to prewedding events and your wedding day, as some items may be seasonal and may not available by the time your guests start purchasing gifts.
Ask for Help
You may quickly find that registering for gifts is no joke, and that you and your significant other either feel lost or on the verge of a meltdown. Before you throw in the towel and just ask for gift cards, remember it's okay to reach out to an expert.
"Registering for wedding gifts and planning your wedding should be a fun and joyous experience," Lewis says. "Take advantage of the seasoned sales associates and seek advice from them. You can also use your wedding planner as a resource."