What To Do With Your Instagram Wedding Photos
by Bridget Clegg
Instagram photos from your first date meal (#yummy!) to your engagement (#weregettingmarried!) to your cake-cutting (#thisishappening!) are floating around on your phone just waiting to be displayed somehow. We all appreciate that double-tap love, but it's satisfying to see your photos off the screen, too! Here are 10 websites, apps and new products that help make your wedding day Instagrams into tangible, printable, shareable, giftable items.
1. Print your own Instagram storybook.
Print out your favorite Instagrams of the wedding weekend in a bound 7 x7-inch book.
Blurb Instagram Books: $18.99 for 60 pages
2. Stick your newlywed faces on anything and everything.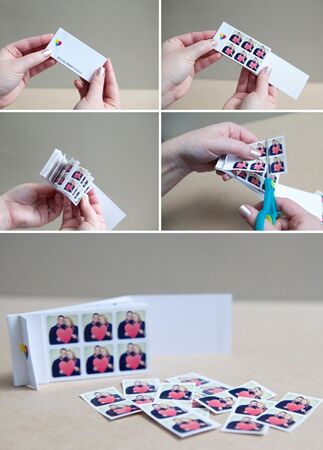 Create a book of stickers with Instagram photos of you and your spouse from your wedding day. Use them for thank you cards (or save-the-dates if you're still planning your wedding!). Or, skip the stickers and design Instagram greeting cards.
Printstagram: $10 for book of 252 0.8-inch stickers; $25 for 36 4×4-inch greeting cards
3. Feature your wedding day on your wall.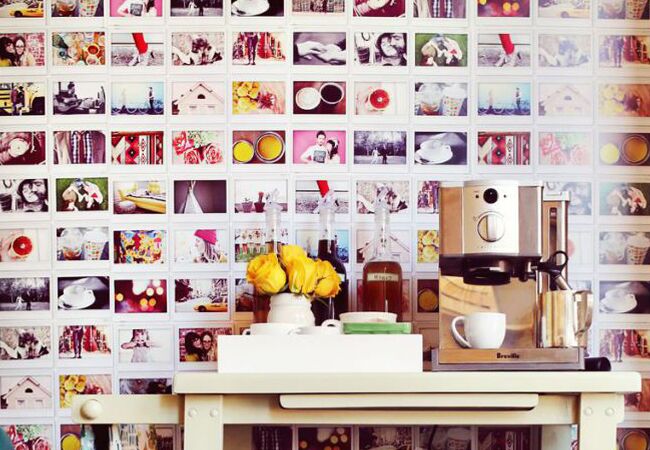 Make Instagram prints using an app like PostalPix, then follow this tutorial to make your own feature wall that takes guests through each moment of your wedding day!
4. Cue up the slides on a mini Instagram projector.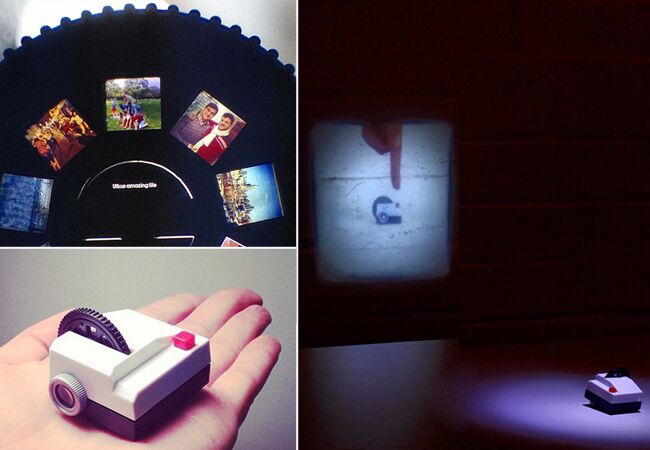 Choose 9 images from your hashtag to be added to a wheel of 35mm film inside this portable projector!
Projecteo: $34.98 for 1 wheel of film and projector
5. Send an Instagram thank you postcard.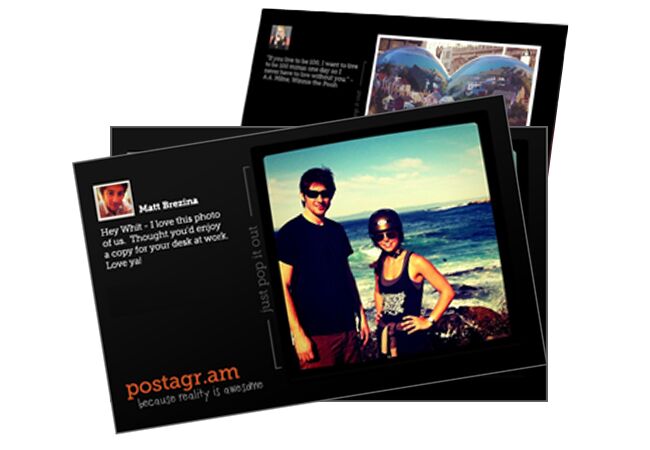 Download the app, select your photo and send a snail mail postcard to thank wedding guests. Send a honeymoon pic for the speediest thank you ever!
Postagram– Free app, $0.99 for each postcard
6. Rest your head on a wedding photo pillow.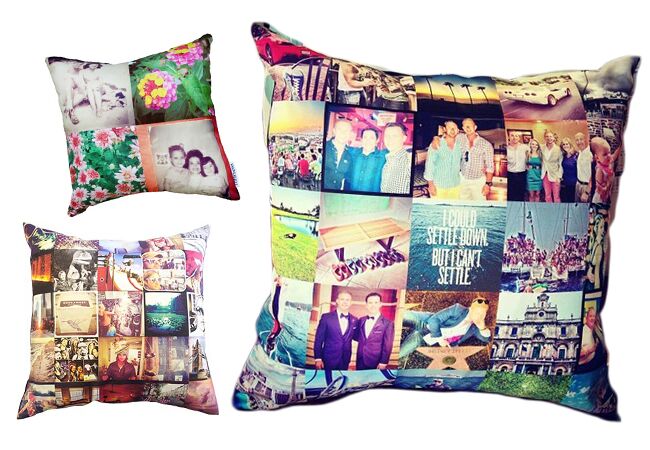 Send your photos to the seamstress to create a pillow made from fabric printed with a collage of your Instagrammed wedding memories.
Stitchtagram: $68 for 15-in square linen-cotton canvas pillow
7. Celebrate a year of wedding photos with an Instagram calendar.
Pick 12 highlights from the day to make into a calendar. This one is made with reclaimed wood and has a magnetic hanging system that's perfect for the fridge!
Artifact Uprising: $28.99 for a 7.5×5.5-inch 1-year calendar
8. Make a wedding day gallery with canvas Instagram prints.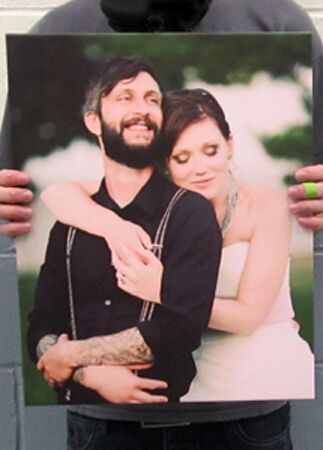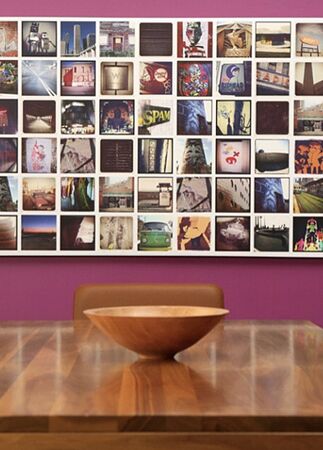 Get photos off your phone and onto the wall with mini canvas prints that are awesome on their own or in groups.
CanvasPop– print on canvases: $39.95 for 12×12-inch canvas
9. Magnetify your fave shots!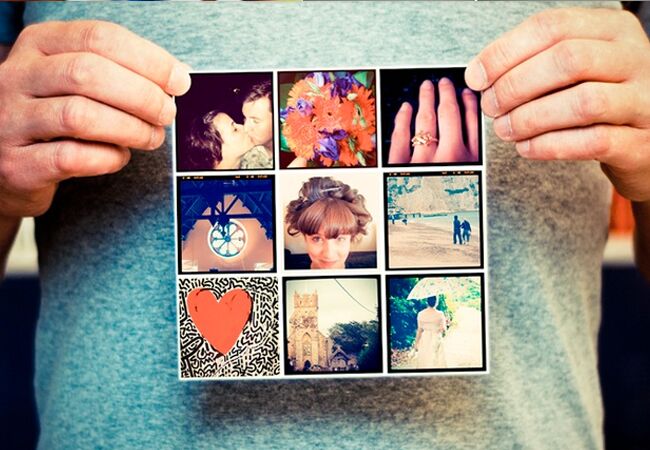 Make magnets out of your most loved Instagram shots to thank your bridal party or just stick on your fridge!
Stickygram– $14.99 for sheet of 9
10. Forget the frame– make a set of glass coasters!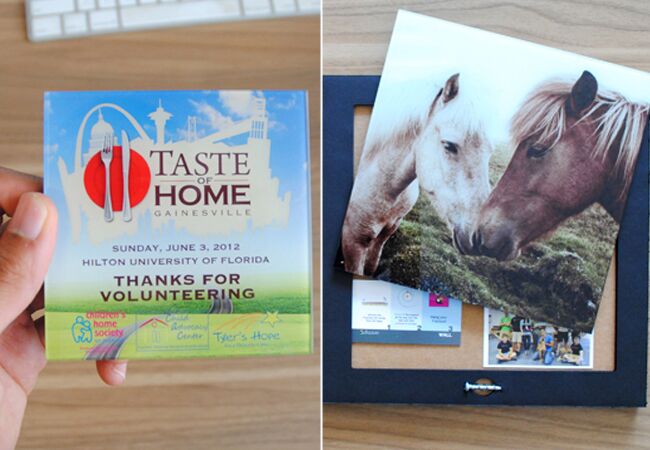 Print your Instagrams directly onto glass for some cool frameless wall art. They're also the perfect size for a set of wedding day coasters!
Fracture– $12 for 4×4-inch square
See More Wedding Photo Ideas!
> Bride Instagrams her wedding (and it's awesome)
> 5 DIY photo projects for your wedding