Just Engaged? Here's What to Expect the First Few Weeks of Your Engagement
Just said "yes" and already feeling the crunch? Here's how to relax and revel in the first few weeks of your new engagement.
by The Knot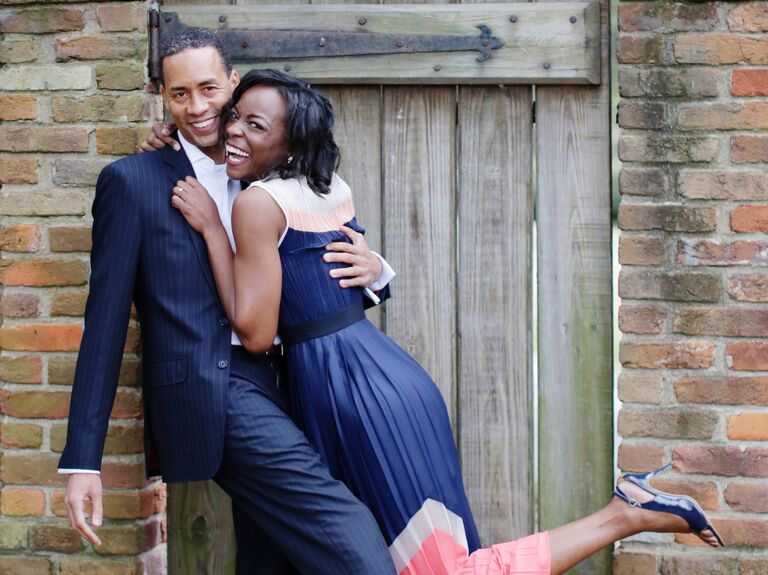 photo by
Eleise Theuer Photography
Your partner finally popped the question! You're engaged, high on love and can't stop looking at your new engagement ring. Then the calls start: Everyone wants to know the wedding date, the bridesmaid dress color and where you're registered. Suddenly, you've gone from a heartfelt proposal to 21 questions about the guest list, your wedding style, china patterns and dress silhouettes. Just breathe, recall everything that made you excited the moment you said "yes," and remember these tidbits of wisdom from those who've dealt with it firsthand.
Stop the Inquiries
More often than not, moms are the first to start asking questions. "The first thing my mother-in-law wanted to know when we announced our engagement was what kind of dress she should shop for," says Rebecca Menkens, a marketing director in Charleston, South Carolina. "And my fiance's grandmother wouldn't stop asking us about the date. She told us to hurry because her calendar was filling up already."
Sound familiar? It's easy to let people stress you out during the newly engaged phase. Don't let them, warns Myrna Ruskin, a marriage stress specialist in New York City. "You're probably bombarded with questions from all sides," Ruskin says. "If people keep pressuring you about the date, don't be intimidated. Instead, say, 'Once we come off our cloud, you'll be the first to know the wedding date.' Whatever you do, don't miss the chance to bask in your new status and enjoy those first few weeks free from planning pressure."
Your moms (and other family members) also may not be thrilled by your decision to postpone wedding planning while you feel out your new commitment. "Some moms are very understanding and laid-back, while others will be totally on top of the bride in particular," Ruskin says. "It's important that you respectfully ask your moms to back off for a couple of weeks. Most parents will get the message, even though they can't wait to start helping you plan." When you start to want input, you'll ask.
The First To-Do
Definitely revel in your new engagement, but don't linger for too long—that's where couples fall into the tricky snare of procrastination. It's overwhelming to consider every tiny detail so early in the game, but many things do require planning ahead (some wedding reception venues are booked a year or two in advance).
So when the time is right and you get the itch to begin, don't freak out if your spouse-to-be seems disinterested or overly relaxed. One half of the couple is often the first to catch wedding planning fever while the other needs to recover from plotting the proposal.
And before you open the floor to family input, sit down with your partner and privately discuss your wedding dreams (and nightmares). "Maybe you both always wanted an outdoor wedding on a mountaintop," Ruskin says. "Find out what's non-negotiable."
Family Matters
If both sets of parents haven't already met, this is the time to introduce them. Traditionally, the groom's parents call on the bride's (if they live far away, the groom's mother might call the bride's mother or send a note). Every family is different, though. If one set of parents is divorced, talk to your partner about the best way to bring the in-laws together. Also, discuss how much you want your families involved in the wedding planning and what specific tasks you will ask them to oversee. Being on the same page and having an organized game plan (even if it ends up changing) will give you both a sense of calm and control.
Finally, a great way to approach this colossal project is to tackle some tasks together and split the rest fairly. For example, you'll probably want to choose wedding ceremony and reception locations as a team. From there, it's easiest to assign responsibilities by interest but resolve to make planning everything as fun as possible, from the cake tastings and creating your wedding website to the sometimes-sticky budgeting talks.
The moral of this story? Don't let the logistics and people involved in your day confuse your newly engaged bliss. Treasure this exciting time—you'll have plenty of time to deal with planning to-dos later on.
Planning on the go? It's never been easier with the The Knot Wedding Planner app.