Heading To Mexico For Your Honeymoon? Here's What To Pack!
by Libby MacCarthy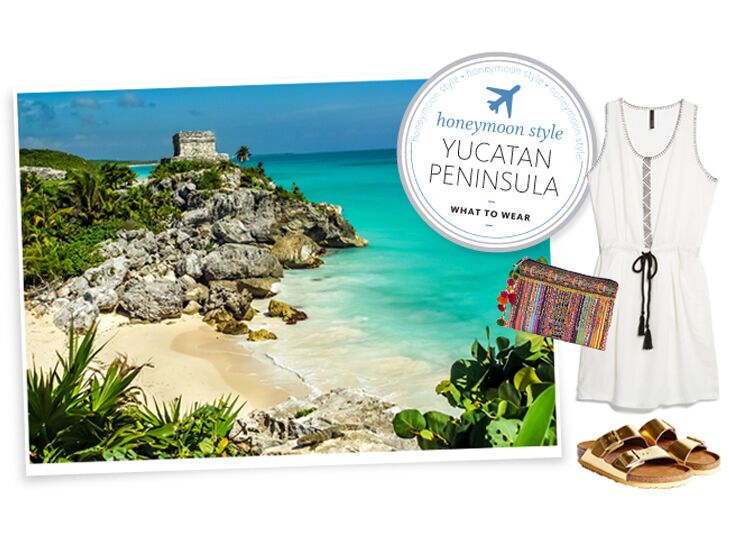 Situated between the Gulf of Mexico and the Caribbean Sea, Mexico's Yucatán Peninsula is the perfect honeymoon spot for couples who want it all. A quick flight from most US cities, the Yucatán is rich in Mayan culture, delicious food and breathtaking scenery.
Visit Tulum and travel back in time while visiting the ancient Mayan ruins. Marvel at the historic mansions in Mérida or take in the scenery at one of the area's many eco-parks, where you'll see everything from flamingos to sea turtles. Beautiful beaches are the perfect place to relax, while underwater caverns and the world's second largest barrier reef will give you plenty to explore. Don't forget to sample some of the region's specialty dishes like polla pibil, a Yucatán-style chicken, sopa de lima and relleno negro.
The best time to go? November to April is the high season (and the dry season) and the best time for warm, calm weather that is perfect for visiting the ruins and the abundance of outdoor activities the region offers. Prices typically drop during the period between May and October, the area's rainy season. While it means relief from hot, humid temperatures, there is a higher frequency of tropical storms and hurricanes that might put a damper on your plans.
Does this sound like your ideal honeymoon? Read up on our favorite spots here and then check out our list of must-pack items to take along!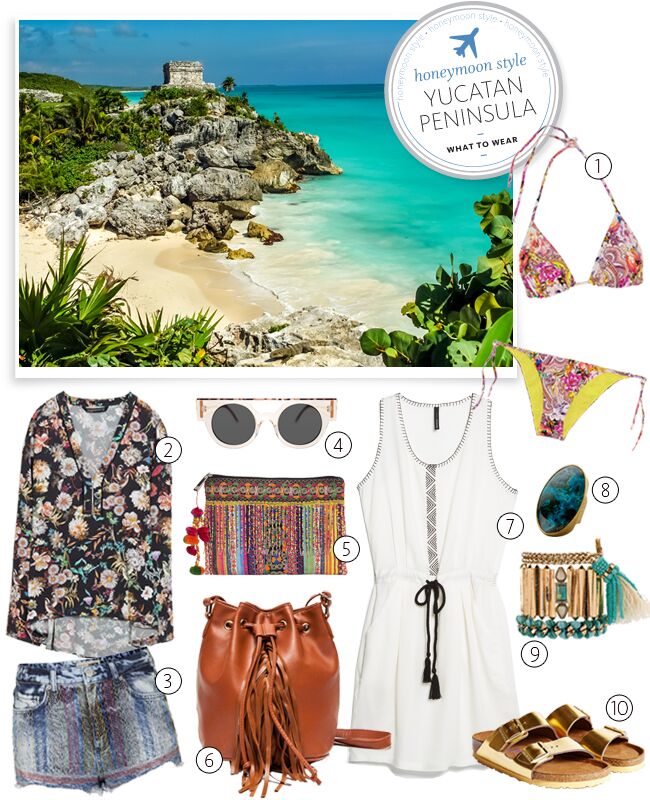 1. Etro floral bikini, $290, Net-a-porter.com; 2. Floral top, $70, Zara.com; 3. Embroidered shorts, $68, Topshop.com; 4. Sunglasses, $300, Illesteva.com; 5. Embellished clutch bag, $57, ASOS.com; 6. Fringe bucket bag, $68, NeedSupply.com; 7. Embroidered dress, $60, Mango.com; 8. Heather Benjamin ring, $418, Anthropologie.com; 9. Turquoise bracelet, $140, SamanthaWills.com; 10. Gold Birkenstock sandals, $130, UrbanOutfitters.com
Want more? Right here!
> Check out our list of the 50 Best Places to Honeymoon!
> Everything you need to plan the perfect honeymoon