What to Wear to Work The Week You Get Engaged!
by Jennie Ma
You just got engaged over the holidays! Congrats! Now let us give you some words of fashion wisdom: with great engagement popularity comes great wardrobe responsibility. You're going to be getting a ton of attention at work this week — "how did he propose?" on constant repeat — so make sure you dress the part of the soon-to-be bride. Here are some gorgeous work appropriate looks in white that will let you test driving playing the part of the bride.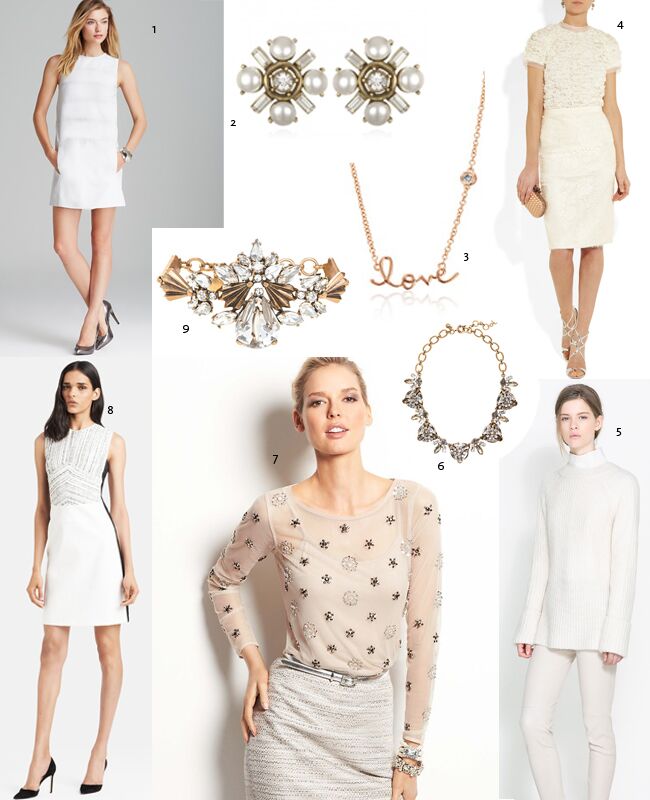 1 Leather shift dress, $995, Theory, Bloomingdales.com 2 Pearl and crystal studs, $165, Gerard Yosca, CharmandChain.com 3 Rose gold "love" necklace, $125, Shy by Sydney Evans, ThomasLaine.com 4 Lace pencil skirt, $2,360, Lanvin, Net-a-Porter.com 5 Long sleeve sweater, $80, Zara.com 6 Triangle necklace, $139, JCrew.com 7 Beaded mesh top, $119, AnnTaylor.com 8 Tweed shift dress, $1,795, Narciso Rodriguez, Nordstrom.com 9 Crystal bracelet, $85, JCrew.com
Need another fashion fix?
> Search thousands of wedding dresses by style and price.
> It's all about the accessories! Here are hundreds of shoes, veils and jewelry.