What You Need To Know For a Honeymoon in Disney World!
by Amanda Elser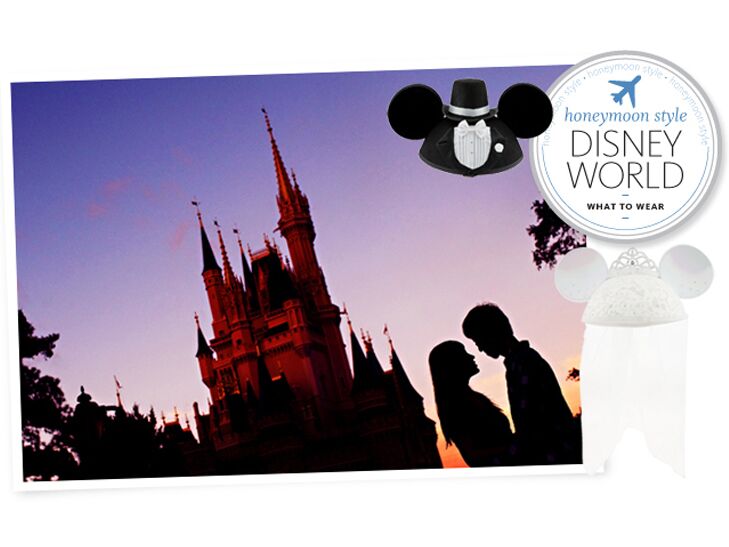 You just got married, now what are you going to do? Go to Disney World of course! Pack your mouse ears, a pair of comfy sneakers and your easiest-to-throw-on-dress and find out why thousands of newlyweds visit Orland, Florida for a one-of-a-kind magical honeymoon experience.
You're first stop should be the Magic Kingdom where you and your Prince Charming can hop on tons of snuggle-worthy rides like the Haunted Mansion (an 18th century-inspired mansion full of ghosts and classic horror house tricks) or catch the mesmerizing Main Street Electrical Parade. After a blissful day of getting to be a kid again, indulge in a relaxing spa treatment and some "adults-only" time at Disney's Grand Floridian Resort and Day Spa. Then, finish off the night with a quick tour around the world at Epcot— drinks in Italy, dinner in France (we recommend Monsieur Paul) and a chocolate carmel dessert in Germany!
The festivities happen all year round, but plan your trip around early fall or summer when school is still in session and you won't have to worry about waiting in long lines. Skip the end of December and April, which brings large crowds, expensive airfare and hefty resort prices. Pssst Don't forget your sunscreen—the average temp during the summer months is 92 degrees!
Does this sound like your fairytale honeymoon? Read up on our favorite spots here and then check out our list of must-pack items to take along!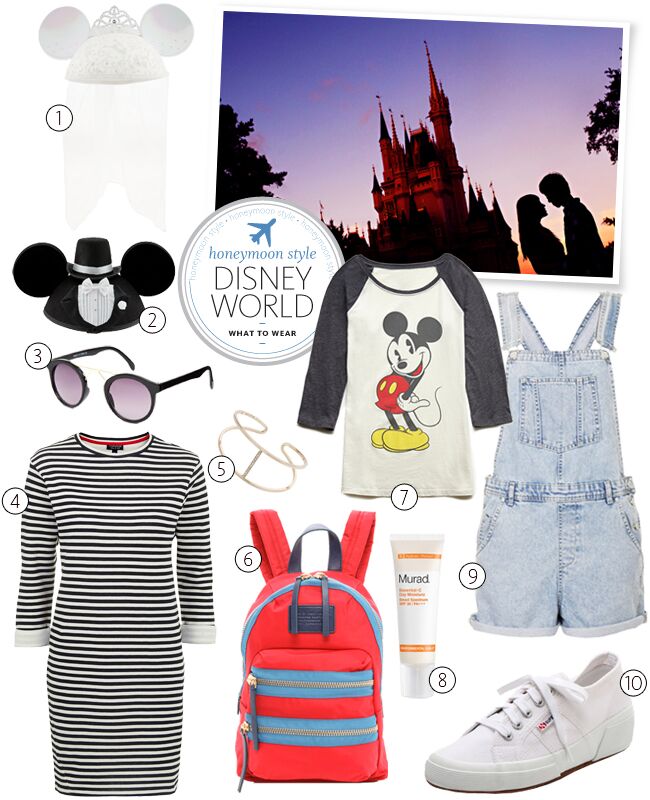 1. Bride Minnie Mouse Ear Hat, $20, DisneyStore.com; 2. Groom Mickey Mouse Ear Hat, $20, DisenyStory.com; 3. Round Sunglasses, $23, ASOS, Asos.com; 4. Striped Jersey Sweat Dress, $68, Topshop.com; 5. Rhinestone Open Cuff, $18, Topshop.com; 6. Mini Backpack, $178, Marc by Marc Jacobs, Shopbop.com; 7. Mickey Mouse Baseball Tee, $14, Forever21.com; 8. SPF 30 Moisturizer, $60, Murad, Sephora.com; 9. Moto Short Denim Dungarees, $35, Topshop.com; 10. White Sneakers, $85, Superga, Nordstrom.com
Want More? Duh!
>Honeymooning in Brazil? Here's What to Pack!
>This Guy Proposed to All of the Disney Princesses at Disney World!