Honeymoon Planning: What's Hot (and Cool) for Honeymoons?
Whether they're tropical paradises known for sizzling temperatures or more chill spots north of the equator, these 10 destinations are topping the honeymoon hot list.
by Liz Zack
Hot Honeymoons
Reethi Rah, Maldives
Forget the Honeymoons R Us feel of some resorts and visit the necklace of secluded, luxurious, romantic Maldives islands in the Indian Ocean (see picture above).
Average high: summer, 90; winter, 77
The resort: One&Only Maldives at Reethi Rah (OneandOnlyResorts.com) features ultraprivate villas tucked away on their own stretch of beach or hovering directly above the aqua lagoon.
The hot spot: The Maldives and its surrounding turquoise waters are known for world-class scuba diving and snorkeling. Take this chance to earn your scuba certification.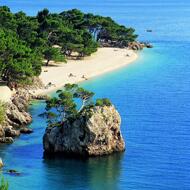 Dalmatian Coast, Croatia
Called "the new Riviera," Croatia's Dalmatian Coast is poised to become the next big thing (in-the-know celebs already flock here in the summer). What's the draw? This gorgeous European collection of islands is a study in extremes: Thick forests and rocky cliffs jut out over pebbly beaches and ancient ruins sit within walking distance of hip nightlife.
Average high: summer, 84; winter, 55
The resort: Take in the cliff-strewn, rocky coastline from the comfort
of your suite on a Star Clipper cruise ship (StarClippers.com), which
navigates the Adriatic the old-fashioned way -- under sail.
The hot spot: Almost 700 different wines are made in Croatia -- taste away while spending a day at a winery. Then choose the perfect bottle
to go with the coast's amazing seafood-centered regional cuisine.
Dubai, United Arab Emirates
An over-the-top playground for the world's richest, Dubai's always sunny skies, off-the-charts shopping, and unique pastimes (like sand skiing) make it perfect for newlyweds who want to feel like royalty.
Average high: summer, 102; winter, 75
The resort: Modeled after a 19th-century palace, Al Qasr is one of three hotels in the Madinat Jumeirah resort complex. Ready to cater in the most opulent fashion to your every whim, the complex has 45 restaurants, cafes, and bars, two miles of Venetian-style canals, and a Six Senses Spa.
The hot spot: The Gold Soulz area in Deira, with a newly built gold and diamond park for serious jewelry shoppers.
Newport, Rhode Island
Honeymoon like the classic couple you are by mansion-hopping, history-trailing, cliff-walking, and four-poster napping in this picturesque Rhode Island town that's home to New England's bluest blood.
Average high: summer, 78; winter, 39 (okay, not so hot in winter)
The resort: Stay in a mansion: The Chanler at Cliff Walk (TheChanler.com), which was built in 1865, is now a 20-room boutique hotel. Take in its sweeping Atlantic views and dine on the superlative seven-course chef's tasting menu (with wine selections) at the property's Spiced Pear restaurant.
The hot spot: A day trip to beautiful Block Island offers a Martha's Vineyard-type experience complete with beaches, bike trails, lighthouses, and traditional stone walls but without the crazy crowds.
Anguilla, British West Indies
This laid-back Caribbean island is popular among one-name celebs like Beyoncé and Jay-Z. There are no casinos, cruise ships, or high-rises, making it a great alternative to tourist-trappy islands.
Average high: summer, 82; winter, 77
The resort: Honeymoon like a Hollywooder at the secluded Cap Juluca (CapJuluca.com), where Moorish-style villas with tiled indoor-outdoor spaces dot two white sand beaches.
The hot spot: Scilly Cay, a tiny speck of an island just off the beach is barely big enough for the great restaurant it hosts. Feast on Angullan lobster (more spiny than its New England cousin) and sample the restaurant's legendary rum punch. You may not want to leave.
Cool Honeymoons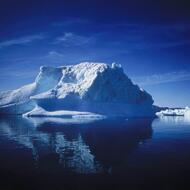 Scandinavian Cruise
Dine on caviar and gravlax from the romantic private balcony of your stateroom.
Average low: winter, 21; summer, 54
The resort: Holland America Line ships (HollandAmerica.com) feature teak decks and spacious rooms (think luxury hotels not cramped McCruiseliners). Voyages meander through fjords and, in season, under the aurora borealis (aka the northern lights).
The coolest take: In case you thought reindeer only existed in Santa's Village, visit Honningsvag Norway, the northernmost city in Europe to get up close and personal with the real thing.
Bradford, Vermont
A snowy, secluded honeymoon in the New England state best known for maple syrup and sleigh rides is a magical way to spend your first days as husband and wife.
Average low: winter, 12; summer, 58
The resort: The fireplaced cottages at Twin Farms (TwinFarms.com) mix modern and rustic into beautiful, Architectural Digest-ready visions. Enjoy the Aviary Cottage's bilevel space and stone Jacuzzi, Arabian touches in the Meadow Cottage, or the Japanese-inspired Orchard Cottage.
The coolest take: After a thrilling (but tiring) day of skiing or hiking, indulge in the Downright Spruced Up! treatment at Twin Farms' spa -- a body scrub, massage, facial, and manicure in one.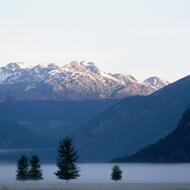 Whistler Mountain, British Columbia
For ski-loving couples, stoking newlywed passion on the trails at Canada's majestic Whistler Mountain is a dazzling proposition. Spend days off the slopes antiquing, visiting a wealth of art galleries, or relaxing in the spas.
Average low: winter, 20; summer, 52
The resort: The Four Seasons Resort Whistler (FourSeasons.com/whistler) knows how to treat honeymooners -- the Ski Concierge, a Four Seasons outpost at the base of the mountain, will suit you up with equipment upon your arrival.
The coolest take: Go heli-skiing (arranged through the hotel or via WhistlerHeliSkiing.com). You're taken up the mountain face in a helicopter, then dropped off with a guide to ski or snowboard down on totally untouched snow.
Snaefells Peninsula, Iceland
You don't have to be able to pronounce this country's capital (it's Reykjavík -- pronounced ray-kya-vick, by the way), to appreciate its spectacular offerings. Gape at the otherworldly mountains, glaciers, and whale-teeming water or revel in the bustling nightlife and phenomenal Christmas celebrations.
Average low: winter, 27 (remember, only a few hours of sunlight this time of year!); summer, 45
The resort: The landmark Hótel Borg (HotelBorg.is) is steps away from Reykjavík's restaurants and shops. On a daytrip to Snaefellsjokull, take in the mountains, coast, and lava fields on a snowmobile tour.
The coolest take: Relax in the legendary Blue Lagoon geothermal spa (BlueLagoon.com/geothermal_spa) in Grindavik, with its waterfall (good for massages), lava cave steam bath, and other spa options.
Winter lake, Alaska
The climate, nature, and lifestyle of Alaska make it a destination like no other.
Average low: winter, 10; summer, 51
The resort: The isolated Winterlake Lodge (WithinTheWild.com) is a 50-minute floatplane flight from Anchorage. You nestle romantically in a private cabin, eating multicourse gourmet meals in the comfy main lodge. Equipment and instructors are all right there for snowmobiling, ice fishing, glacier-touring by plane, skiing, or dogsledding.
The coolest take: Bookend your trip in Anchorage, and see the native wildlife up close at the Alaska Wildlife Conservation Center (AlaskaWildlife.org).