Having a Destination Wedding? Read This First
Destination weddings are a great way to ensure you have a wedding that's completely you—here's why.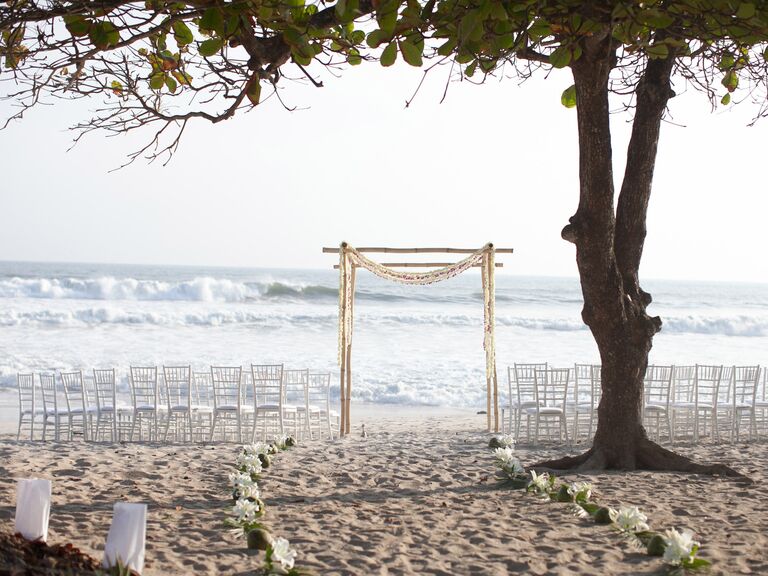 Katherine Stinnett Photography
A destination wedding can involve just the two of you; a select handful of family and friends; or enough guests to constitute a bona fide week-long family reunion or vacation. Here are six practical and personal reasons to wed away.
1. They're Virtually Stress-Free
Watch any classic wedding movie (especially Father of the Bride), and you'll soon understand why destination weddings are so popular. They're almost guaranteed to be simpler (and faster!) to plan than a traditional wedding and reception for two main reasons:
Honeymoon-happy resorts and cruise lines around the world have made it easier and more appealing to wed on-site. Many have full-time wedding coordinators on staff who are familiar with that country's marriage license requirements and offer wedding packages that take care of all your ceremony essentials (photographer, cake, officiant and so on.). You step off the plane and sign the papers; they take care of the rest.
And two, if you're not getting married at a resort, you can hire a stateside wedding planner who specializes in destination weddings, contact a wedding planner in the town you plan to wed, or start early and do it yourself. Either way, hire a planner and the logistics of pulling off a reception and party are off your plate.
2. No Family Drama
The second reason destination weddings rule? No scene-stealing family drama. For Jennifer and Marc Schwartz, the initial family strategy session began to foreshadow a very large get-together of extended family and business associates. Predictably, each set of parents had their own ideas. One set thought the wedding should be held in New York City because most guests were from the area. Another set had a problem with the expense of a big-city wedding. Jennifer says that she and Marc never stopped feeling that the event is, first and foremost, about the two people getting married and decided on having a destination wedding elsewhere instead to curb any drama.
3. They're Cost Effective
The affordability of a destination wedding has many couples speeding off to the airport faster than you can say "I do." For instance, a couple can fly to an all-inclusive resort in Jamaica, get married, and stay for a deluxe week long honeymoon for a few thousand dollars, including lodging, meals, drinks and airfare. Compare that with an 150-guest wedding costing about $35,000—which can easily skyrocket to more than $100,000 in big cities. (Not to mention a few extra thousand for a honeymoon.)
4. You Call The Shots
While traditional weddings hold meaning for many couples, linking them to the traditions of their ancestors and culture, others want the experience to be more unique, with a ceremony and location that reflect their true colors. Perhaps an exotic tropical paradise experience? A snowy mountain-peak ceremony? It's all up to you.
5. They're Simply Perfect for Second Marriages
Been-there-done-that couples who are getting married for the second or third time choose destination weddings because they're simple and private. If either person or both have done the large-scale wedding before and want something quieter or less expensive this time around, it's a great way to go. Hint: If you have kids, get married at a family-friendly, all-inclusive resort or cruise to help your new families do some solid bonding.
6. They're a Once-in-a-Lifetime Reunion Opportunity
At a traditional wedding, you're on the run, meeting and greeting. Destination weddings are on vacation time. You're usually required to arrive a few days early to fill out the paperwork, so by the time your wedding rolls around, you've had two to three days of fun with family and friends. How often do you have the opportunity to spend no-rush quality playtime with dear, far-flung friends? This is your chance.