5 Valid Reasons To Use a Travel Agent
by Amy C. Balfour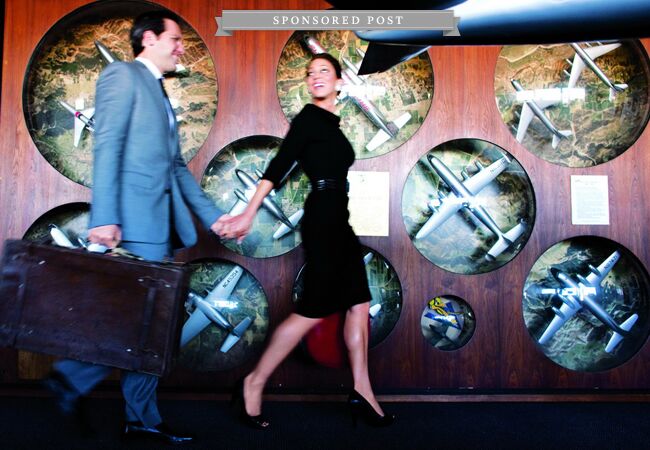 We know. The last time you used a travel agent to book a trip was never. Why would you when you could just jump online and do it yourself? Well, planning a honeymoon is a little more involved than the typical trip. There are flights to book but there are also itineraries to craft, reviews to read, and reservations to be made. Not to mention that according a recent American Express Travel survey, most couples are booking their honeymoons at least six months in advance! Enter the modern day travel agent. She's kind of like the ultimate travel concierge: there to cut through the red tape and help you plan a trip that's totally amazing in every way. The Amex Travel Insiders are a group of travel experts that do exactly this. Consider tapping into one of them if any of the following these sound like you…
1. The idea of planning a honeymoon in the midst of your wedding is so not appealing.
The Travel Insider Program is like having a wedding planner for your honeymoon. After learning your interests and your honeymoon budget, they'll draw up a day-by-day itinerary that lists attractions and activities suited to your interests and personalities. They'll also recommend hotels. If the itinerary isn't quite right, you can always call back to make changes before booking your trip.
2. You don't have time to read reviews of every hotel and restaurant in the area.
You know what we're talking about. There are plenty of comprehensive travel review sites out there, but curation is key when you're crunched for time. Each Travel Insider shares an online bio that spotlights areas of expertise and special interests, from spas to hiking to wine. Fun fact: Travel Insiders actually visit their favorite destinations regularly to scope out hot restaurants and the newest attractions, which means you can actually look to them for tips about neighborhood eateries, cultural festivals, and guided trips.
3. You want to go somewhere really different on your honeymoon.
Hawaii is nice but you're thinking of someplace none of your friends have been – like Africa or South America, ( two of the hottest honeymoon spots according to American Express travel counselors) And, while friends and magazine articles can provide details about a particular destination, they don't do as great of a job at providing big-picture insights like a person well-versed on the region can. Travel Insiders cater to honeymooners. Preparing itineraries for once-in-a-lifetime trips is their specialty. They can introduce you to unfamiliar regions, identify emerging hotspots, and compare the pros and cons of similar destinations.
4. Travel and airline websites are beyond stressful.
Digging through flight schedules, comparing unfamiliar hotels and airlines, and signing up for travel alerts? Not so much. Obviously the function of the travel agent is to take all of that hoopla off of your hands and to do it for you. That's exactly what Travel Insiders do (leaving you more time for tastings and to just enjoy being engaged).
5. There's no way you're paying full price for airlines and hotels.
Travel discounts are all over the place but when you're unfamiliar with a destination, it's hard to know whether you're missing better deals. Travel agents like the Amex Insiders have the inside scoop so they know whether the deal you're getting is legit (or whether there's a better one to be had). Insiders can also alert you to seasonal festivals that might bump up hotel prices, and they're in-the-know when it comes to local businesses, which might offer betters deals than larger chains with flashier websites. Plus, shoulder seasons (when prices are lower but the weather is still nice) are always on their radar.
Want more? (Yup, you do.)
> Explore the American Express Travel Insiders Program
> Honeymoons by style — see the photos and get ideas