A Round-Up of Our Favorite Wildflower Wedding Bouquets
These bouquets look like they were picked straight from the garden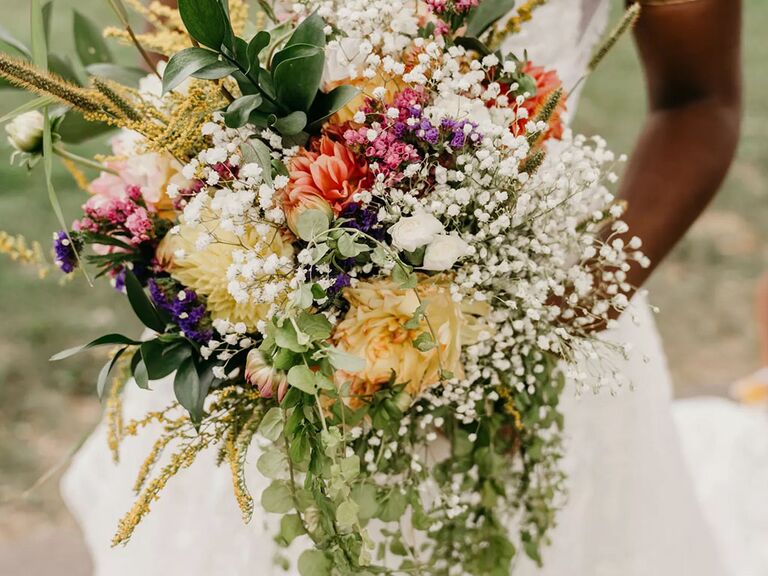 Kaitlyn Luckow & Alexander Kanastab
When you think of wildflowers, images of endless fields and running through them in a billowing dress may come to mind. This romantic feeling is why many couples add wildflower wedding bouquets to their big day. With so many different varieties, there are limitless options to choose from no matter what season you have your wedding or where. Let's read more about wildflowers and how this flora can transform your bouquet.
In this story:
What Is a Wildflower?
A wildflower is one that has not been planted or seeded by anyone, or that naturally grows in the wild. Many native plants have been around for decades, even centuries, in a certain spot, such as forests, meadows and other natural areas. Often, these flowers spread as a result of nature, from ants to butterflies and seeds scattering due to the weather. That's why you may seem them anywhere and everywhere.
Types of Wildflowers Native to the US
Some of the most popular and common wildflowers in the country are:
California poppies
Zinnias
Daisies
Cosmos
Sunflowers
Baby's breath
Black-eyed susan
Sweet peas
There are many other types, but when you're considering which are best for a bouquet, make sure that they are safe to be handled for prolonged periods of time.
Average Wildflower Wedding Bouquet Prices
One great thing about incorporating wildflowers into your wedding bouquet is that it can lower the cost slightly, since they're often more easily available. Wildflower wedding bouquets can be priced at $50 or more, depending on your size and what other flowers will be mixed in.
Florists' Tips for Adding Wildflowers to Your Wedding Bouquet
Florists will know best about adding wildflowers to your wedding bouquet, so here's what one had to say. We connected with wedding flower expert, Mary Wilson of The Bloom Shoppe, to get her take on wildflowers for a wedding.
Consider Your Wedding Colors
Some wildflowers may work perfectly with your palette, like sunflowers for a deeper yellow. Look up which flowers come in shades similar to your wedding's colors.
Look Up Flower Meanings
Each flower is a symbol for something, such as roses for love, so look up what some of the meanings of your favorite wildflowers are. Maybe one of them can bring you good luck on your big day.
Gather Inspiration
There are great places to gather inspiration, like old family photos or Pinterest. Our blog posts also offer a variety of resources to see real weddings with wildflower bouquets.
Search for Florists
Be sure to add The Knot Marketplace to your list, since it's a great resource for finding local florists who may have ideas about adding wildflowers into your bouquet.
Wildflower Wedding Bouquet Ideas
Now that you know a bit more about wildflowers, let's take a look at some of our favorites from real weddings in the past:
Gorgeous Cascading Wildflower Bouquet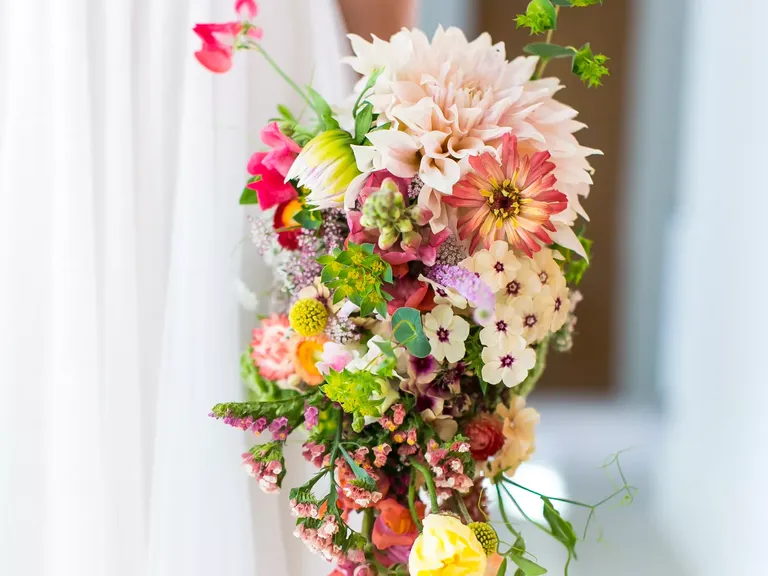 This bouquet is reminiscent of a waterfall of blooms with how it cascades. This mix of beautiful colors and unique shapes makes for an arrangement that your wedding guests will "ooh" and "ahh" over.
Greenery-Filled Wildflower Bouquet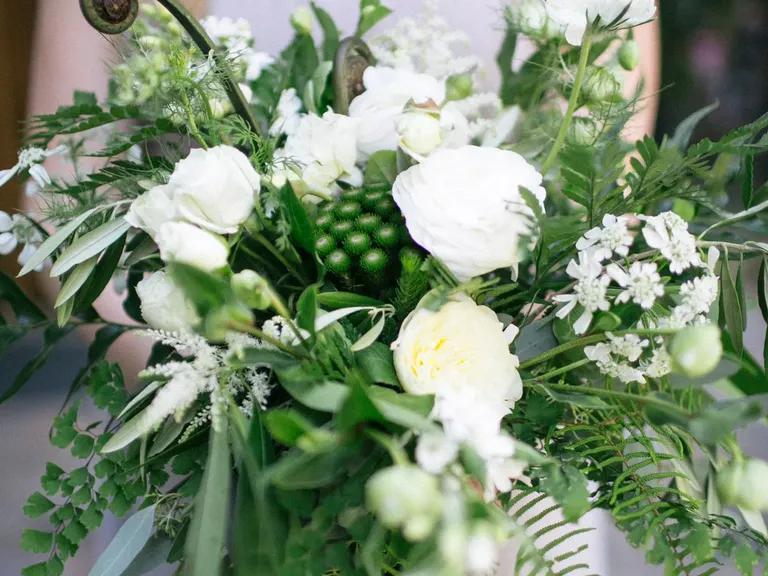 Here's another cascading bouquet idea that falls over both hands on the sides for an overflowing feel. This mix of wildflowers and the arrangement's shape gives the vibe of luxury and charm.
Splendid, Small Wildflower Bouquet
Even the smaller bouquets can make a statement and these wildflowers are no exception with their bright whites. These say, "I picked them out myself from my garden," and it's a wonderful way to incorporate your favorite flowers.
All-Natural White Wildflower Bouquet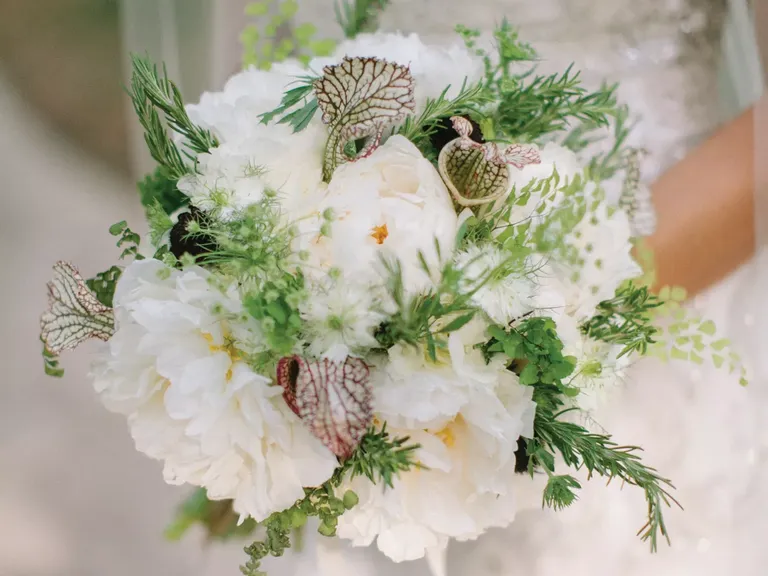 With these pops of green, this beautiful white bouquet adds a touch of elegance to a natural display. It's perfect for any time of year, but something about it just says white winter wedding, doesn't it?
Breathtaking Blue Wildflower Wedding Bouquet Idea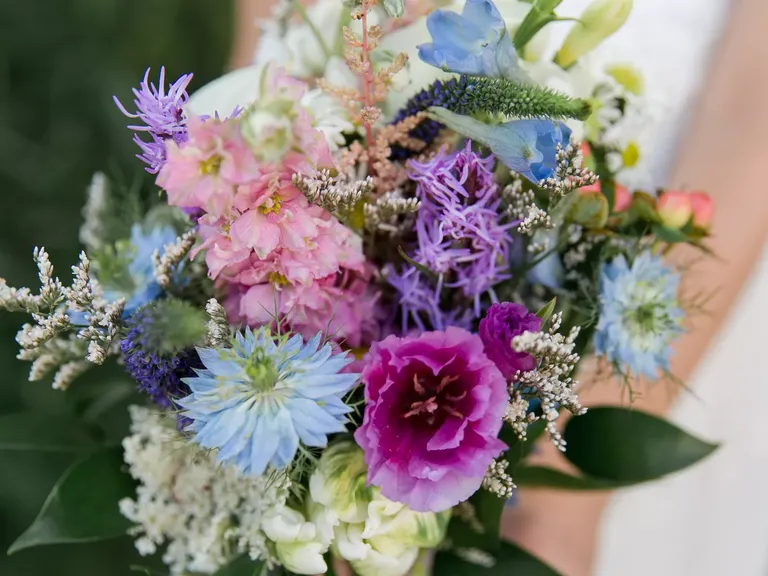 Though blue flowers are the most rare in nature, you can still find some wildflowers in this stunning shade to add to your bouquet. And it's a fun way to incorporate your "something blue" into your big day.
Bold and Bright Wildflower Wedding Bouquets
Make a statement with a medley of hues in your bouquets for both you and your wedding party, like these wildflower arrangements. For a creative twist, you can also add some of your bridesmaids' favorite flowers into their own bouquets.
Positively Purple Wildflower Wedding Bouquet Idea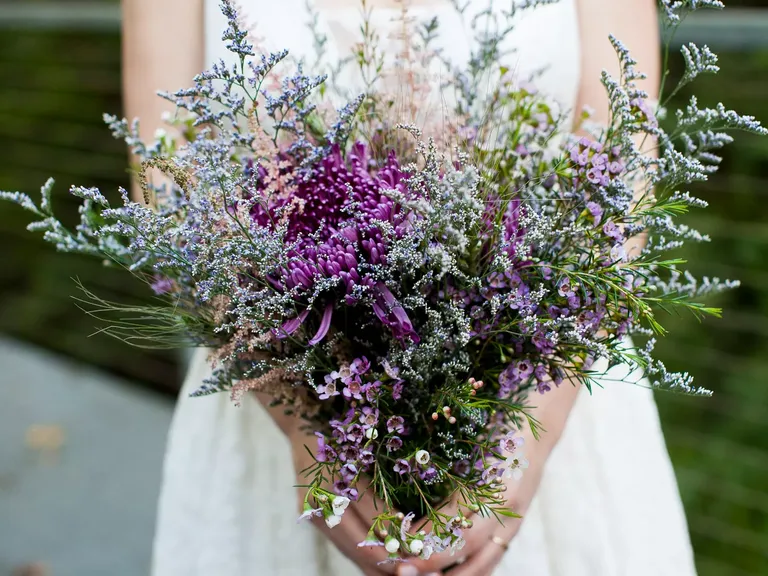 Who knew a subtle purple could still be so breathtaking? Throwing in some purple wildflowers, like astilbes and waxflowers, gives you a variety of violet shades that complement each other beautifully.
Elegant and Simple Wildflower Bouquets
This bouquet inspo may be simple, but it's so innovative, you'll definitely want to steal it. It adds grace and style and you can even pair up flowers to your bridesmaids based on their personalities.
Uniquely Alternative Wildflower Bouquet
This eclectic arrangement is perfect for the alternative couple looking for a bundle of blooms as unique as they are. With a mix of muted and bright colors, it's one wedding bouquet that works for any theme or time of year.
Stunning Pampas Grass and Wildflower Bouquet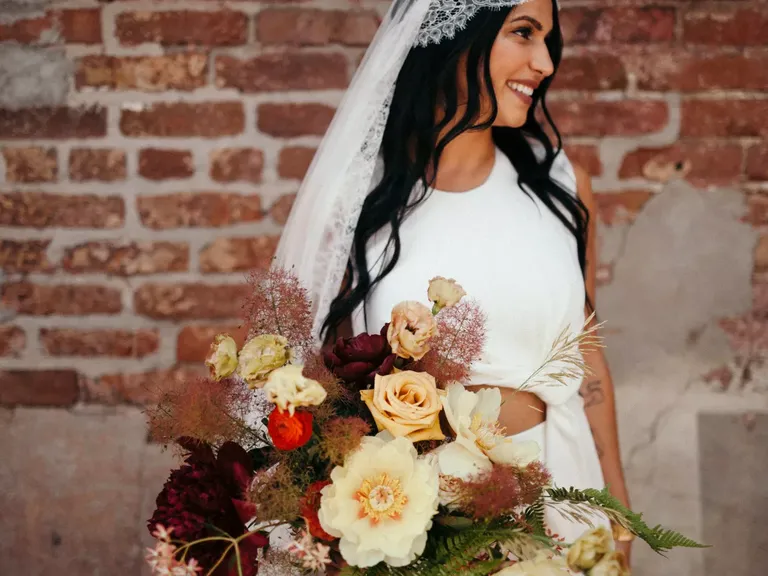 Pampas grass has been making its way into the wedding industry over the last few years and it injects some stunning shape into any wedding bouquet. This combination of wildflowers and pampas creates a unique display that wows.
Marvelous Lavender Wildflower Wedding Bouquet
This bouquet may have you singing "lavender's blue, dilly, dilly" like Cinderella herself. These beautiful purple hues blend bluebells and other wildflowers for a lilac explosion.
Autumn Wildflower Bouquet Idea
Take your favorite seasonal blossoms and make a classic autumn bouquet with them, like this arrangement did. Plus, don't these colors just shout "fall" to you?
Dramatic Wildflower Bouquets
If you want to take your autumn bouquet in a more muted direction, these moody shades will make you think of nights around the fire and fallen leaves. And the wildflowers are a perfect accent of color and unique design.
Bright and Beautiful Yellow Wildflower Bouquet
Yellow fields of wildflowers take us back to simpler times and this wedding bouquet is a perfect homage to those days. With garden roses and daisies, it's something you could easily grow yourself to add a personal touch to your big day.
Magnificent Tropical Wildflower Bouquet
Adding a palm leaf to your wildflower bouquet instantly ups the tropical vibes. Not to mention, it's easy for you and your wedding party to carry while still being a divine display.
Sunny Summer Wildflower Wedding Bouquet
Even their pup is smiling over this summery bouquet, with its soft pinks mixed into brighter shades. The multicolored ribbon also adds some flair while highlighting the sunshiney color palette of their big day.
Spring Wildflower Wedding Bouquet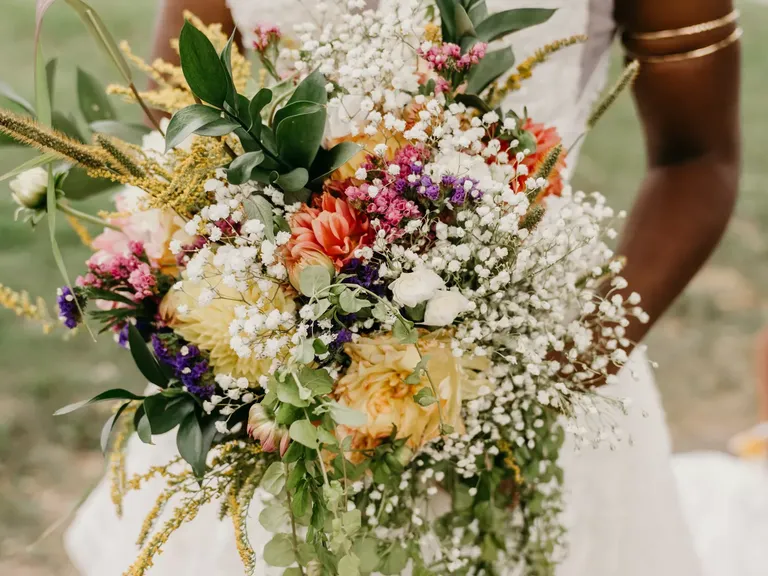 Since April showers bring May flowers, there's no shortage of blooms you can pick from for your spring bouquet. This overflowing arrangement utilizes a wide variety of wildflowers for a stunning shape and a kaleidoscope of colors.
Majestic Mixed Greenery Wildflower Bouquets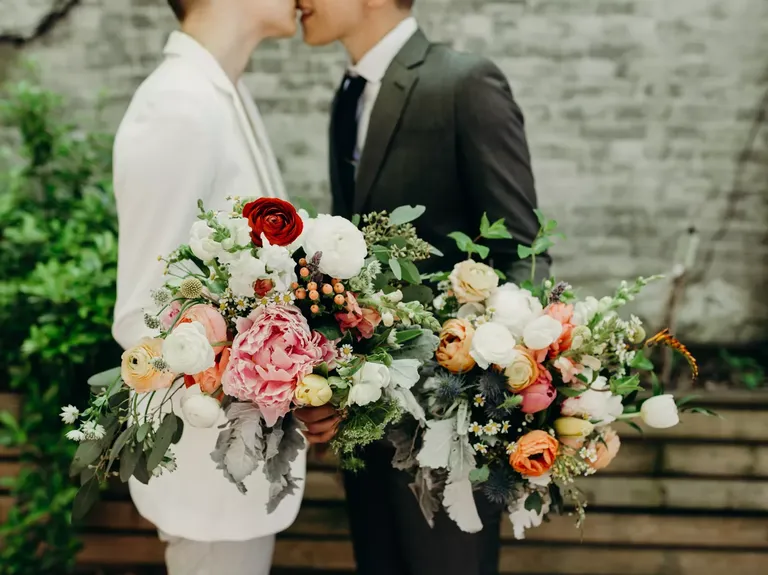 Rule number one of wedding bouquets: There are no rules, so be sure to do what makes you happy, like these mixed greenery displays that perfectly complement each other while also being unique to each lovebird. Throwing wildflowers in with larger blooms adds a little extra pizzazz to your best day ever.
One-of-a-Kind Lantern Wildflower Bouquets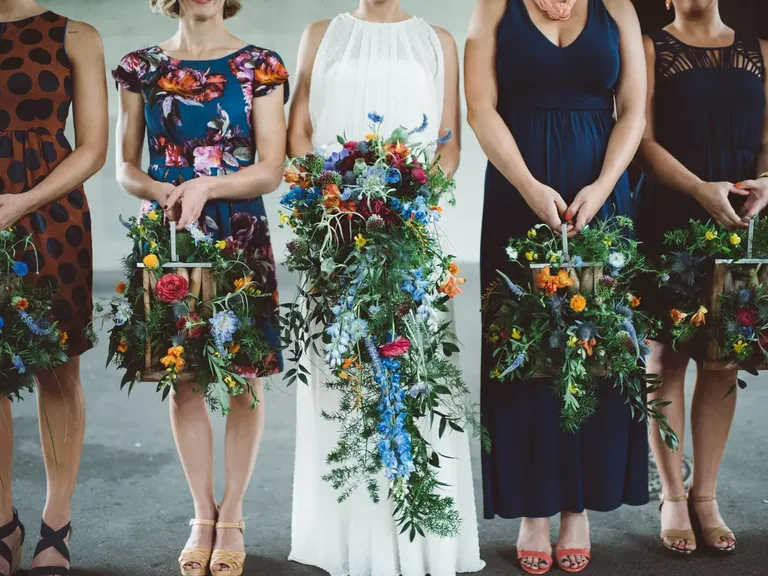 Hoop bouquets are finding a new shape with these lantern arrangements. They perfectly add wildflowers in cascades, while also making it so much more comfortable to carry down the aisle.
Grand in Green Wildflower Bouquet Idea
Create a green paradise (with some surprising color thrown in for fun) with all natural shades of wildflowers. Big leaves and unique greenery make this the ethereal bouquet of your dreams.
Radiant Sunflower Wildflower Wedding Bouquet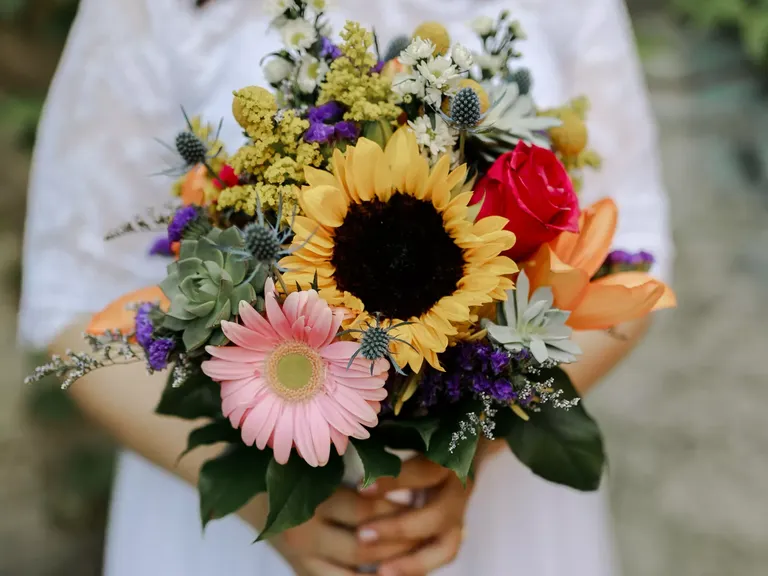 Roses, sunflowers, gerbera daisies and wildflowers create a spectacular wedding bouquet full of vibrance. This combination of colors looks like the perfect summer garden in your hands.
Lovely Boho Wildflower Wedding Bouquet
One easy way to make your bouquet more boho is by adding grains or eucalyptus. These versatile elements elevate your fresh flowers of any color, while incorporating a lively shape to your arrangement.
Romantic, Rustic Wedding Wildflower Bouquet Idea
Speaking of new and exciting forms, leaves in a variety of outlines, colors and sizes can instantly make your wedding bouquet seem more rustic. Pair it with wildflowers and classic blooms for something as one-of-a-kind as you are.
Simple Vintage Wildflower Wedding Bouquet
Give your bouquet a vintage vibe by blending an assortment of colorful wildflowers that have been around for centuries. You can even take inspiration from your parents, grandparents or other older relatives for your wedding bouquet.
Wildflower Bouquet With Sunflowers and Feathers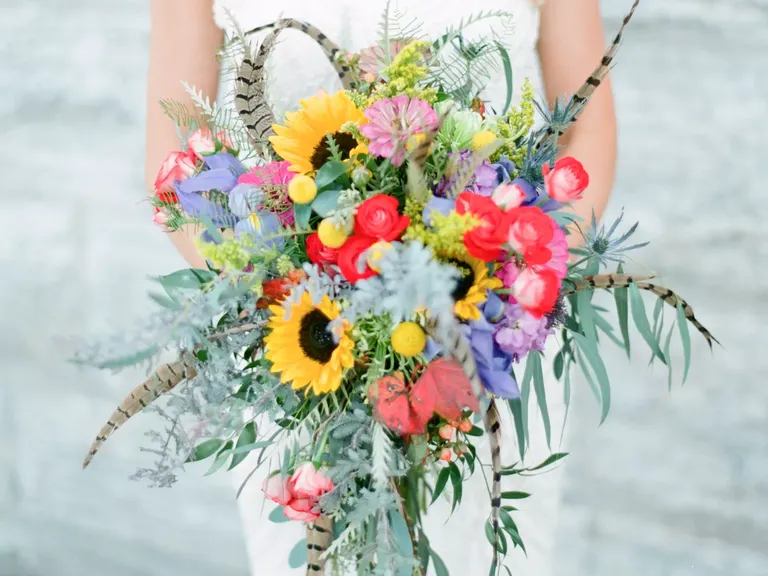 Make them say "wow" as you walk down the aisle with this feathery bouquet. This display is absolutely flowing with unique textures and color, from the stripes of the feathers to the round shapes of the craspedia.
Wildflower Bouquet Idea With Succulents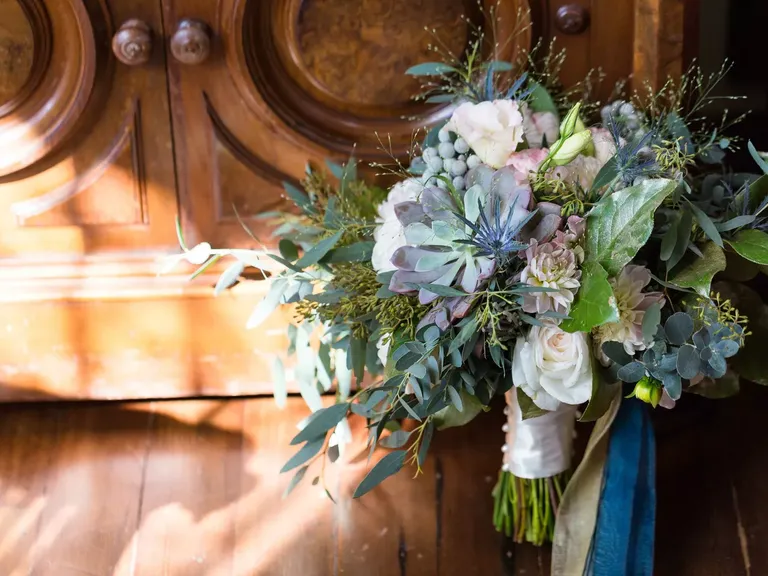 Another unique way to elevate your bouquet is by spray painting some of the flowers or leaves, especially with a color prevalent in your palette. These gold eucalyptus leaves are giving Greek god meets modern bride vibes and we're here for it.
Vibrant, Simple Wedding Bouquet With Wildflowers and Roses
These jewel tones are a perfect mix of wildflowers and roses and it will fill your wedding hall with a lovely aroma, too. You can play around with whatever colors fit your theme, since both of these varieties come in a range of hues.
Delightful Thistle Wildflower Wedding Bouquet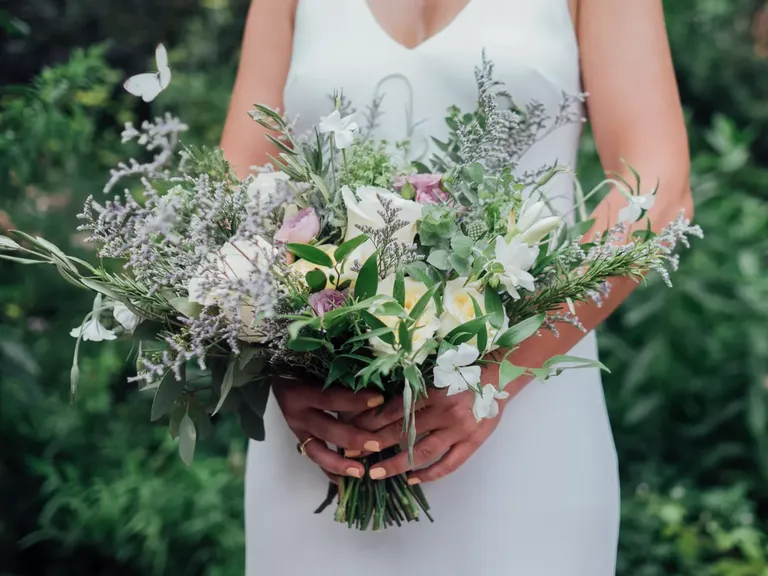 There's just something so romantic about lavender and thistles, like a bouquet Mr. Darcy could give to Elizabeth Bennet. Plus, a thistle's color is meant to symbolize divine love and royalty, fit for a king or queen on their big day.
Opulent and Oversized Wildflower Bouquet
Oversized bouquets, like this stunning green and white variety, give the feeling that your love is overflowing, as well. Adding wildflowers to classic blooms—anemones, peonies and baby's breath—creates a cultivated beauty with a touch of grandeur.
Cascading Wildflower Bouquet With Greenery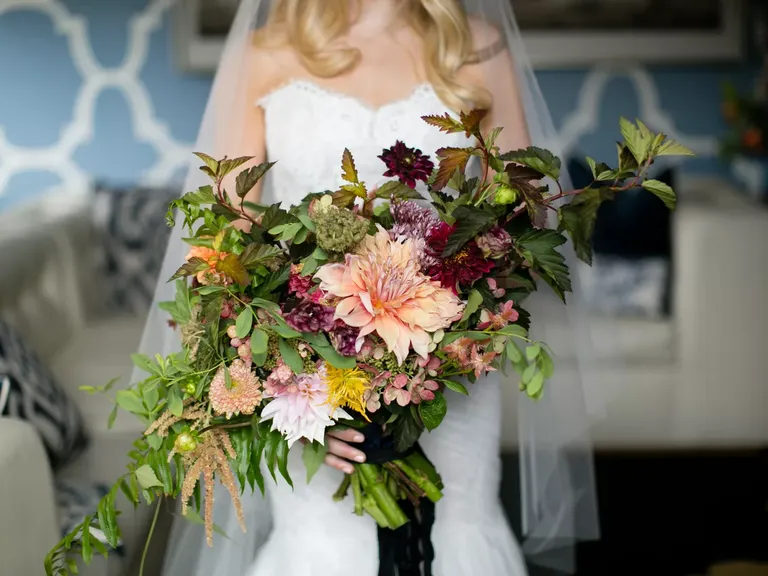 This overflowing bouquet utilizes a diagonal shape to create one uncommon shape that guests won't be expecting (but they'll be delighted all the same). With the large bloom showcased in its center, you can highlight it with surrounding flowers of similar shades and styles.