10 Wine Bottle Ideas to Steal for Your Vineyard Wedding
Perfect for the DIY-er who has a few empty wine bottles laying around.

Are you and your partner self-proclaimed sommeliers? Or maybe you want to lean into the wine theme at your vineyard wedding? Whatever your reason, recycled bottles of vino can be DIY-ed into just about any type of décor detail, from centerpieces to escort card displays.  
1. Hanging Backdrop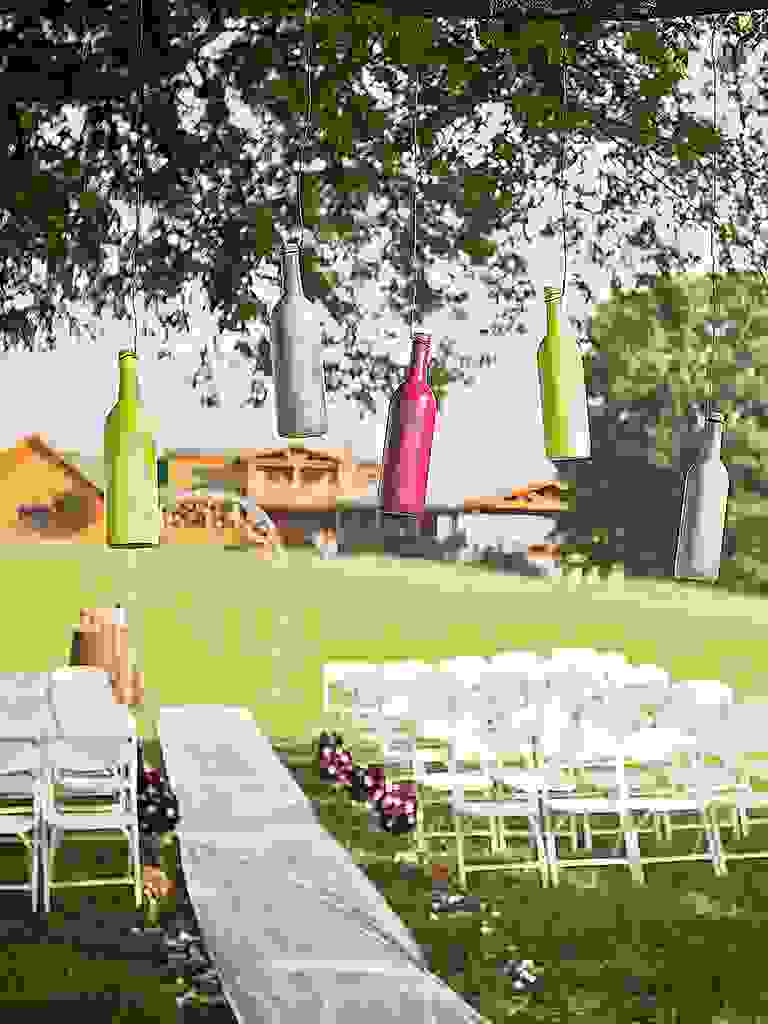 Add some color to your outdoor ceremony by hanging painted wine bottles from an overhead tree (this also makes a striking ceremony backdrop). If the venue is sans shady trees, the same can be done with an arbor. For extra charm, style the bottles with ribbon or flowers.
From: An Outdoor Winery Wedding at Spout Spring Estates Vineyard in Blaine, Tennessee
2. Aisle Décor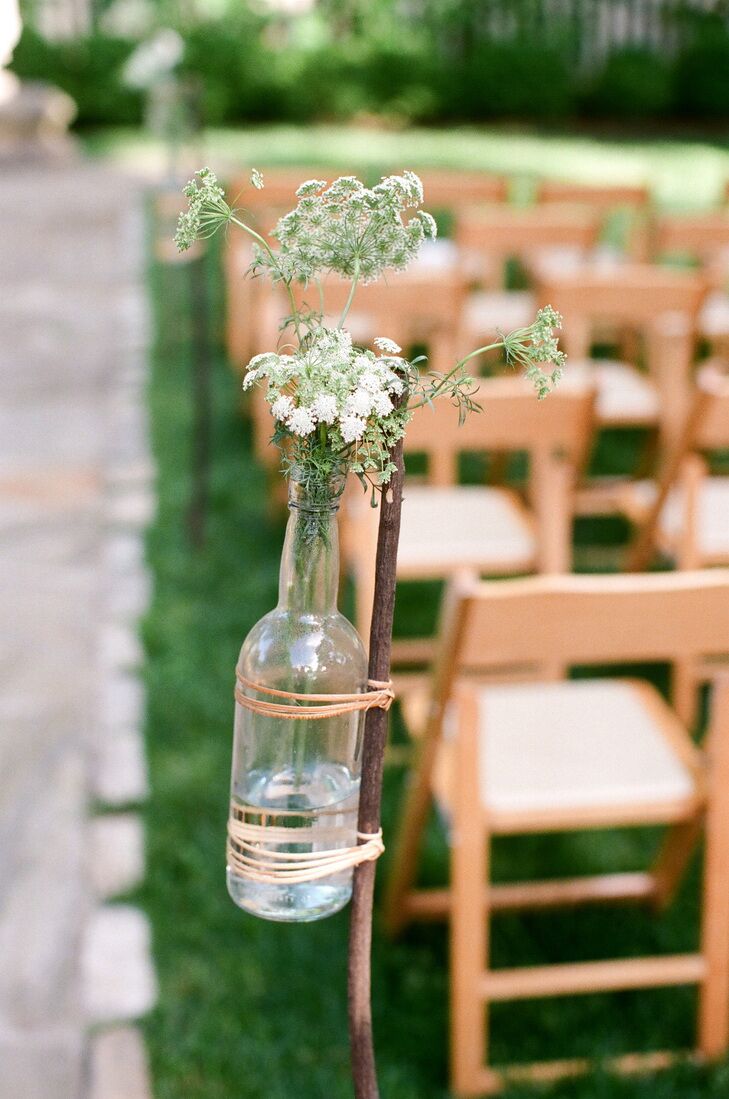 Perfect for an outdoor wedding, stake rods or tall sticks into the ground to line the aisle, then attach wine bottles with twine. The bottles can be filled with any complementing flower, or keep things simple with baby's breath or Queen Anne's lace.
3. Playful Boutonniere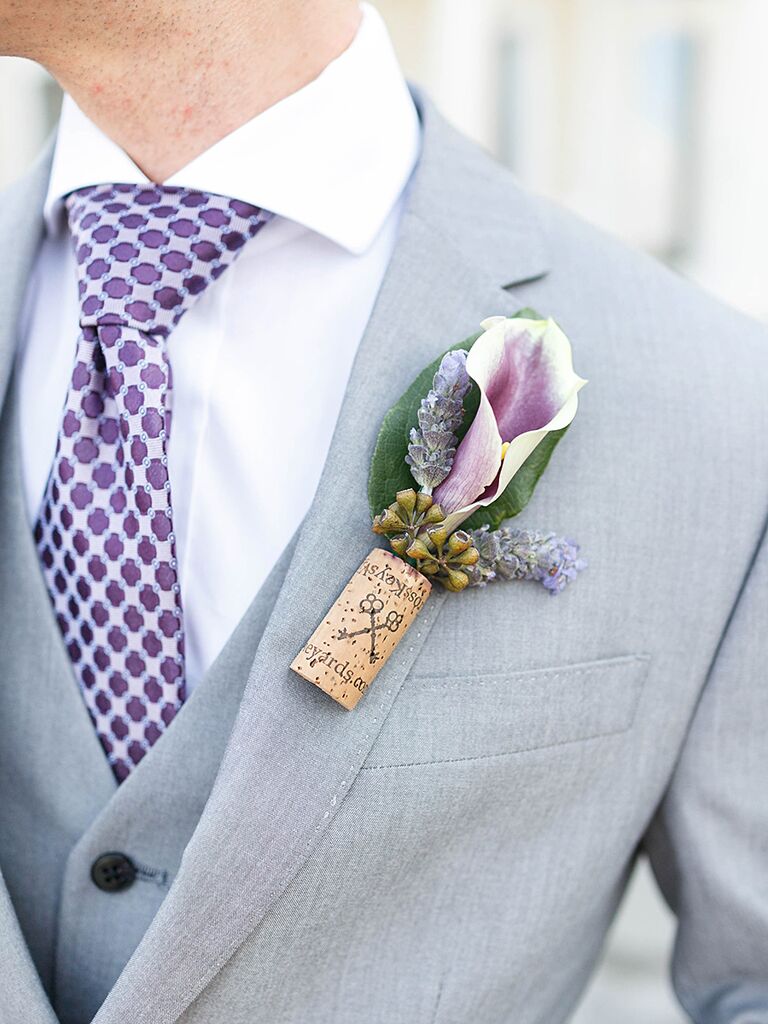 A couple of purple-hued blooms, like lavender and calla lilies, give off a vinyard vibe when styled with a cork. 
From: An Elegant Winery Wedding at CrossKeys Vineyards in Mount Crawford, Virginia
4. Escort Card Display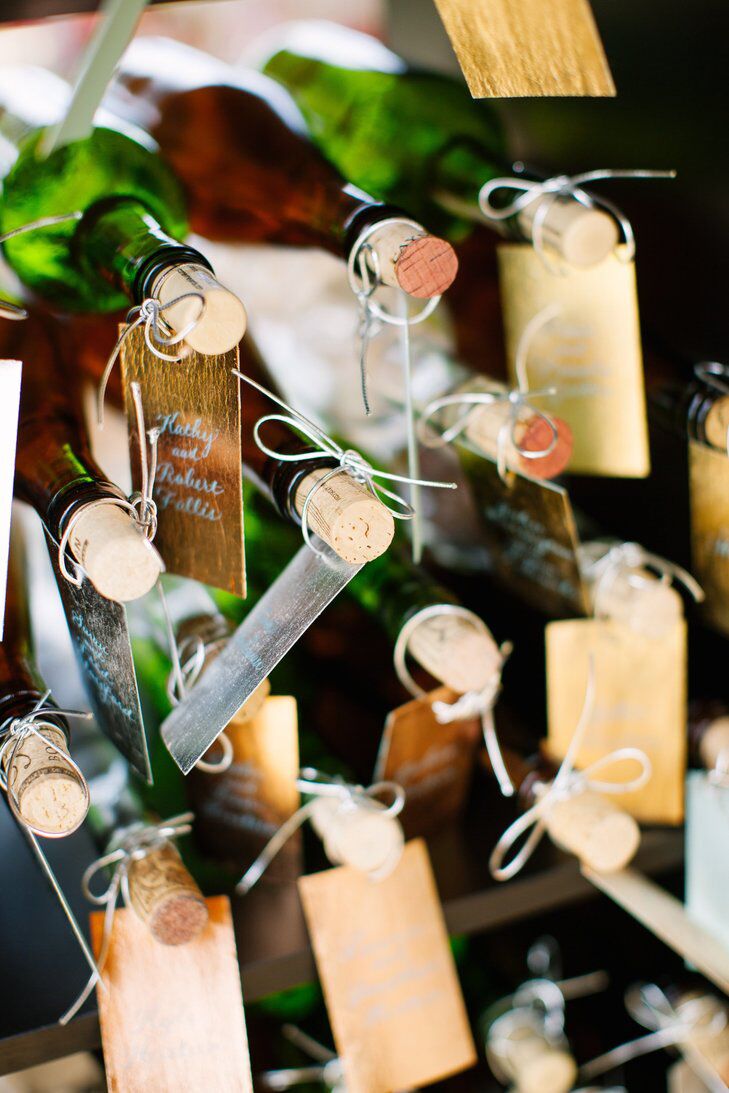 Get creative with your venue's existing structures (with permission of course!). If there's a wall of wine bottles near the reception entrance, loop escort cards around the corks. If none exists (and you're really ambitious), collect used bottles and DIY your own "wall" with wine crates.
From: A Vintage, Rustic Wedding in Suttons Bay, Michigan
5. Painted Centerpieces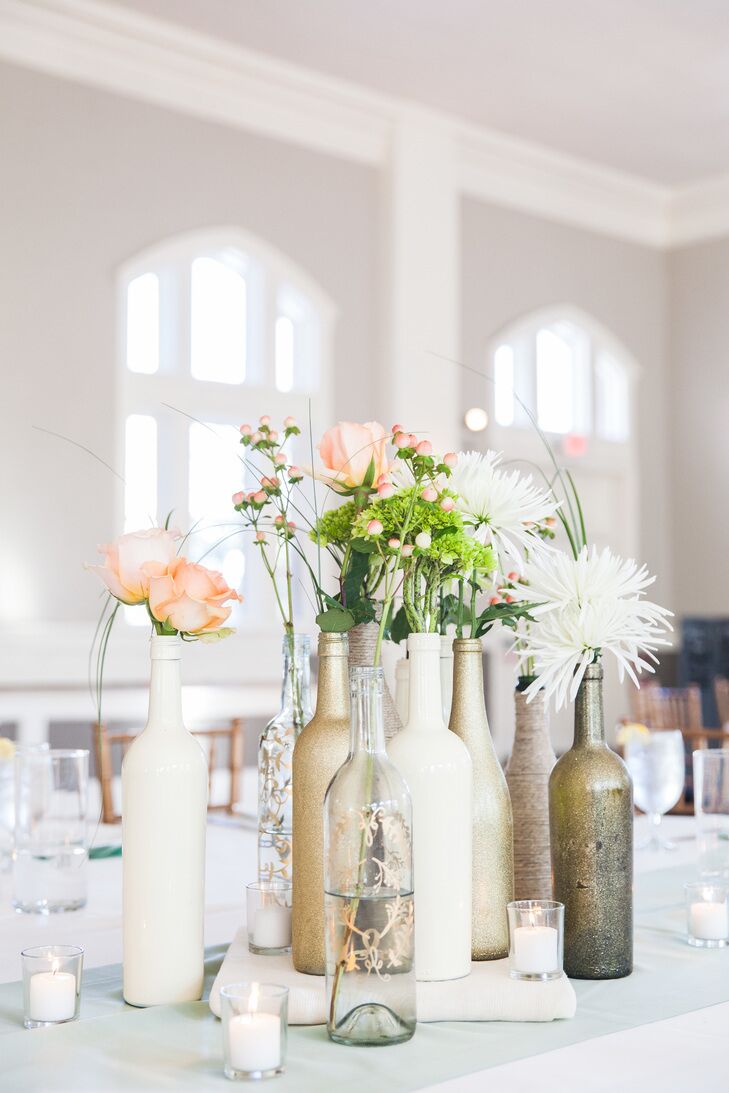 If you feel like taking on a DIY project, pick up a few spray-paint cans and liven up empty wine bottles. If you're mixing colors, try to stay within the same color scheme, since the bottles will likely be mismatched too. Mettalics are the perfect neutral and they elevate the look of any table.
From: A Laid-Back Military Wedding at Forsyth Park in Savannah, Georgia
6. Covered Bottles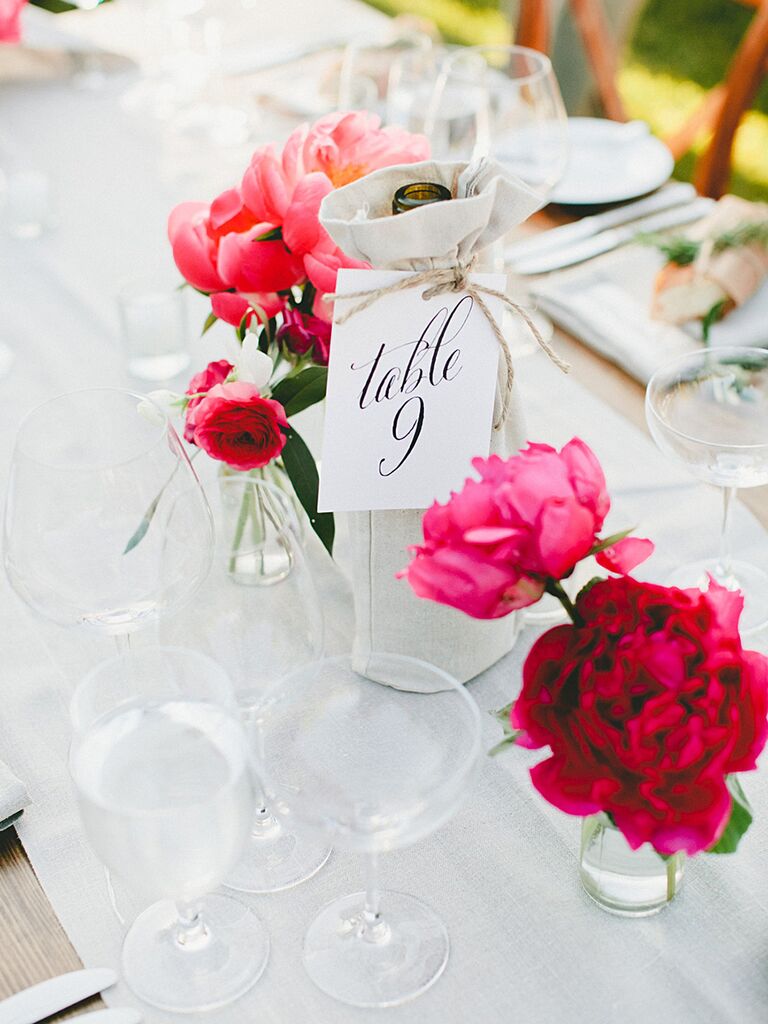 If you want to add some wine bottles to the tablescape but would rather they all match, you can put all of them in the same bottle cover. You'll still get the vino vibes, but you'll have a more polished tabletop rather than something more eclectic. 
From: A Romantic Vineyard Wedding at Etude Winery in Napa, California
7. Cork Table Numbers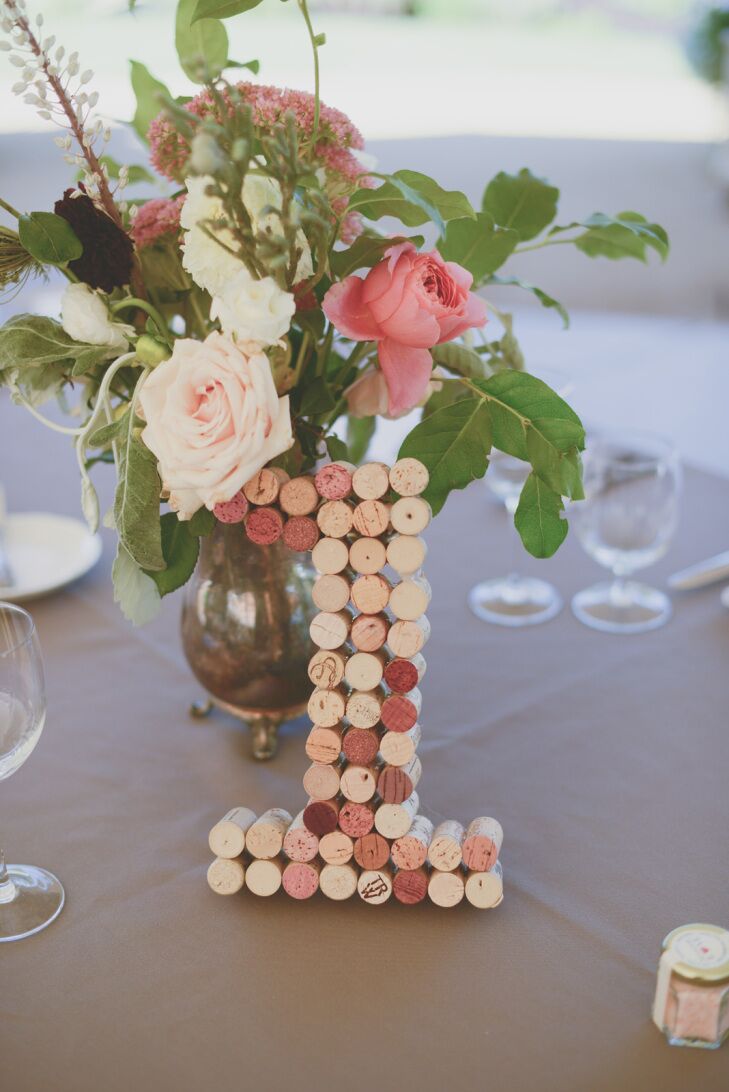 Reuse your old corks too—style corks in the shape of table numbers. The red-wine-stained bottoms add just a hint of color to the design.
From: A Vintage Wine Country Wedding at Cornerstone Gardens in Sonoma, California
8. Personalized Labels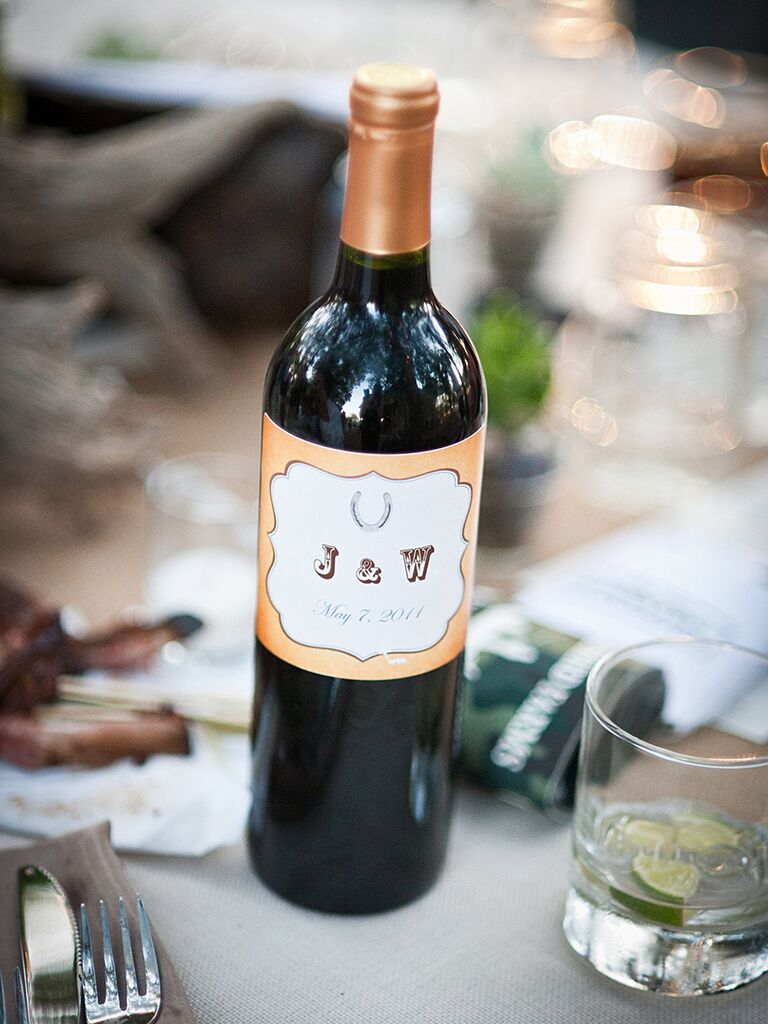 Personalize your wine selection even further with custom labels. Ask if your stationer can illustrate a custom logo or motif, or go for a simple monogram. 
From: A Rustic Ranch Wedding in Austin, Texas
9. Guest Book Bottle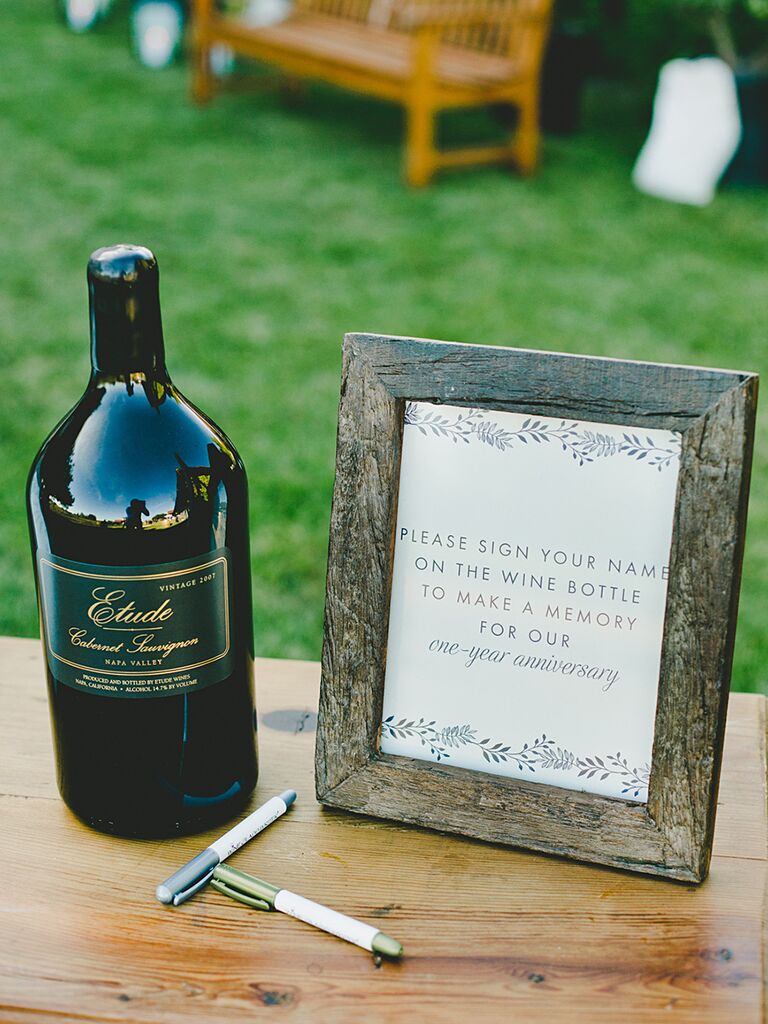 For a twist on the traditional guest book, have your guests use a gold or silver permanent marker to sign a bottle of wine you can enjoy on your first anniversary. Quick tip: The larger the guest list, the more surface area you're going to need. Go for a magnum bottle. 
From: A Romantic Vineyard Wedding at Etude Winery in Napa, California
10. Favors
To keep with the wine theme, send guests home with their own personalized bottle. Style the bottles with a custom label so they can be tucked away as a keepsake.
From: A Colorful, Glamorous Wedding at Whitehall Manor in Bluemont, Virginia