8 Woodgrain Wedding Details We Love
by Kristin Doherty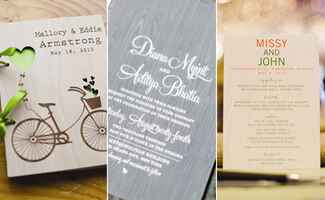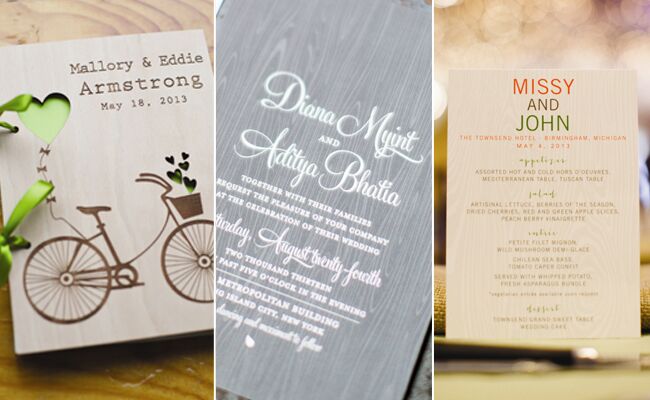 photo by
Blume Photography; Matthew Ree Photography; Abby Rose Photo
When it comes to your decor it's important to think just beyond color — texture can make all the difference! And a new textured trend we love is woodgrain on invitations, programs and menu cards. It's not just for woodland weddings either. A white-textured wood look is classic with a twist or add a colorful graphic print on top and it's instantly modern. Check out eight of our favorite woodgrain wedding details here!
Savana & Adam's Tropical Thank You Notes
From the album: A Beachside Wedding in Wilmette, IL
Missy & John's Modern Menus
From the album: A Romantic, Jewish Wedding in Birmingham, MI
Mallory & Eddie's Playful Laser-Cut Guestbook
From the album: A Romantic Rustic Wedding in Cleveland, GA
Sachi & Ken's DIY Tag Escort Cards
From the album: A Beach Wedding in Corona Del Mar, CA
Karie & Mike's Preppy Ski-Themed Programs
From the album: A Homestead Wedding in Glen Arbor, Michigan
Diana & AD's Gray Woodgrain Invitation Suite
From the album: A Metropolitan Building Wedding in Long Island, New York
Jessika & Vincent's Elegant Invitations
From the album: A Central Park Boathouse Wedding in New York, New York
Savannah & Robert's Tree Motif Menu Card
From the album: A Romantic, Outdoor Wedding in Dade City, FL
More! More! More!
> Floral Invitations Done 5 Ways
> Our Favorite Real Wedding Invitations