Would You Travel With a Placeholder Engagement Ring Like Lauren Conrad Did?
by Ivy Jacobson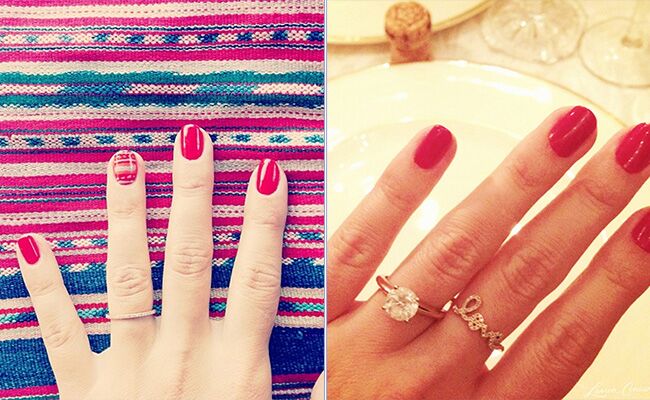 We thought Lauren Conrad's gorgeous round-cut diamond solitaire engagement ring reveal (with a flawless red manicure) couldn't be topped, but the SoCal fashion icon's style never ceases to amaze us.
On a recent trip to Guatemala, Lauren Instagramed a photo of her left hand showing off a pretty textile-inspired manicure — with something huge and sparkly missing from her ring finger! In her engagement ring's place was a band that looks like rose gold and diamonds.
Traveling with a placeholder engagement ring is a smart idea, especially if you lose your engagement ring in another state or country. Missing the feeling and sparkle of your gem is understandable, of course, but wearing it when you're paddleboarding in the Bahamas may not be the best idea.
Want more? Of course you do!
> A cheerful, outdoor wedding in Malibu, CA
> Lauren Conrad has 2 pieces of wedding day beauty advice (watch!)