Would You Want to Pick Your Own Engagement Ring?
by Jennie Ma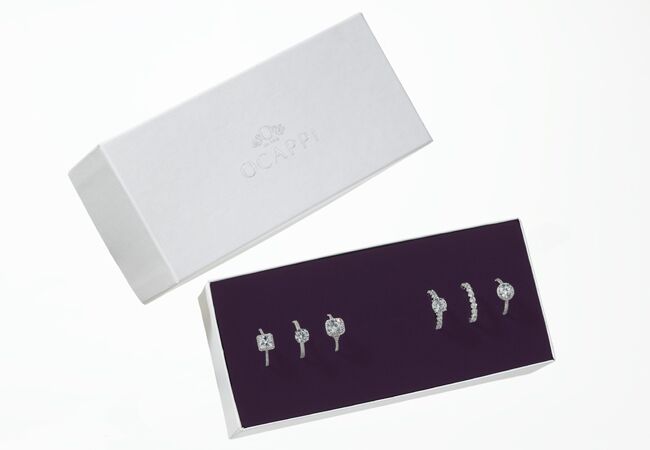 We know the inner conflict. You want to be surprised when he proposes but you also want to make sure you like that ring (you are going to be wearing this thing everyday for the rest of your life). Just know you're not alone. According to The Knot's studies most brides are somewhat involved in the ring selection (65%), with nearly a third (31%) 'very involved' — that is, they shopped for and/or purchased the ring with their groom. Here are some ways to slyly get in on the action.
Ocappi Engagement Ring Try On Service
This e-commerce site is now letting your future fiance order up to six rings at a time so you can have your pick. The company sends replicas of the rings he likes (made in silver and cubic zirconia). The best part is that there is no obligation to buy. But let's hope he doesn't end up proposing with all six rings!
Blue Nile Ring App
You can virtually build your own custom ring on this app and get super specific when it comes to your diamond (meaning you can filter down to the carat, color, clarity and cut of the stone). What I love about this app is that everything comes priced so you don't have to pine after something you're not sure you (and your guy) can afford. Casually leave the app open with your favorite ring on the dresser to give him a hint.
Simon G Jewelry Virtual App
While you don't get to play with an actual ring this is probably as close as it gets. You can not only browse through gorgeous options, but you can also virtually try on the rings on your actual finger. Just take a picture of your hand on your phone's camera and resize it until it fits.
The Knot's Engagement Ring Search
Can't have have engagement ring buying tips without shamelessly plugging The Knot! You can find hundreds of ring styles from our favorite designers and the locate the retailer nearest you to buy (or secretly try on first!).
> Search hundreds of engagement rings!
> Find a matching wedding ring!