Our Favorite Yosemite Wedding Venues in and Around the National Park
There's nothing half-hearted about a Half Dome wedding.
Perhaps the most well-known—and most beloved—of America's 63 national parks, Yosemite is a true alpine wonderland (and, spoiler alert, there are some amazing Yosemite wedding venues you need to know about). Most visitors will find themselves in the Yosemite Valley during their stay, where most of the park's hotels, activities, and attractions are located. The Valley is also home to some of the park's most famous landmarks, like Yosemite Falls, awe-inspiring Half Dome, or the 3,000-foot-tall El Capitan rock wall. However, Yosemite wedding venues offer more than just what's in valley, including groves of giant sequoia trees, remote lookout points near Tuolumne Meadows and Glacier Point—one of the best places in the Sierra Nevada to watch the stars come out.
Given how much beauty there is in the park, it's no surprise that it's a popular location for weddings. Wedding venues in and around Yosemite National Park abound, and the park itself offers several sites for an outdoor wedding ceremony during the day. Yosemite is also an excellent spot for elopements and microweddings, with stunning backdrops and small clearings and lookouts that hold no more than a dozen people.
If you're thinking about planning a Yosemite National Park celebration or elopement, read on for the best venues in Yosemite for your outdoorsy California wedding. And if you're looking for even more venue ideas, or want to find the best vendor team to make your Yosemite wedding a reality, head on over to The Knot Vendor Marketplace to get started on your research.
The Ahwahnee Hotel in Yosemite Valley, California
Once called the Majestic Yosemite Hotel, Yosemite's most famous building was recently restored to its former name: The Ahwahnee Hotel. The historic, luxury hotel was built in the 1920s to accommodate wealthy guests visiting Yosemite National Park from San Francisco, California. Because the trip to the park was so arduous, the hotel was built to have every imaginable luxury, from a swimming pool to elegant bar and several sun-drenched sitting rooms.
Today, the trip to Yosemite is a bit quicker, but weddings at the Ahwahnee are still as elegant. Because the Valley is open year-round, this Yosemite wedding location can accommodate romantic winter weddings, sprawling outdoor wedding ceremonies in the summer, or fall ceremonies against the backdrop of changing leaves (and maybe even a wandering bear or two.) Receptions are usually held in the Ahwahnee's impressive dining room, with lofted ceilings, wooden beams, and two-story stone fireplaces more or less unchanged since the 1920s. If you love northern California and the idea of hosting a park-themed wedding, the Ahwahnee is an ideal choice.
Vista Ranch and Cellars in Merced, California
Merced's Vista Ranch and Cellars is the ideal location for a farm wedding with a California twist. The ranch covers 20 acres of vineyards, lawns, and picnic areas, so you'll have your choice of locales. The ranch handles all their catering in-house and includes a private cottage for the wedding party to get ready. Vista Ranch has an on-site tasting room in case you'd like to introduce your guests to central California's wines, and many tour operators in Merced can arrange group tours into Yosemite as a pre- or post-wedding event.
Yosemite AutoCamp in Midpines, California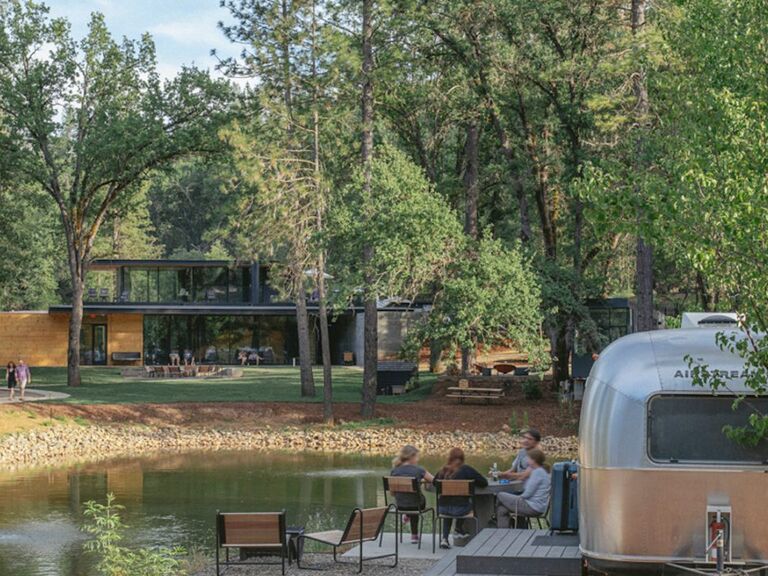 For a modern twist on a national park wedding, host your celebration just down the road from the park in Midpines at Yosemite AutoCamp. The sprawling resort features custom AirStream trailers and safari-style tends for guests, though the wedding venue near Yosemite is hardly roughing it.
AutoCamp's main draw is a stunning modern common space with fire pits, indoor and outdoor couches, an outdoor swimming pool, and decks overlooking the private property. So if you're the type of couple who wants a hip outdoorsy wedding with late-night s'mores and a wooded backdrop, AutoCamp is the place. The resort also works with various local vendors for everything from yoga classes to wine tastings, so there's plenty for your guests to do even if they never set foot in the park. And they can help arrange farm-to-table rehearsal dinners catered by nearby restaurants, too.
They can accommodate small weddings or full resort buyouts where each vintage trailer is occupied by a wedding guest. AutoCamp is about 35 minutes from Yosemite National Park, so you get the benefits of being near the park without the hassle of dealing with park crowds in the peak of summer.
Sparks Ranch Resort in Sonora, California
Perfect for intimate and private events, the 10-acre Sparks Ranch Resort is surrounded by towering oak trees for a wooded wedding. The charming cottage house, painted in a cheery yellow and surrounded by native plants, is the perfect place for wedding parties to prep—and a quaint spot for group wedding photos. Weddings have to rent the venue for the entire weekend and no other guests will be on site. The ranch's wedding packages are totally customizable and can include everything from an expert mixologist for your wedding reception to a day-after brunch around the saltwater pool.
Tenaya Lodge at Yosemite in Fish Camp, California
Just minutes from the south entrance to Yosemite, Tenaya Lodge is a large, modern resort in the town of Fish Camp and one of our favorite wedding venues near Yosemite. The hotel offers wedding packages as well as custom weddings, so it's easy to plan the celebration you want without breaking the bank. While it's not technically in the park, it's so close that you get practically the same views without having to adhere to park curfew regulations.
Tenaya Lodge is ideal for outdoor spring, summer and fall weddings, though winter is beautiful if you don't mind the cold. The Lodge's outdoor wedding venues look out on the Sierra Nevada Mountains and since lodging is also on-site, it's a stress-free place for your guests, even if they don't have a car. And as a group activity before or after your big day, you can have everyone hop on the shuttle into Yosemite to visit the Mariposa Sequoia Grove. The grove has more than 500 trees, slime of which are thought to be more than 1,500 years old.
Yosemite Valley Chapel in Yosemite Valley, California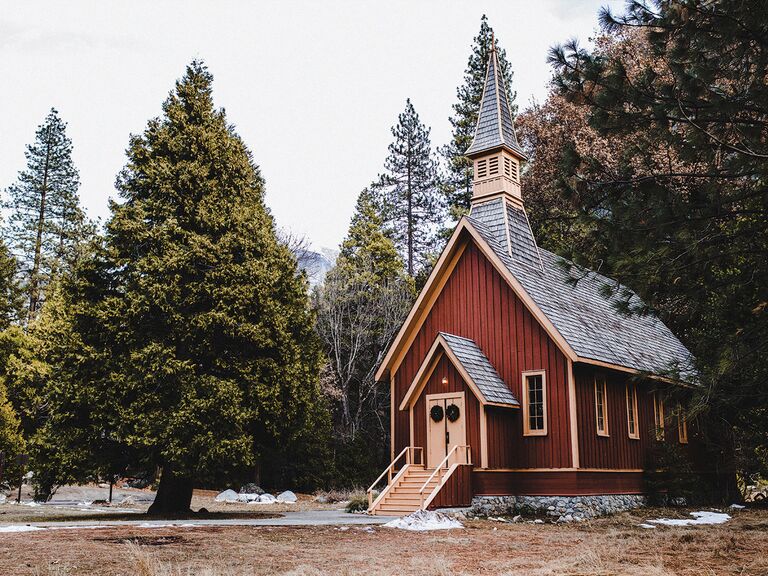 If you're hoping for a church wedding but still want to be in the heart of Yosemite National Park, you're in luck: the park's historic Yosemite Valley Chapel is available for weddings. And since the chapel's doors open to stunning views of Yosemite Falls and sits in the shadow of Half Dome, you'll still have access to stunning backdrops for your wedding photos at this Yosemite National Park wedding venue.
Built in the late 1800s, the chapel was once the centerpiece of the small town of Yosemite, located deeper into the valley well before Yosemite became the country's third national park. It was moved to its current location in the mid-20th century but is otherwise in its original condition, with a traditional bell tower and red shiplap exterior. Though the chapel itself is small, it's the perfect place for an intimate wedding ceremony before moving to a larger outdoor space, like the Yosemite View Lodge or Dining Room at the Ahwahnee Hotel.
Twisted Oak Winery in Vallecito, California
You don't have to go to Napa for a wine-country wedding in California—there are Yosemite wedding locations perfect for oenophiles right in the Sierra Nevada range. Book your wedding weekend at Twisted Oak Winery, about 90 minutes from Yosemite National Park, to enjoy a laid-back country wedding venue with Yosemite's mountain peaks in the distance. Wedding receptions can be among the vines, in the barrel room, or one of a half-dozen other beautiful places on property. And since they can host outdoor weddings of up to 300 attendees, it's an excellent choice for couples planning a celebration too large for the wedding venues in Yosemite proper to accommodate. Twisted Oak Winery's long-time wedding coordinator has rave reviews from past couples and can help arrange everything from wedding photographers to park-themed welcome gifts.
Yosemite Valley Lodge in Yosemite Valley, California
For couples who like to camp, there's no better place to throw a summer camp-themed wedding weekend than the Yosemite Valley Lodge. Slightly more casual and certainly more rustic than The Ahwahnee, the Lodge is a perfect complement to a wedding ceremony at the Yosemite Chapel. It's also just steps from the base of 2.400-foot-tall Yosemite Falls. Despite the fact that it has some of the best views in the park, it's one of the most affordable wedding venues in Yosemite for a reception.
The Lodge has its own in-house wedding planner who can help with the details of arranging your wedding day anywhere in the park before coming back to the rustic, wood-paneled lodge for a forest-themed reception. The hotel's ballrooms were recently redesigned with wood beams and massive floor-to-ceiling windows looking out onto the park, so you'll get mountain views no matter which venue you choose. The wedding coordinators can even arrange a welcome campfire with local brews and s'more making over an outdoor fire pit or coordinate photography classes for your guests through Yosemite's Ansel Adams Gallery. The staff are experts on the park and knowledgeable about all the available amenities and activities throughout the Yosemite Valley for you and your guests on your special day.
The Wawona Hotel in Yosemite National Park, California
Though Yosemite may be known for stone buildings and wood-beam-framed cabins, those aren't your only options when it comes to Yosemite National Park wedding venues. The Wawona Hotel is a Victorian-era hotel dating to the 1870s with a very different look and feel than the park's other hotels. It's near the southern entrance of the park near Mariposa Grove and is ideal for smaller weddings, with a cap of around 80 guests. You can say your vows elsewhere in the park (Yosemite Falls, Bridalveil Falls and Glacier Point are three exceptionally lovely locations) before hosting your reception on the Wawona Hotel lawn, or host the entire affair on-site.
The Wawona Hotel can even arrange guided horseback trail rides for your guests or host everyone for tea on the lawn the next day. There aren't many Victorian hotels in northern California, so if you want a romantic, vintage wedding day, it's certainly worth a look.
Hotel at Black Oak Casino Resort in Tuolumne, California
Fun-loving couples who want to ensure their guests have a good time should consider the Hotel at Black Oak Casino Resort. Tucked into the Sierra Nevada, the wedding venue is affordable, low-stress for you and your guests, and versatile—you can choose from indoor or outdoor venues and arrange everything from bowling to horseshoes for your cocktail hour or rehearsal dinner. Wedding planning is a breeze as the resort has a dedicated events team and at just over an hour from Yosemite's Big Oak Flat entrance, it'll be easy for your guests to explore the perk before or after your celebration.
Mammoth Mountain Ski Area in Mammoth Lakes, California
Outdoorsy couples will be hard-pressed to find a more fitting venue than the Mammoth Mountain Ski Area. Love national parks? No problem – you're less than an hour from Yosemite's eastern entrance. Love quaint mountain towns? That box is also checked, as you'll be in the charming town of Mammoth Lakes. The resort has a dozen wedding venues ranging from a natural clearing next to a snowmelt-fed lake to weddings at the mountain summit to a small historic chapel surrounded by hundred-year-old pines.
Greenhorn Creek Resort in Angels Camp, California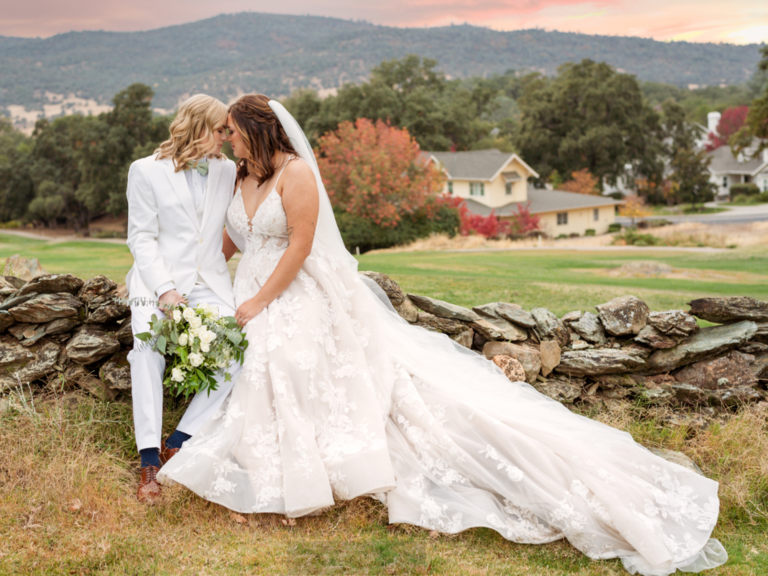 Greenhorn Creek Resort is a small country club in the tiny town of Angels Camp, about 90 minutes from Yosemite's western entrances. While the club can easily accommodate ballroom weddings in their fairway-facing Crystal Room, where they really excel is at outdoor weddings. Though several reception spaces are available, the most popular is under their outdoor pergola, with fairy lights weaving across the top and creeping vines weaving their way through the rafters to create shade during warm California afternoons.
Convict Lake Resort in Mammoth Lakes, California
If you want to offer your guests the chance to feel at one with nature in the heart of the Sierra Nevada, consider Convict Lake Resort in nearby Mammoth Lakes. The crystal lake is bordered by the steep peaks of the Eastern Sierra Nevada, which are more jagged—and dramatic—than those to the west. To ensure you'll have amazing mountain views throughout your wedding day, host your reception in the event space, built with floor-to-ceiling windows on all sides. The reception space opens to a grassy lawn overlooking some of the best views in the Sierra Nevada. Though Convict Lake feels remote, it's just a short drive from Mammoth Lakes, so you'll have plenty of options for lodging and dining before and after saying "I do."
Hannah Nowack contributed to the report of this story.