"You are cordially invited to…" (A Groom With A View)
by Robert Schwartz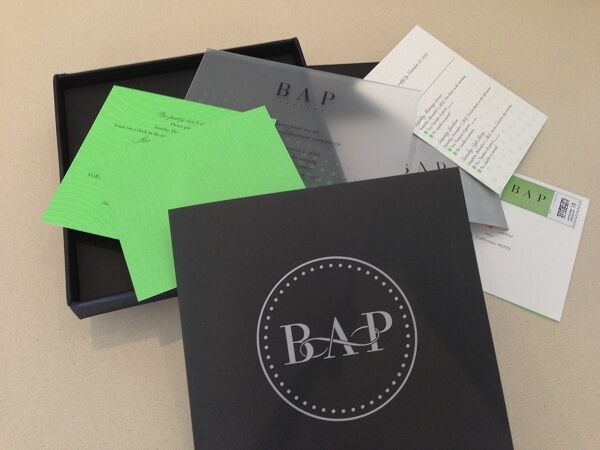 Last week Evin started looking for our wedding invitations. I have no visual sense whatsoever so it was left it to her. Almost daily she would send me links to websites that sell invitations and I would offer my opinion such as it was. When we narrowed down some possibilities, she requested samples from the companies. We have a lot of wedding invitation samples around.
Then the other day Evin and I received a shallow, blue-striped, all official-ly looking 10 inch x 10 inch box in the mail. The return address was vague so I assumed it was yet another sample wedding invitation. I tossed it on the dining room table and went about my business before taking a second look at it a few hours later. The label was addressed to both of us, something Evin probably wouldn't have done were it just samples. Inside was the most beautiful, over-the-top, must've-cost-a-fortune-invitation-for-any-event-ever since the invention of invitations. Four or five multi-colored cards from heavy stock with various addresses for the festivities, more cards with driving directions, and a plexiglass invite for the party on Saturday night. The invitation was for my oldest, closet friend Lea's son's Bar Mitzvah in Los Angeles in December. I wondered how much these must've cost. So I called Lea and asked her how much they cost. Then I reassembled the invitation and put it back in its box.
But I started to think: When I was a kid, getting invited to something was exciting. Usually it was the Bar Mitzvah of a cousin or a friend or the wedding of an aunt or uncle but the invite came, good card stock, raised/embossed black letters, and maybe even a little bow. But my name was nowhere to be found. The envelope was addressed to, "…and family" which meant me. This said to me, we want you, but not so much that we need to send you your own invitation.
Then I got a little older and invitations came addressed directly to me — the wedding of a cousin or older friend. This said to me, hey, you're wanted somewhere! It was flattering to know that a list was put together and somewhere on it was my name. I was an adult going to adult things.
Then when I was post-divorce, virtually every friend I had who was single at that time had decided to get married. And the invitations came. To me, this said, we want you even though you're currently so self-loathing you don't even want yourself right about now.
I keep all of this in mind as Evin and I are searching for our wedding invitations. And I wonder; what people would be thinking when theirs arrived in the mail?
Evin came home from work and made a beeline for that invitation.
"Your text message picture didn't do it justice."
Naturally, she flipped over it. After a long conversation about our own invitations, Evin went back to the internet to keep looking. But we have a rule about it now: no elaborately boxed invitations.