You'll Never Guess Who Was on Kimye's Wedding Playlist
by Ivy Jacobson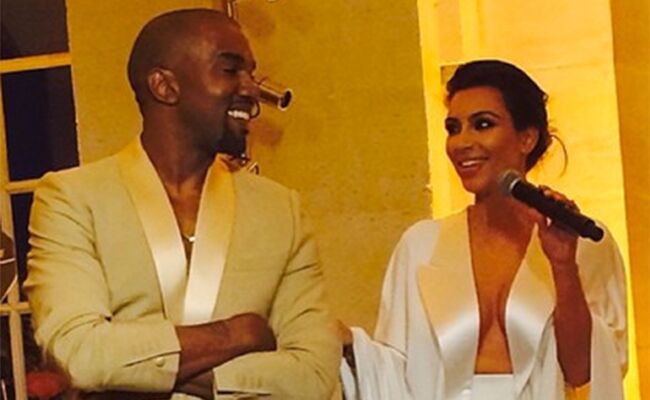 photo by
Giancarlo Giammetti
If you had Lana Del Rey perform three songs at your rehearsal dinner, Andrea Bocelli sing as you walk down the aisle and John Legend serenade you with "All of Me" for your first dance, I'd say your wedding was a total musical home run. But, since things like that only happen to Kim Kardashian and Kanye West, the only thing we can emulate from their wedding tunes is their playlist, shared by E!.
Although their two friends (possibly only Kanye's friends) Jay Z and Beyonce skipped out on the wedding to go to the Hamptons instead, a "Drunk In Love" remix was on the couple's reception playlist. I'm a little surprised since Bey reportedly isn't the biggest fan of Kim's, but I'm not surprised that the remix included the groom.
Also, right on with "Roxanne," Mr. and Mrs. West.
Mash-up of Otis Redding's "These Arms of Mine" with Etta James's "At Last"
"Superstition" by Stevie Wonder
"Rack City" by Tyga
"I Wanna Sex You Up" by Color Me Badd
"This Is How We Do It" by Montell Jordan
"Drunk In Love (Remix)" by Beyoncé featuring Jay Z and Kanye West
"Pour It Up" by Rihanna
"Brown Eyed Girl" by Van Morrison
"When I Think of You" by Janet Jackson
"Let's Dance" by David Bowie
"Roxanne" by Police
"The Pleasure Principle" by Janet Jackson
"Don't Stop Believin' " by Journey
"Try a Little Tenderness" by Otis Redding
Want more? Right here!
> What Your Favorite Disney Princess Says About Your Wedding Style
> A Lowndes Grove Plantation wedding in Charleston, South Carolina