Home

1st Officiant
About this Vendor
Warm, Personalized Ceremonies
Details
Civil Union, Commitment Ceremony
Christian, Interfaith, Jewish
Contact Info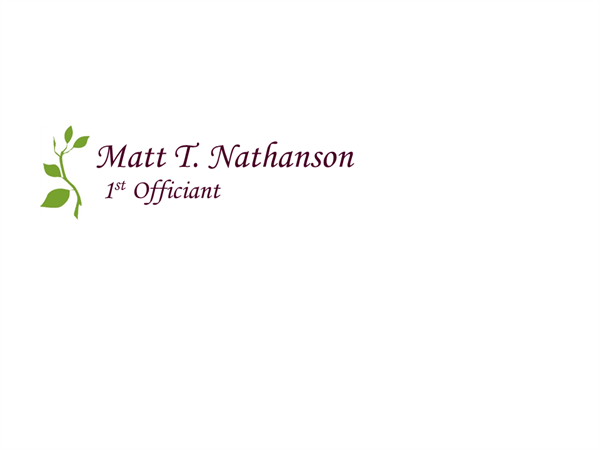 Amazing!
Reviewed on

11/15/2013
Sari H
Matt was incredible to work with. We first met at a Starbucks as a mini interview to see if he was a match for us. We had met other Officiants before and they didn't understand that we wanted a ceremony more about love than religion. My husband is German Catholic and I'm Jewish and either though we wanted to mix in some traditions we didn't want it all about it. Matt understood right away and we all totally clicked. He's calm and understanding and made everything very easy on us. Our ceremony was wonderful as he made it very personal, fun and about love. All of our guests raved about him! If your able to catch Matt as your Officiant you won't regret it!
---
Fantastic Officiant!
Reviewed on

7/08/2013
Jenn Z
Matt was an awesome officiant! From the moment we met him, we were instantly drawn to his charismatic personality. He was very helpful throughout the entire process of planning our ceremony. He helped us develop the ceremony and incorporated several stories of us into the ceremony. The stories were comprised of various memories that my husband and I sent him separately. We did not know what each other wrote, so it was fun to listen to it all while Matt was running through the ceremony. Throughout the entire ceremony, it really seemed like Matt had been along for our relationship; he really sounded like he knew us, which made the ceremony that much more special. We had several guests comment on how great he was and how touching our ceremony was! Matt did a phenomenal job, and I highly recommend him if you are looking for a fun and loving ceremony!!
---
Excellent
Reviewed on

3/30/2013
Heather D
I had Jake Hansen for my ceremony. He did a great job with personal touches. Some of my family asked me if he was one of the groom's brothers or cousins because it seemed like he knew us. I was very impressed that he spent about an hour interviewing us so that he could build the personalized ceremony. It was the perfect amount of time during the ceremony. Bottom line: I would absolutely recommend Jake. He has intuition about what each couple would like.
---
Simply perfect!
Reviewed on

3/22/2013
Dina B
Knowing our ceremony would be such an important part of our day, we searched to find someone to marry us who would get us and help us to prepare for what would be the perfect combination of part love, part spirituality and part joy with a bit of laughter. Matt could not have been a better choice. The process we walked through to craft our ceremony was fun and totally put us at ease. He was completely accommodating and encouraged us to take part in making it our own. I overwhelmingly recommend Matt as he really helped orchestrate a perfect ceremony that our guests are still remarking on how beautiful, unique and totally us it was. Thanks Matt for such a really great job done!!!
---
Amazing job!
Reviewed on

9/12/2012
Shayla M
Matt did an outstanding job for our wedding. We were looking for something short and sweet, but meaningful and Matt totally delivered. Many of my guests thought he was a friend of ours the ceremony was so personal. And it was just via email and 1 phone call that Matt completely got us. He also helped my husband before the ceremony began when he was starting to feel a little light headed. He told him to squeeze his toes together and it helped!!! My husband said he was a lifesaver!! I highly recommend 1st Officiant for your wedding! You will not be disappointed!!
---
Wonderful
Reviewed on

6/26/2012
Eric M
Matt did an amazing job. He was super responsive via email and always picked up when we called with millions of questions. His demeanor was super sharp and he was very well received by all of our guests. He customized our ceremony WAY better than I thought. More importantly, he helped que everyone in the wedding party in a way that the other guests didn't even realize. Overall, I would highly recommend Matt and think he far exceeded my expectations.
---
M&M
Reviewed on

5/10/2012
Marcy W
We were thrilled with 1st Officiant. He had people laughing and crying. Many of our guests commented on what a good job he did. He made the service very personal. I would definitely recommend him.
---
Matt is the man!
Reviewed on

4/20/2012
Brian D
If your getting married in the Pheonix area, you have to go with Matt!! We interviewed 4 or 5 different officiants and Matt was hands down the choice for us and on the big day he delivered! His ceremony was beyond all our expectations! It was fun, llighthearted and everything we watned it to be. OUr guests commented that it seemed as though he had known us for years. Not only is Matt very professional, but he is a great guy and great to work with!
---
Matt is your man!
Reviewed on

4/08/2012
Cecelia R
Matt was great, and exactly what we needed for our civil ceremony. We were planning a destination wedding in Scottsdale, so we couldn't actually meet him until a few months prior. We spoke on the phone once and I knew we would be a great fit - easy going and a casual conversation about who we were and what we were looking for was all we needed. When we finally met him I knew we made the right choice! If you are looking for an easy-going officiant that is well prepared for any type of wedding, then Matt is your man.
---
Wow
Reviewed on

3/17/2012
Lexie J
Matt, was beyond amazing. He wrote a beautiful ceremony for us and personalized it so brilliantly. It wasn't too long either, and many guests raved about how it was just the perfect amount of time given for a ceremony.
---
Beautiful
Reviewed on

1/06/2012
Cassandra H
Matt Nathanson is the best officiant. I provides a ceremony that will be unique to your wedding without fail. He is uplifting, honest, funny, and most of all friendly. You will feel like his first priority!
---
BEST OFFICIANT
Reviewed on

11/24/2011
Kristin M
Matt is the best officiant you could hire for your wedding! He is absolutely worth it. My husband and I really liked him and felt very comfortable with Matt the sexcind we met him. He was so easy to work with. His ceremony is so personalized and funny. He made the ceremony. The ceremony was so personalized that many of our guests thought he was a friend of ours. I can't tell you how many people said how much they liked the ceremony, even weeks after the wedding. That's how memorable he makes it. I promise you, you will not be disappointed!-Kristin
---
The best of the best
Reviewed on

10/27/2011
Christine C
My Fiance and I can not thank Matt enough for being the officiant at our wedding, everything he included was extremely beautiful with attention to detail. He made our ceremony unique in 101 ways and we couldn't thank him enough. Finding the right officiant was the one thing my Fiance and I were most worried about and he made us feel not only comfortable, but totally confident in what he does and in making our ceremony as perfect as possible. We received so many compliments on his service and we will DEFINITELY be referring him in the future. Everyone complimented on his wording as well as his sense of humor. They loved that he had comic relief and that the ceremony wasn't completely serious, but funny, romantic, sweet, and straight from the heart as well. Out of the whole wedding, the ceremony seemed to have touched everyone the most and it was all because of him. Meeting with Matt the first time was great, hes very down to earth and knows exactly what hes doing. He asked us how we met, what happened on our first date, how my fiance proposed and had us separately email him lists of 10 things we love about one another, and 5 aspirations for our future. He found a way to incorporate all of those details to make our ceremony not only unique but like no other, because every ceremony to specially personalized for that specific couple. We could not thank him enough for everything hes done, we will never forget how amazing he made our special day. Lucas and Christine Casanova
---
Want a Wow-factor to your ceremony?
Reviewed on

10/10/2011
erin h
Matt is your man! There was no question in our minds that the reception would be our favorite part of our wedding day. That could not be further from the truth! The personal touches that Matt included in our ceremony made us laugh and cry, and allowed everyone there to share a glimpse of our relationship and celebrate it with us. Matt is a great guy, and made the whole process very step-by-step, which is greatly appreciated during the planning phase before the wedding. I have heard wonderful things from the attendees about the great job that Matt did. My husband and I would recommend him to anyone we know!
---
So personal and professional!
Reviewed on

7/18/2011
Christina V
Matt just did my wedding April 30th and he was absolutely perfect. My husband is British and the Brits aren't used to a non-religious person performing a ceremony and they all loved him! Everyone assumed he was an old friend actually! They all came up to us during the wedding and said how impressed they were at how well Matt spoke. He really set us at ease at our first meeting and we were blown away by his organization and presentation. He was early to the ceremony and managed to match our wedding colors perfectly! Thanks so much again Matt for making our ceremony so wonderful. - Chris & Nina
---
Fantastic Officiant!!
Reviewed on

5/30/2011
Erica B
Matt is a wonderful officiant! He delivered a beautiful and heartfelt ceremony that was very personal to me and my husband and our guests raved about him! He listened to our ideas of what we wanted our ceremony to be and he nailed it! Honestly, we could not have asked for more! I would highly recommend Matt!!
---
Matt is AWESOME!
Reviewed on

5/29/2011
Melissa L
Matt was our officiant and I couldn't have asked for a more perfect ceremony. He kept it short and sweet just as we had requested, but still personalized it to our liking. Several of our guests commented on his outstanding performance afterwards. Thank you so much Matt for making our special day that much more special!
---
Very Personal
Reviewed on

5/26/2011
Amy C
Matt did a WONDERFUL job on our wedding!!! The ceremony was extremely personal and summed up Cody and I perfectly. All of the guests were asking how long we knew Matt after the ceremony because he included so many stories and details about each of us. He made us feel comfortable not only on our wedding day, but also through the whole planning process. I highly recommend Matt!
---
It's like you've known him forever
Reviewed on

5/26/2011
Michelle K
Matt was by far one of the best vendor choices we made for our wedding. He let us put together our own ceremony and vows, and he asked us questions about ourselves that personalized the love story he told about us to our guests. He did so well, many people asked us how long we've known him, like he was a friend of ours for many years though we'd only been acquaintances with him for the 6 months prior to our wedding. The ceremony he put together was personal and organized without feeling too structured, and the perfect amount of non-traditional we wanted. Thank you so much, Matt, for giving us a ceremony that we will treasure and remember for all of our years!
---
He's your guy!
Reviewed on

5/26/2011
Barry B
I'm not good at these reviews so this will be short and sweet. If your looking for an Officiant then Matt's your guy. My wife and I interviewed many people and immediately liked and want ed Matt to officiate over our wedding. He was great! You'll love him. Barry
---
Beautiful ceremony
Reviewed on

5/26/2011
Emily G
We chose Matt because we wanted a personalized wedding ceremony which would be different. We met with Matt about 5 weeks before our wedding to go get to know him and go over the different options available, of which there were many! After that we kept in touch via email and communicated with him about what we wanted. Matt was very easy to work with and we got along well with him. He gave us some great ideas which we incorporated into our ceremony. Our friends and family really enjoyed the ceremony, they loved how personal it was and Matt did such a good job relaying the little stories we'd told him about how we met etc. Most wedding ceremonies are fairly forgettable but everyone remembers ours! Matt sent us a lovely printed copy of our wedding ceremony shortly after the event, which was a very nice touch! It's a great souvenir of our day. We would definitely recommend Matt to anybody getting married, we're so glad we chose him out of all the people available. We really couldn't have been happier with the great service he provided and we'll always look back on our ceremony with fond memories.
---
AWESOME!!!
Reviewed on

5/26/2011
Shaunna A
Two words...HIRE Matt!!! He is worth every penny and MORE, I seriously would have paid double! Our wedding was over six months ago and people are still in awe of our ceremony saying it was the best ceremony they have ever been to, not too short, not too long and everyone learned something about me and my husband, which was really important to us. Matt does a FANTASTIC job, he gives you variety and gets to know you as individuals, but most importantly as a couple. When we initially met with Matt we knew we wanted to hire him within the first 5 minutes, he is really easy to talk to and really listens to your story and how you picture your wedding ceremony. Our ceremony was unique to me and my husband, I am Christian and my husband is a non-believer, Matt mixed both beliefs in a way that made it extra special, but the personal touches were beautiful! You will not be disappointed if you hire Matt, he is WONDERFUL and he will make your wedding ceremony unforgettable!!! Thank you Matt!
---
Very unique, personalized ceremony
Reviewed on

5/25/2011
Lindsey R
We found Matt online and he got very high reviews so we decided to schedule a meeting with him. After our first meeting I was sold. Matt is very likeable, he's extremely nice, easy to talk to, very open and laid back. In addition, he's very organized, which I really appreciated. I wanted to know what was going to be said in our ceremony. It was important to me to know beforehand the order of the ceremony, the vows, etc. Matt has lots of material that he has prepared and can use in the ceremony and he is willing to work with you to get a ceremony exactly like you want it. I had several specific requests and he accommodated every one of them. He allowed us to choose readings that were special to us. Most importantly though, he tailored our ceremony to us. We didn't want a religious ceremony (although he does those as well). Instead we wanted a ceremony that was about us, unique to us. And he did just that. We had several guests tell us that our ceremony was one of the best they have ever heard. Because it was so unique and personalized to us. Before the ceremony he had us write down 10 things we loved about each other and 5 aspirations for our married life – then he used the things we said and the stories we told about each other throughout the ceremony. So it was special for our guests, and really special for us. I highly recommend him, you will like him and your guests will tell you how special the ceremony was.
---
Awesome Officiant!
Reviewed on

12/13/2010
Kimberly H
Matt is a super cool guy! Not only did he really care about what me and my wife had to say and what we wanted to do, but he gave us suggestions and helped us along with planning our ceremony. It went better than we could have imagined and some of the cool ideas he had worked out perfectly! Our families and friends couldn't stop talking about how awesome the ceremony went and how original it was. The "wine ceremony" was the best idea ever and everyone loved it! Highly recommended for sure! Thanks again Matt! You were awesome!
---
Perfect!
Reviewed on

12/13/2010
Andrea R
Our families and friends have been talking about our ceremony, and were amazed at the feel, content and overall experience of it. Matt was able to completely captured who we are as individuals, as a couple, and with those around us. He has a calm, sincere, and warm way about him. He is professional, responsive, and attentive. Our experience with Matt was absolutely amazing!
---
Send Message