Home

2Birds Events
About this Vendor
When traditional isn't "you" choose 2Birds Events
Your Vision...brought to life by 2Birds Events! With outside of the box thinking and designing, your wedding decor will be fresh, unique, elegant, edgy...whatever you delight! Let us help take your vision and turn it into something that is unforgettable and uniquely yours!
Details
Contact Info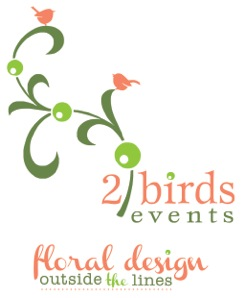 Truely an artist
Reviewed on

11/06/2013
Melissa J
Alexis did an amazing job on the flowers and decorations. She is truly an artist with flowers and has such a fresh aesthetic. She breaths a breath of fresh air into every idea I threw at her. Her excitement for each project is infectious. She managed to make our venue even more stunning than it already was. She was incredibly flexible with a few last minute tweaks we had to make and all of her work came out perfectly! Her shop is so fun to work with and we can't wait to use her again.
---
Best Flowers Ever!!!!
Reviewed on

10/17/2013
Jean C
Y'all! These flowers were stunning! All I said was 'muted fall' and 'texture.' They took care of the rest. They were so great to work with and made the ceremony the most beautiful space in the world. They took the reception space from cold and modern to friendly and inviting! I was so happy with everything they did.
---
Hands down best florist in the Tampa Bay area!
Reviewed on

7/23/2013
Sandra C
I learned of 2Birds Events at a Bridal Show in Tampa that I attended, and was immediately struck by their beautiful presentation. Their display was simple and elegant, and very trendy, and I did not hesitate to sign up for a consultation. Alexis was quick to capture the essence of my theme and was able to produce gorgeous flower arrangements for the tables using the milk glass vases I provided, and created a stunning bouquet that my family and friends are still raving over! I was fortunate to only work with vendors who listened to my ideas and were able to inject their own creativity to make my wedding a success, and Alexis is at the top of that list. It's important to work with people whose creativity and ideas you trust, and Alexis captured and interpreted my rustic-garden-vintage concept and delivered arrangements beyond my expectations. Alexis is honest, kind, highly talented, fabulously creative, and overall a consummate professional. Should you find yourself in need of flower services, do yourself a favor and contact 2Birds Events. I'm incredibly glad I did!
---
Reviewed on

5/22/2015
Kyle D
We chose 2birds for our May wedding and were extremely pleased with just about every aspect of their work. The bouquets, boutonnieres, and centerpieces were flawless with gorgeous, diverse flowers. They were exactly as envisioned. Our ceremony also featured a Dali-inspired arch that perfectly fit our setting. The photo booth was also a big hit at our reception and we love our guest album that includes the vintage element only polaroid can offer. The only not-quite-perfect element was involved the flowers for my hair; the flowers in the hairpiece were already wilted so we ended up using different ones altogether. Every other element was so amazing that I hesitate to even mention this one detail that could probably have been avoided with better communication about what I was envisioning. Overall, we couldn't have been more pleased with their professionalism and artistry that made our wedding so unique and unforgettable. Definitely recommend.
---
never seen flowers like this!
Reviewed on

3/16/2015
These girls know their flowers! If you are looking for something unlike anything you've ever seen, just ask 2Birds. They did all the flowers for our wedding at the beach and our cake as well. The guests and onlookers were talking about the flowers all night and the days following. They were professional, on time, and absolutely stunning! They listened to the ideas I had and made it even more beautiful than I could have come up with. Plus, I worked with them from across the country and they made it so easy. I will recommend them to any person in the Tampa/St. Pete area for years to come! Thank you 2Birds!
---
I can't say enough good things!
Reviewed on

3/12/2015
Caroline S
2Birds Events is fabulous! I met Alexis at a bridal show and immediately wanted to work with her, she was so personable and down to Earth. I showed up to our appointment with such limited knowledge of flowers or what I wanted, I just knew I didn't want to spend a large chunk of my wedding budget on flowers. Alexis worked with me, helped me find flowers that were beautiful and affordable. She also provided an "organic" feel with slight cascading elements to my bouquet, as I wasn't sure if I wanted cascading or not! The flowers at the arbor at the ceremony were just breathtaking and I'm so happy they're in photos of our first kiss as husband and wife! Her staff was communicative throughout the payment and planning process. Her staff was right on time for arrival at our venue, timeliness cannot be overstated. If I have another event that warrants flowers, I know just who to call!
---
Absolutely spectacular!
Reviewed on

2/07/2015
siobhan l
WOW!!! I cannot say enough good things about Alexis at 2Birds Events. Everything was simply magnificent for our wedding on December 20, 2014. The attention to detail was second to none. Her communication throughout the whole process was incredible. My flowers completely exceeded my expectations. Alexis worked very hard with us in coming up with the perfect flowers for our wedding. And although we changed our minds numerous times throughout the process, Alexis was very cooperative and helpful in making our dreams come true. I highly, highly, highly recommend Alexis at 2Birds Events for all of your wedding flower needs. We are still talking about how perfect everything was to this day. It was spectacular. Trust me you will not be disappointed A+++
---
Completely Unique - Created the Perfect Mood
Reviewed on

2/06/2015
Elizabeth M
I knew I was going to work with 2Birds for our wedding the moment I first arrived on their website - they create very unique arrangements, and that was exactly what my husband and I wanted. We are not traditional, and our venue was also non-traditional, and Alexis and her team really worked to create the feeling we wanted. We got married on the roof of a bar in our city's downtown, and the roof looked less than wedding-festive before 2Birds worked their magic. Well, they completely transformed the space into a sort of "bohemian chic" dream land - everyone at my wedding commented on how amazing the decor was, and people on Facebook have been asking who did my flowers after seeing the pictures we posted from our wedding. Compared to other florists I looked at, 2Birds was super affordable, but the service and product were so good it seems like it should have cost more! Would not hesitate to use them for any other event for which I needed a florist!!!
---
Beautifully Stunning Flowers!
Reviewed on

12/08/2014
Lorette H
We got married on Sat., Nov. 15, 2014 and 2birds events did our flowers. We had a small intimate wedding with only about 32 people, but had in mind exactly what we wanted. Alexis and her team nailed it! They got the colors perfect and the arrangements were all just exquisite! From the bouquets to the centerpieces to the floral pillars we had for our make shift 'altar' - everything looked just perfect! She listened to what I wanted and she really brought to life what I pictured in my mind. All of our guests were raving about the beautiful flowers! I highly recommend them as THE only place to get your wedding flowers! You wont regret it!
---
Absolutely amazing!
Reviewed on

11/11/2014
2birds was recommended by a friend of a friend and whoa do I feel like the luckiest girl in the world! Alexa is a floral genius and really listens to every detail about your day and your likes and dislikes. I was a fan of 2birds even before our first meeting and then when I met Alexa I just knew it would be perfect. It was something I knew I never had to worry about, I trusted her completely with the flowers and could not have been happier! I knew it was a good sign when my venders would ooo and ahh when I said 2birds was my florist. Alexa and and her office manager, Elaina were amazing in every way! I cannot say thank you enough. Will recommend to everyone I know!
---
Flowers are the beauty of our soul
Reviewed on

11/11/2014
Crystal K
I am a bride who used 2Birds for my flowers and decorations portion of my wedding. I cannot say enough good things. I felt really relaxed and comfortable speaking with Alexis from the beginning. I felt she truly listened and cared about how I wanted the flowers and decorations to look like, and she took the time to experiment with floral designs to ensure I got what I wanted to was truly comfortable with the decision. I wanted to be a hands off bride. So Alexis respected my wishes by contacting a designated person the day of the wedding, and working with her team they delivered breathtaking flowers and decorations to Isla del Sol flawlessly. The flowers were so beautiful and fresh looking I could not be happier with them. The order was exactly what we wanted. My husband and I did a flower ceremony with our Moms and they got the right flowers we asked for and the flowers were beautiful. Alexis team also stayed and moved the outside decorations on the beach to the inside reception seamlessly, and without issues. In fact, by the time we were done with our pictures on the beach everything was taken care up in the reception. It was wonderful to not have to organize that transition as a bride, and having the ability to enjoy the moment and focus on the important stuff. I really appreciated Alexis and 2Birds being willing let my Husband and I use the decorations in the wedding and reception, because that really cut down on cost and saved us a lot of money. The flowers stayed fresh for a long time after the wedding, and we and our family members got to enjoy them around our house for a long time. Alexis and 2Birds surpassed my expectations, and I am a very happy bride due to their professionalism, caring about the client, and I felt I made a friend in the process. I would highly recommend them to future brides!
---
Great service
Reviewed on

10/27/2014
Lindsey S
2Birds was great! She made my wedding perfect and really made our venue stand out.
---
Simply Amazing
Reviewed on

10/09/2014
Michaela S
All I can say is UNBELIEVABLE!!! It has been such a pleasure working with 2Birds Events. I was looking for a florist with a creative, unique touch and I didn't need to look any further. From the bridal bouquet to the centerpieces, everything was absolutely beautiful. Alexis and Elaina are so kind and professional. They are both very responsive and flexible with requests. I really don't know much about flowers and it was hard for me to describe my style and it was as if Alexis read my mind. The bouquets complimented our dresses perfectly and the centerpieces brought my venue to life. I can't thank you 2Birds enough for helping to make my wedding day absolutely perfect!
---
Amazing florist!
Reviewed on

9/02/2014
Kristin P
Alexis and her team did an amazing job with the flowers and decor for my wedding. She executed my vision flawlessly and it was perfect! I highly recommend 2Birds Events to other brides.
---
Spectaular
Reviewed on

7/14/2014
Tina C
The flowers provided by 2Birds for our wedding in April were SO beautiful and it was so easy to work with Alexis and Elaine. Thank you for doing such a great job working in my mom's headpiece into my bouquet, too! It was so special. The flowers really pop in the photos and that's saying something since we got married at a botanical garden. The value was really good and all the flowers chosen were stunning. Definitely use 2Birds if you can!
---
Gorgeous Flowers!!!!
Reviewed on

7/07/2014
Nani O
2 Birds Events did a fabulous job on my flowers for my wedding. Everyone kept complementing how gorgeous they were. I'm Mexican and wanted to have very colorful flowers for our wedding. Alexis totally got my vision and the flowers were amazing. For our ceremony Alexis had colorful flowers around the bamboo arch. The same colorful flowers were on the reception table. The flowers from our ceremony were also brought in to put around cake and gift table. For my bouquet I wanted to have the flowers match my dress. Alexis did a great job matching the flowers to my dress. She also incorporated fabric from my dress into the handle of the bouquet (I provided the material). I also asked Alexis to incorporate 4 photos of my grandparents into the bouquet and she did it looked amazing. I would recommend 2 Birds Events to anyone they do a fantastic job!
---
Best florist around for amazing, original design.
Reviewed on

6/07/2014
2Birds Events did a fantastic job for my wedding. I knew when I first discovered them that they were unique, and wouldn't produce the same old bouquets and arrangements I had seen at so many other places. And I was right. I absolutely recommend them for any event. They were professional, great to work with, and amazing at what they do.
---
Gorgeous flowers
Reviewed on

5/11/2014
Kimberly D
Working with 2Birds events and Alexis was so easy. We were planning a destination wedding in Florida from New Jersey and Alexis was so helpful in the process. Through the power of Pinterest I was able to show her what I had in mind and she took those ideas and ran with them. I couldn't have been happier with the final product. It was exactly what I wanted and then some!!! Leading up to the wedding we had some last minute changes and they were super flexible with us. The girls that they sent the day of (I'm sorry I don't remember their names) were so sweet and helpful. They went above and beyond to make sure everything was set up and even tracked down the groom to make sure he had his flowers for the wedding too. Just amazing!!! I was so happy working with 2birds!!
---
AMAZING!!!!!!
Reviewed on

4/30/2014
Allison M
Alexis and the team at 2Birds are AMAZING!!!!!!! My wedding was held in a garden, so the flowers were both a theme and top priority for us. My mother arranges flowers as a hobby so she made sure that we met with MANY florists in town :) Alexis was far and away my favorite florist that we met with AND she was the least expensive quote that we got. I read another review that called her expensive… I'm not sure who else they met with, but she was both the best and most reasonably priced florist that we found in St. Petersburg. Some of the other florists we met with frustrated me because they were more concerned with their own agenda than my vision for the day. Alexis was the one that truly listened to what we wanted! I decided early on that we would only work with vendors that we got along with because why add extra stress to your day… Alexis is one of the nicest and most genuine people I have ever met… we LOVE her!!!! And then when I saw her work on our wedding day I was floored!! Our bouquets, the centerpieces, and everything was above and beyond all of my expectations!! Alexis even allowed my mother to take ALL of the flowers home for an open house that she hosted for us the next day. My wedding was 5 days ago and I still have my bouquet and one of the centerpieces at my house looking beautiful! It's been amazing to enjoy the flowers past just that night. We have already recommended 2Birds to another friend who is getting married. Thank you to Alexis and her team for helping to make our wedding magical!
---
Amazing
Reviewed on

4/30/2014
Kristina T
They were so easy to work with and knew exactly what I wanted and my vision for the wedding. Great prices!!!! Always quick to answer questions and the delivery to the venue had no problems
---
beautiful!
Reviewed on

4/21/2014
Ashley B
We weren't big in flowers at the wedding but what we did have was gorgeous. The flowers stayed pretty all night and everyone has nothing but nice things to say about them.
---
Beautiful floral designs!
Reviewed on

4/21/2014
Paige W
I planned my wedding from out of town, so I found 2Birds through the web and chose them based on reviews from other people, along with their quick response to my email. I am so glad we decided to go with them! Alexis and Elaina were amazing to work with. They listened to my ideas and suggestions, and answered every email (I had a lot of them) in a timely manner. Alexis was very attentive to my ideas and was able to capture my "Old Florida" theme perfectly! I was able to have complete trust in whatever ideas she came up with and the end result left me speechless! Everything from the bouquets to center pieces to accent flowers were so thought out and beautifully put together. I would hire them again in a second!
---
Made my vision come to life!
Reviewed on

4/19/2014
Holly F
I started pinning what I wanted before I was even engaged! When the time came I had hundreds of pins, ideas and questions. They not only listened to everything I had in mind, but they made it even BETTER with their expertise. They were helpful, understanding, creative, affordable and professional. I'd recommend 2Birds Events to anyone planning a wedding/party! You won't be disappointed.
---
2birds = 2happy bride and groom!!
Reviewed on

3/25/2014
Meghan G
I used 2birds for my wedding at the JW Marriott/Ritz-Carlton in Orlando. My best friend used them in their wedding at a small bed & breakfast and I loved their sweet touches so I hired them immediately after our first meeting. At first, I was not sure how everything would turn out since my venue was at a larger hotel. They absolutely nailed it! They decorated the outdoor area with the most beautiful flowers, drapes, and chandeliers. I used lanterns and mason jars down the aisle to give the "hotel" feeling a more relaxed look. The ballroom was stunning! They brought in chevron table runners and elegantly decorated the tables with candles and the most beautiful flower arrangements. Most of all, I was impressed with my bouquet! 2birds listened to everything detail I wanted and went above and beyond! They even tied in my mom's wedding necklace and my grandmother's ribbon into my flowers in the most elegant way. They have a great studio in St. Pete and I did NOT need to worry at all about having them travel to Orlando. They went above and beyond!!!
---
They just get it!!
Reviewed on

3/24/2014
Jody C
As soon as I walked into 2birds and met Alexis, I knew I had found our florist. Alexis was so open to ideas, and so enthusiastic about her job - it was contagious. She instantly understood our vision for our big day, and the flowers and decor were beyond what I could have ever imagined!! So colorful, so unique, so many textures - we had so many compliments on our bouquets and centerpieces!! I highly recommend Alexis and her team to everyone - Now, if only she could decorate my house every day :)
---
Send Message