Home

808 DJs
About this Vendor
808 DJs
Contact Info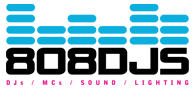 PO BOX 22194, Honolulu, HI
HORRIBLE...DO NOT USE
Reviewed on

8/12/2014
Nicole P
If zero stars was an option, I would have chosen that. I used 808 for my wedding and I have absolutely NOTHING positive to say. We used him during our ceremony and reception. They didn't have the requested songs, which was nothing out of the ordinary top wedding songs. They didn't even have the typical bridal chorus, our photographer downloaded the song on his phone and is what played, which I didn't know about until the following day. He also refused to make any MC announcements, which all we were asking for was for him to welcome us at the start of the reception to our small wedding party of 20. He was completely RUDE and UNPROFESSIONAL. I called him after the wedding, to which he agreed to refund me half my money, but after returning from our honeymoon I never received it. I followed up with him and he said he changed his mind. Do NOT use him EVER.
---
Eeehhh
Reviewed on

8/06/2014
brittany b
To be honest the owner of the company was difficult to work with and actually made me nervous. From work of mouth we were told Dominic was their best DJ so that is who we requested. He was GREAT!!!! I would recommend Dominic to anyone if they were able to go directly to him instead of working through the owner. He was on time, had a great attitude and very accommodating.
---
Excellent!!!
Reviewed on

11/14/2013
Catherine E
We were extremely pleased with Buddy and 808DJs! We had the all inclusive package and we couldn't ask for more! Not only did they provide the ceremony and reception music but they included a MC, photobooth, uplighting, and a monogram for us! There were other services like creating a slide show, voice over, etc. They were fun and I danced the WHOLE night! Just what I wanted! Thanks Buddy!!!!
---
808DJ's made my day
Reviewed on

10/23/2013
Kaimana M
808DJ's did an excellent job at my wedding. My venue was a little difficult since it had different levels and areas but 808DJ's were able to provide music/sound to each level. I gave them all 5's because the day of my wedding we planned it to be an open outdoor ceremony but when the rain came pouring down all plans changed and we had to shove all guest into a stuffy little pavilion, 808DJ's were able to adjust to the situation and made sure it was everything I wanted it to be. I also had a lot of people trying to be in control of my day, and everytime they would try to change something Bud stood his ground and responded "let me check with the bride". I had the unlimited package which included DJ, EMCEE, up lighting, our names projected onto the dance floor, photo booth, and props. The DJ had everybody dancing, from toddlers to grandma's, and the photobooth was a hit with all ages. They even provided a hook up for our friend to play music with his guitar at the cocktail hour. I would definitely recommend 808DJ's to anybody throwing a party.
---
Ruined wedding ceremony
Reviewed on

9/25/2013
Joyce F
I hired this company for my wedding. When I met with Bud, I told him I was on a budget. He recommended the all inclusive package. I was very apprehensive about the price, but he kept assuring me that it was the best deal and that I needed it. So I got the all inclusive package. We discussed what I wanted, that he would provide services for both the outdoor ceremony and indoor reception. On the day of the wedding, they forgot to bring the generator (even though they knew it was an outdoor ceremony). I was supposed to walk down the aisle at 6:00 pm in the gentle evening light. The guy who sets up, kept assuring that it would be super quick, that the generator was on it's way, etc. We waited for almost an hour before I realized that the generator was never coming. I ended up walking down the aisle at a little after 7 in the dark with no music, no microphone for the preacher, nothing. Because it was now dark, we had to forgo our formal wedding pictures and proceed with the rest of the wedding. I had already written the check, but when I realized our wedding ceremony had practically been ruined, I asked for any sort of refund. They said absolutely not! Because it was not their fault that they forgot vital equipment. I asked for a copy of the contract, but was completely ignored. Bud Dwelly is the rudest, most unprofessional person ever. He never sent any sort of paperwork to me, threatened me if I cancelled payment on the check, bashed the military saying "I have had problems with military people before." (Im not even military). He told me he had all the paperwork, and therefore there was nothing I can do. No bride who plans to have a sunset wedding on the beach set with beautiful music, wants to marry in the pitch dark with no music, or photographs. And I paid a lot of money for services I did not receive. Then I was met with hostility and rudeness afterwards when I merely asked for some sort of refund and a copy of the paperwork.
---
Really got the Party going!
Reviewed on

7/26/2013
Kim L
There were certain songs we wanted played that they didn't play. We were especially upset that they got out grand entrance song wrong! Other than that they were very personable and really got involved. They really got the party going! We had a great time!
---
What a great DJ!
Reviewed on

5/31/2013
Kristen T
These guys were awesome! They played all the music we wanted and were really accommodating! We had a lot of unique and specialized requests and they didn't hesitate to fill each one. They had our entire wedding dancing late into the night. I would recommend 808 DJs to anyone looking to get married on Oahu. They are professional and a great value. The photo booth was a great addition as well.
---
Don't listen to you!!! But photo-booth is great
Reviewed on

5/04/2013
Alison W
They got 1 star because as part of our package deal we got a photobooth and lighting: and those parts were great. Everything else was not. First off, they are awful about returning emails. Then when they do, they are wrong about everything! I kept getting emails from a lady named Jessica about stuff that I had confirmed via email with Bud months ago. It was really frustrating. I met with Bud a week before the wedding (by the way you have to contact them - they will not initiate contact) and after talking to him sent an updated email about everything we had talked about. Well, they never updated their files with this information. They had the wrong order for our wedding, didn't have our exit song, AND cut off my father-daughter dance at 2 minutes when I had asked them to fade it out at 3. WORST OF ALL,my friend had used them for her wedding 2 months before mine,and THEY MENTIONED MY FRIEND and HER HUSBAND'S NAMES MORE THAN MINE AND MY HUSBAND!!!Also, they kept talking about my friend's wedding as if everyone at my wedding had been there (only me and my friend had). It was rude, insulting, totally inappropriate, and made me cry! It was supposed to be my day, not my friends again. In addition, my biggest thing for our DJ was that I did not want a dance party wedding (like my friend had). But I made the mistake of telling him that if he wanted to he could play songs that were not on our list. I didn't think that he would take that to mean don't play anything on our list. I had 4 people go up and ask him to play my music that night, he played one song. I WENT UP AND ASKED HIM TO PLAY MY MUSIC, he played 2 more songs all night. It really made me sad and hurt that they didn't pay attention to what I wanted at all, and that they kept mentioning my friend and her husband. AS a warning: after I wrote this review I received an email at my personal email stating that I didn't tell the truth in this review, and was "very difficult to work with." I do not think that is professional of them at all, and if anything shows they do not care about making their customers happy.
---
Great DJ/MC Service
Reviewed on

3/15/2013
Abigail B
We hired a DJ and an MC from 808 DJ's, and they were fantastic. We met with our MC Kuldip a week before the wedding and he was really really nice. Turns out he is a fantastic MC too! On the night of the wedding we had Bud, Kuldip, and a kid who was training to be an MC. When we got the dance floor going, Kuldip and the other guy (can't remember his name!) looked like they were having as much fun as our guests all night! We had so many compliments from our guests! Only bummer was they didn't play many of the songs we wanted during dancing (we wanted to play "earth angel" and "johnny b good" from back to the future), and they did play a few songs from our "do not play" list, which wasn't cool. But I'd like to say it was because they had a full dance floor all night and they just got caught up in how great it was going and didn't want to slow anything down. On a better note, they did play all the songs we wanted played during dinner. Overall, Bud promised a great evening, and that is what we got! All our guests had so much fun dancing!
---
Great DJ and value!
Reviewed on

10/17/2012
Joe T
Bud from 808Dj's was a great DJ at our wedding. We had a last minute special performance dance and he had no issues accommodating us. He played all of our requested songs and mixed other songs very well! Great value and package!
---
Great Value
Reviewed on

10/16/2012
Christopher J
My husband and I had a very specific idea regarding the look and feel of our wedding reception. We also paid for our own wedding and had a tight budget for music/entertainment. 808 DJs provided a great value for the price we paid. Our DJ Ray was very flexible. We were going to provide a USB drive with specific music we wanted, however the USB drive was forgotten. Ray worked with us to find alternatives. Thank goodness for iTunes store and Youtube. We also had a projected monogram which looked beautiful. My only two critiques are… There seems to be some communication break down in the 808 DJs office as there were times that responses were slow and information I sent seemed to have either gotten lost or not relayed. My second critique is I wish the monogram had been projected the entire ceremony not just during the dancing. All in all my husband and I were very happy with Ray and 808 DJs. They helped make our night memorable.
---
Great Music!!!!
Reviewed on

8/05/2012
Mallory D
BOOK THIS DJ!!! My Husband and I got married on June 29, 2012, and realized something important in the planning process... even with how expensive things get, there are things you shouldn't settle for and your Dj is one of them. The DJ is so important for the flow and liveliness of the reception and really, all the hard work is over and this is the time to relax and celebrate with your loved ones! Thats exactly what you will get with 808 DJs! Bud was the DJ for our wedding and couldn't have been easier to work with. Bud pays attention and really make it "your event". He is as involved in your reception as you ask him to be, but also as the night goes on, he is as involved as need to be. Him and his MC keep right on schedule with the timelines of events in your reception. Bud is just knowledgable, really fun and easily to work with. It's so obvious how much he enjoys what he does, which is really important to book someone like that. I can't express to you enough how happy my husband and I was with choosing 808 DJs!!!
---
Total nightmare!
Reviewed on

6/28/2012
Anela A
I would give this company a negative rating if I could, but 1 star is the lowest you can go. I had a feeling 808 DJs were going to be a problem when the week before our wedding we attempted to schedule an appointment with our DJ to finalize the song list had to call back repeatedly before finally hearing from him. Then, on the morning of our wedding, the owner, Bud, called my husband to tell him that he could not get a hold of our DJ and was trying to find a replacement. Then when he did find another DJ, he did not have a copy of the song list we had given them. He then proceeded to argue with my wedding planner about what type of music we should be playing and with the fill-in DJ about how he was to blame for not having the right music. We ended up hooking up a friendʻs iPhone for music during brunch! Luckily, my husband and wedding planner kept all of this from me until after the reception was done, but I would NEVER recommend this company to anyone!
---
An alllright vendor
Reviewed on

6/20/2012
Rayna T
We went with 808 DJs because they had the best prices. They played the right songs according to our playlist but ustomer service was poor. They often either didn't respond to emails or responded like a week later. Three things went wrong with the DJ on the day of. 1) We ordered a monogram to be lighted on the ceiling or wall, but instead it was projected on a regular screen. It was not worth to pay $200 for a monogram that would be projected on a screen, which we could've done for free on the computer. 2)We were waiting for the DJ to start our entrance music before we started walking but he never played it. So we just started our entrance and by the time he actually played the song, we were half way to our seats. 3) Our wedding party had to move from the stage to see the screen for the slideshow. While we were getting situated, the DJ already started the slideshow so we all missed the first minute.
---
Awesome music selection
Reviewed on

4/23/2012
Hiwalani B
My DJ kept the party pumping, but was disappointed to hear only some of the songs that I requested. Oh well. My guests still had an awesome time dancing the night away.
---
Can't complain, but....
Reviewed on

9/19/2011
Alicia H
At first, I thought 808 DJs was a very good deal. However, two weeks to the wedding, we were informed that we should make our own song list and mail the final payment before the wedding. We were intially told that we could just have genres and the DJ would make a playlist for us. Why should we pay a DJ so much money to play what we told him to play? Why not just plug an iPod into speakers? Not too sure about this... The DJ we were talking to the entire year of planning was NOT the DJ we had at our wedding. Why not? This was not explained to us. I guess if you really know what you want to play at what times, this could be the DJ for you. I think they're a little overpriced for what they provided. As for the payment... the woman who worked the office explained that previous clients did not pay on time or had bounced checks, so they couldn't risk having that happen with our wedding. So, mistrust on behalf of the DJ carried over to our mistrust of them.... We paid about $600 for 4 hours, no MC. Is this overpaying? Yes, when you think that we could've paid $200 for the same music minus the standard DJ lights. Can't complain, but then again, why should we? We did all the leg work for them.
---
awesome deal
Reviewed on

8/18/2011
CHRISTINA H
My husband and I paid for our wedding, so we had a tight budget, but wanted specific things for our reception. Bud was able to deliver exactly what we wanted for exactly what we wanted to pay. He even threw in a bonus product for no additonal charge. He was professional and fun, and our reception was a blast.
---
Awesome DJ/MC!!!
Reviewed on

3/10/2011
Lisa D
We are so happy we chose to go with 808 DJs. Carlos was excellent! During the planning process, he kept in touch to make sure everything was squared away. During the reception, he made sure everything ran smoothly and kept the guests entertained! He listened to everyone's requests and kept the party going!
---
DJ
Reviewed on

8/09/2010
Katrina R
Great rates.
---
Send Message