Home

A Beautiful Affair Of The Heart
Details
Civil Union, Interfaith Ceremony, Non-Religious Ceremony, Religious Ceremony
Buddhist, Catholic, Christian, Interfaith, Jewish, Muslim
Contact Info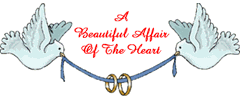 Excellent Service
Reviewed on

10/11/2013
Ivana T
Louis put me in contact with Reverend Bill Bloom and we had a wonderful time planning our ceremony with him. Reverend Bill is kind, sweet, and very easy to work with. We meet with him several times in the months leading up to the wedding and he crafted a ceremony that was... Read More uniquely tailored to our personalities. He also said the blessing before the meal was served. We were very happy with his service. Outside of working with Rev Bill, we really didn't interact with Beautiful Affair staff, which was fine since Rev Bill handled everything.
---
Perfect Officiant!
Reviewed on

7/14/2013
Marie M
My husband and I used A Beautiful Affair of the Heart for our ceremony. We were not getting married in a church, but instead at the country club where our reception was being held. I found them online and requested some information and the next morning I heard back from them. We... Read More were given Rev. Larry Hall. He made everything so simple and stress-free, from the marriage license filing to the outline of the ceremony. The first we met him was at a Barnes and Noble and we talked generally about what we had in mind. He then emailed a sample ceremony over to us and we were able to pick and choose what we wanted and did not want. We then sent it back to him so that he could run through it and time it. We were looking for our ceremony to run between 10-15 minutes, and that's exactly what we got! We had everything in there that we wanted and the length was perfect! We had numerous family members comment on how professional and well-spoken Rev. Larry Hall was. Ryan and I would definitely recommend him and A Beautiful Affair of the Heart! Thank you Rev. Larry Hall! - Marie and Ryan Gamble
---
GREAT
Reviewed on

7/11/2013
Trisha T
Fantastic! We never met, but we worked through emails. Ceremony was great -- go rave reviews from guests! Very professional!
---
Richard Binder
Reviewed on

9/17/2012
Kristen G
We worked with Richard Binder, who is freelance but was contracted to us through A Beautiful Affair of the Heart. He is non-denominational. We do not believe in religion and did not want any mention of god in our ceremony, and he was very understanding and perfectly okay with... Read More giving us what we wanted. When we met him he gave us various options for each piece of the ceremony and let us choose which we liked best. We could have also had our own wording, but he had great options so we stuck with those. He emailed us a copy of the ceremony to approve, which we really appreciated. The day of the wedding was great, he delivered flawlessly!
---
a must have vendor!
Reviewed on

7/27/2012
ashley o
Rev. Larry helped us prepare such a beautiful ceremony and he executed it beautifully also. He also guided us how to get a marriage license and always responded to e-mails in a timely fashion. Thanks to Rev. Larry our ceremony was perfect!
---
A dream come true
Reviewed on

1/19/2012
Attayah A
We did not have an officiant for our new year's day wedding until the WEDNESDAY BEFORE our wedding, but Rev. Bill Bloom was a dream come true. We wanted an African American male interfaith minister, and we got him for our Muslim-Christian interfaith ceremony. It was truly a... Read More pleasure to work with him.
---
Officiant
Reviewed on

10/03/2011
Zakiyyah S
Michael Barlow, from A Beautiful Affair of the Heart, officiated my wedding. I was able to pre-select the wording for my ceremony and he was able to deliver it with some style, class and poise.
---
No regrets at all
Reviewed on

11/01/2010
Jacqueline T
A Beautiful Affair of the Heart was amazing to work with from the beginning. There are a lot of things to stress about when planning a wedding but for me, this was not one of them. They make it so convenient to pay right online and even add a personal touch with the booklet that... Read More they email. We used that to develop a beautiful ceremony which we received many compliments about. Our Rev. (Rev. Larry) was incredible to work with - very responsive, reassuring and accommodating. We are so happy we chose to work with a Beautiful Affair of the Heart.
---
Perfect
Reviewed on

10/19/2010
Samantha B
We were able to customize our ceremony to be unique to us. Father Greg was great. We wouldn't have wanted anyone else. It was easy, and convenient.
---
Mr. Tony Hash
Reviewed on

8/09/2010
Rachel L
I used Tony Hash and he was wonderful. He was very funny and made me feel very comfortable.
---