Home

A Beautiful Day By Christina
About this Vendor
Celebrating Your Love Story
Your ceremony is the heart and soul of your wedding day. It is the part that makes you husband and wife. Let's create a heartfelt and romantic ceremony that you will remember and cherish forever.  I am committed to creating a ceremony that incorporates your beliefs and values and we will work with you in creating something infused with love and joy and most of all - uniquely yours. You may also choose from a selection of add-on ceremonies like the Unity Candle, Ring Warming Ceremony, Remembrances, Mother's  Rose Presentation and many more. I am honored to be the one to start you on your journey as husband and wife. From the bottom of my heart, thank you for stopping by and for learning about A Beautiful Day by Christina. I hope to connect with you soon .
Details
Civil Union, Elopement, Interfaith Ceremony, Non-Religious Ceremony, Religious Ceremony, Second Wedding , Vow Renewal Ceremony
Nondenominational, Christian, Jewish, Secular, Spiritual
Contact Info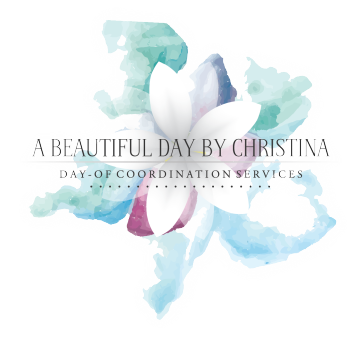 Reviewed on

12/18/2017
Barry B
Christina was a blessing in every way!! She helped with customizing a service that was focused around my wife's mother. Her health is fading and we put this wedding together so she could see her only daughter get married before things will get worse. Christina was so caring and... Read More loving in suggesting the "Last Kiss" portion of the service. This was the most memorable moment of the day!! We didn't have time for much of a rehearsal but Christina was wonderful and patient as she guided us perfectly through the ceremony. My wife and I cannot say enough about how Christina made a somewhat chaotic event into a wonderful and memorable day our family will never forget. We are forever grateful!
---
Reviewed on

12/07/2017
Amanda S
Christina was amazing throughout the entire process of preparing for our wedding! She formatted personalized vows for my husband and I were perfect and was there for us when we had any questions. On the day of our wedding she met with both us of before the ceremony and gave us... Read More the reassurance and guidance that we needed. Our ceremony was perfect and we really enjoyed Christina being there! We definitely recommend Christina for your upcoming wedding day!!
---
Reviewed on

8/16/2016
Amanda I
Christina did a wonderful job at our wedding! She did a quick rehearsal with us prior to the wedding and was very patient despite dealing with our crazy distracted group! She performed our ceremony with our custom written vows we provided to her. I would recommend her to... Read More anyone!
---
Reviewed on

6/11/2016
Christina was awesome!! I will be recommending her to everyone I come in contact with that will be getting married in the future! She made our wedding beautiful and intimate.
---
Great service
Reviewed on

1/15/2016
Emily C
Christina was very helpful! She is so personable. She is great at communicating with me, whether it's email, text or calling. She has helpful advice that can cater to your wedding beautifully. She does not just work with her brain; she works with her heart as well! She takes... Read More care of all the details for you and wants to be sure you are getting taken care of. Highly recommend!
---
Experience, value, peace of mind
Reviewed on

1/12/2016
Christina made sure my daughter's wedding day was a beautiful experience for everyone. From the early planning stages she made herself available by phone, email, and direct meetings. She provided realistic advice and opinions when asked, and I really appreciate this about her.... Read More She didn't just throw sunshine and daisies our way, she really delivered. She went out of her way to make sure we were happy with all aspects of the event. On the Big Day, she stayed until the very last detail was completed. Her services were worth every cent.
---
Day of Coordination
Reviewed on

10/08/2015
A'Vauntae R
Christina and Susan were fun to work with! They responded to my questions and needs in a very reasonable time frame. They are very professional and tried to make sure that I was stress free.
---
July 2015 wedding on Anna Maria Island
Reviewed on

7/30/2015
Christina was so helpful and took care of every detail. We had never been to Anna Maria and she gave us excellent recommendations for local vendors. I was nervous not being able to meet the vendors, but each one that we worked with provided excellent service. Our initial choice... Read More of photographer was not able to photograph our wedding. Christina arranged for a photographer on short notice and we were so pleased with her work. She also had a backup officiant on-call when ours was injured the morning of the wedding. Christina clearly has a relationship with the local vendors and takes care of every thing needed. We were so thrilled with how our wedding was stress free and perfect for us and our family. Cheryl and Eric
---
Turned stress into ease!
Reviewed on

1/24/2015
Great team - made my day come together just as I imagined. The team is very flexible and adapt to any challenge that may arrive!
---
Great service!!!!
Reviewed on

12/04/2013
Amy T
Christina was our wedding planner for 3/2/13 and I am so glad we chose her! Christina was very helpful and offered great advice that relieved a lot of our stresses. Christina was very easy to communicate with as well as very responsive. She met with us several times even when... Read More she lived at least 45 minutes away. On our wedding day, I was almost stress free. She took care of all details of the wedding and all I did was enjoyed being a bride. She took care of all communications with our vendors and made sure everyone was on time and up to par on the day. Christina, I have told you many times but I still wanted to thank you again for helping us with our wedding. Not only are you affordable for all the work that you put in, but you are very organized and contributed so much to our big day. Again, thank you so much and I would recommended her service to any bride who wants an almost stress free wedding day. Wedding: 03/02/2013
---
Just what we wanted
Reviewed on

11/17/2013
Shaylin G
Christina was wonderful to work with. She was always available by phone or email when needed. Christina was willing to meet me and my mother before my wedding to go over details and arrangements. (We flew in to see location and set up appointments). Everything was wonderful... Read More regarding the wedding, except the wind. :)
---
April 17, 2010 Wedding
Reviewed on

10/24/2013
Nancy J
Our wedding was on April 17, 2010 at the Tradewinds Resort and we hired Christina early on to help us with all of the planning. That was the smartest move we made. She was wonderful right from the beginning and was there for us every step of the way all the way to the end of the... Read More reception. She went with us to help pick out flowers and decide on cakes but she never tried to sway us, she just sat with us, gave suggestions and helped us remember to ask the right questions of the vendors. We received so many compliments on our ceremony and reception and I told everyone that it was all because of Christina. We loved her!!
---
Amazing Planner
Reviewed on

10/20/2013
Christina Mathews, was amazing!!! Not only did she have to deal with my wife's and I's schedule and non communication due to our jobs, she had to put this together in just a few months. She also had to deal with a very difficult location and lighting situation. She was with us... Read More every step of the way, from the cake to the location, she is a one stop shop. She has great contacts within her network and was able to get everything we needed. The night was beautiful and most of all she made my wife and family so happy! Thanks Christina!!!! Chris & Rosy
---
Wedding review
Reviewed on

9/24/2013
amy f
Christina was amazing...I can't say enough about the services she provided for us. I'm a last minute person and really didn't want to do a wedding and wouldn't have if it hadn't been for my husband's daughter. I contacted Christina about a month before the planned date and she... Read More was able to arrange everything. I just found what I wanted online and sent her pictures of everything and she was able to make it happen. We used her to find the location of the wedding, hair and makeup, cake, flowers and pastor. She did all the work at very reasonable rate, she is worth so much more than what she charges! I would definitely recommend her to anyone looking to get married in the St. Pete/Tampa area...she is simply wonderful!!! Wedding: 07/02/2013
---
Our Florida Wedding by Christina
Reviewed on

9/24/2013
Coming from the UK where wedding 'planners' are not the norm, I cannot begin to describe how much of a difference Christina made to the planning and preparation of our beach wedding on Anna Maria Island. We wanted something fairly low key, as it is a second marriage for both of... Read More us, and it was an absolutely perfect day. Christina organized EVERYTHING, even down to her choosing the flowers for my bouquet (by my request), and they were beautiful! She made the whole process painless, and completely effortless on our part... I found Christina to be prompt with her responses (mostly conducted via email), and extremely helpful. She provided us with contacts for flowers, wedding cakes, and hair and make-up, which trying to organize this from 4,500 miles away is no mean feat, but I instantly trusted Christina to make our day wonderful, and it was, and she did. If you are from the UK, and are thinking of coming to the US to get married, don't hesitate to contact Christina, the whole process is a piece of cake, and would thoroughly and utterly recommend it! It was fabulous, as was Christina!!! Neil & Paula. London, England.
---