Home

A Catered Affair
Details
American, Italian, Latin American, Seafood
Contact Info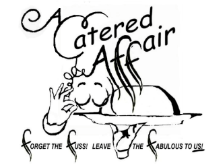 Reviewed on

12/08/2017
Haley B
Hired Catered Affair for my wedding and honestly put a damper on the day and caused unnecessary stress. Can't express the disappointment in the business. Apparently pride themselves on never running out of food or anything and yet they had to send my dad out (THE FATHER OF THE... Read More BRIDE ON HIS DAUGHTER'S WEDDING DAY) to get chips and other food because they ran out so fast. They claimed people ate too much and we allowed the DJ and others to eat...? Yet while planning my Dad mentioned rounding up for the food because he didn't want to underestimate and apparently the two owners told him that would not be a concern as they never run out of food. My dad ended up missing my first dance with my husband AND almost missed the father daughter dance because he was out buying more food. Probably would have laughed it off, IF they hadn't ran out of the only drinks they needed to provide and hadn't called my dad THREE times to turn around while out getting things because they kept needing more things. The servers were pretty nice, however they seemed like it was no big deal that they were so unprepared for a pretty big day for someone. The owners offered to make it right by attempting to give a little bit back as a refund, but never followed through. Would not recommend this business to anyone. *Also after posting this review on FB, The Owner messaged me threatening to sue me for a public review
---
Reviewed on

10/26/2017
Colton S
These guys are the preferred caterer for The Centennial Barn, they're on site and had so many wonderful options at reasonable prices. Absolutely delicious! My favorite was the salad with the soft goat cheese!
---
Reviewed on

8/21/2017
Renee S
We chose this vendor after our first meeting. They accommodated our tasting request with only 2 days notice. We were thrilled with the menu selection as well as the incredibly affordable pricing. They also offered us an additional discount for making a larger downpayment when... Read More booking, which was a nice savings for us up front. One of the main reasons we selected this vendor was their willingness to be so flexible due to one of the people in our bridal party that has severe food allergies. When we considered booking, they assured us that they would be able to accommodate her special dietary needs, but when we went to provide our final head-count and menu, they indicated they couldn't accommodate her needs after all. They were just too severe for them to handle. This was unfortunate and we weren't happy about it, but everything else had gone so well, we opted to select a few alternative options for her. We went back to John and asked if we could get her a separate meal, with just a plain chicken breast, plain baked potato, and a fruit up for dessert. John indicated that they would be able to accommodate that. We followed up on separate occasions prior to the wedding date and they indicated each time that they had the special meal noted and that it would be there with no issue When the dinner portion of the evening began, our bridesmaid asked them for her special meal. The main caterer had no idea what she was talking about. He immediately came over to me to confirm and we indicated we had been told it would be provided with no problem. He called the main office and they told him that they had failed to provide the meal. I was incredibly unhappy when I heard this. He did go the extra mile though to find out there were several things on our buffet that she could eat without issue. So, while she was still able to have a meal (with no dessert because the fruit wasn't provided), it wasn't the meal they had promised times prior. Other than that, the food was delicious. We received rave reviews all night long about how good the food was. Many people went back for more than serving. I was thrilled with their prices and the quality of the food, but the special meal not being provided was a definite issue for me. It didn't ruin the evening and I would still recommend their services. The food really was exceptional and their prices are excellent!! I would just say that if you had a special need for a meal, you may want to provide that yourself instead of relying on the vendor.
---
Reviewed on

7/24/2017
leather l
wonderful service. they created a menu we liked & did a meal for taste testing. worked with us to make it affordable for our budget but the best was day of event. They arrived early & were all ready to go. everything was in place & served perfectly plus we had a bartender help... Read More with bar service. Very polite & efficient staff. could not have been more pleased with the process from beginning to end. will use again without hesitation
---
Reviewed on

4/23/2017
Stacey C
John at A catered Affair was flawless with being reliable and returning every singe email and call I sent out. The delivery and set up was amazing and the food was delicious. We got compliments all night about how good our food was! Thank you!
---