Home

A DJ With Class Inc.
About this Vendor
Creating Fun Weddings Of Elegance & Style!!
Offering unique and creative ideas for weddings of Elegance & Style.Your wedding should be Memorable & Fun while reflecting your taste and style. You customize we personalize! Let us help you plan the perfect wedding! Call today to see if your date is available!!
Details
Classical, Country, Disco, Folk, Hip-Hop, Jazz, Pop, R&B, Rock, Latin
MC Services, Recorded Music, Sound Equipment
Contact Info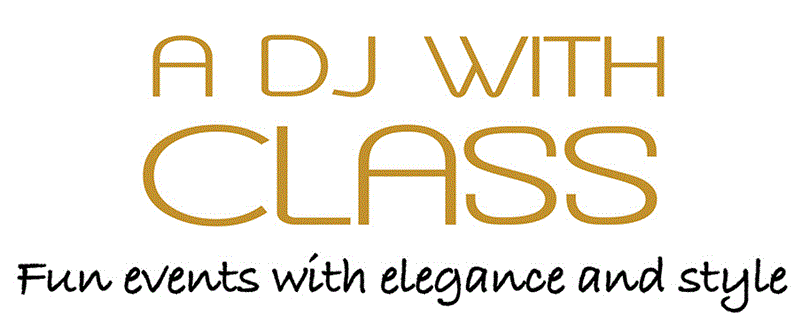 Award Winning DJ Entertainment, Bonita Springs, FL
Naples, Ft Myers,Marco Island, Sanibel Island and surrounding areas
AMAZING!
Reviewed on

5/04/2015
camilla f
A Dj With Class is a must have at your wedding!! He did an amazing job!! SO SO SO impressed with Jim! All of my guests were on the dance floor the entire night and raved about how great of a job he did!!! A Dj With Class is a MUST have at any event!!
---
So much fun
Reviewed on

11/25/2013
Miki N
Jim was great. I felt like I had another wedding planner. He helped set the timeline. He advised us that if we wanted a high energetic wedding then we better be out on the dance floor the entire time. He was entirely correct. Everyone had so much fun. My guests advised that this was the best reception they have been too. My Aunt loved the fact that he played old school music for them and my friends loved the music selection for them. He blended them in a fun way that everyone enjoyed themselves!
---
BEST DJ HANDS DOWN
Reviewed on

10/22/2013
My husband and I are from Michigan, and just recently got married in Naples on the beach. Jim was recommended to us through our wedding planner, and I have to say, he was worth every penny, and every amazing moment during our reception. We had a small wedding of only 16 people, and my husband and I were very concerned about how the atmosphere would be during the entire time. Needless to say, we had the best night of our lives. Everyone there was engaged and having a great time, and our guests said that he was even amazing. If we were to have any services down in Florida again, Jim will be hearing from us again, and having the time of our lives!!!! Jim was amazing in every single way, and worth everything!!!!!!!
---
Reviewed on

6/29/2015
Jen K
I really cannot say enough about Jim and how great he was through the entire process of planning my wedding. He was very professional, very kind, very responsive and the biggest help out of anyone involved in planning my wedding. He was honest and gave great, valuable input when asked. My guests could not have had such an amazing time, if not for Jim. He knew what they wanted to hear and how to keep everyone on the dance floor the entire time. There was not one person sitting! Jim went above and beyond and thing I imagined a DJ would do and I'm not so sure my day would have been so great if he were not apart of it. Thank you SO much Jim for everything. Keeler/ Jayne
---
Jim is the Best of the Best
Reviewed on

6/09/2015
Jacqueline E
Jim was phenomenal. He was extremely professional, courteous, interactive, fun, and so helpful. He helped with things that weren't even within the traditional role of a DJ. No request was too small and no detail was overlooked. His experience really showed by how well the wedding went and how much fun my guests had. I would absolutely recommend him to anyone and everyone. He coordinated with the other vendors in a way that complemented everything about the wedding, which helped us enjoy our day even more. My husband and I had a blast, and all of our guests told us how happy much fun they had and kept saying how amazing Jim was.
---
Great DJ
Reviewed on

6/08/2015
Kelsey B
Jim did an amazing job at our wedding reception. We had an older crowd so it was super important for us to have a good variety of hits. Jim nailed it! We rocked out all night & people were thrilled with all of the music that was played.
---
Jim is the best!
Reviewed on

5/18/2015
Jessica B
Jim was fantastic to work with and definitely delivered! His planning website was wonderful and easy to use, it made the process so much easier.
---
AMAZING JOB!
Reviewed on

4/26/2015
Sara A
Jim did a beyond amazing job at our wedding. We are from Wisconsin and had our wedding in Florida and he made sure he made it as simple and stress free for us as possible! He went above and beyond to make sure our day was PERFECT from the ceremony till the end of the reception! I would recommend A DJ with class to anyone!!! THANKS for the great work with making our day so special and our guests have a BLAST!
---
Highly Recommend
Reviewed on

4/02/2015
Jim was the best wedding DJ that we could have hired. All our guest raved about how fun and entertaing the reception was. The dance floor was packed the entire time and the music selection was perfect for our guests. Jim is by far the best DJ in southwest Florida!
---
Wedding DJ
Reviewed on

2/18/2015
Nicole C
We had planned to save money by not having a DJ for our son's wedding until we started to try and figure out logistics for the beach ceremony and the reception. And then, when we were also reminded that "the music makes the wedding" we decided we had better contact someone with expertise. We were so lucky to have the Casa Ybel Resort on Sanibel Island, Fl recommend A DJ with Class. Jim was such a joy to work with and provided great guidance in planning the entire flow of the event. He helped with the flow of the evening and made great recommendations for the playlist. Although he handed over the reins to James and Mark, they were also easy to work with and knew exactly what had been planned. They played a great variety of songs and the dance floor was never empty. They helped make it a night for the bride and groom to remember forever. Hands down, they were one of the best decisions we made for the wedding. It was an overall great experience and we are very thankful we chose them to be a part of such a special day.
---
Couldn't ask for a better DJ
Reviewed on

2/10/2015
Jennifer O
When my husband and I started to look for a DJ we had an idea what we wanted but little did we know how much more we were going to get with Jim. Dj Jim was the first one we met with, and pretty much knew he was the one we wanted. He made us feel so comfortable and really seemed to understand us and what we wanted for our special day. Jim was extremely helpful in every step of the process, we never felt uneasy or worried that when it came to our wedding day that it would go off without a hitch and we couldn't be more pleased with how efficient and crafted he truly is at what he does! Thank you Jim for everything, you were such a huge part into making our wedding as special and beautiful as it was!!
---
Professional & Fun DJ
Reviewed on

1/18/2015
Lindsay S
Jim helped plan the details from the ceremony breakdown to the reception activities. Tom and Carole made sure all the guests had fun and that the event went off without a hitch. Loved A DJ with Class and the guests loved them too!
---
Best decision a bride can make :)
Reviewed on

1/01/2015
Alexandra S
Jim from A DJ With Class was such a joy to work with. He made sure that our wedding was as much a priority to him as it was to us and it was obvious on the day of our wedding that all of his hard work and professional planning paid off. Jim exceeded our expectations in more ways than one. From his visits to Marco Island to see our venue, to the information & contacts he provided us with for other vendors such as linens, draping, etc, to the various texts, emails, and phone calls; A DJ With Class covered every detail and never ceased to amaze. We truly believe that our special day would not have been half of what it was without Jim and his amazing team. I would recommend A DJ With Class to any and all couples planning their wedding and/or big event. Hands down, the best decision we made to our start our new life together as Mr. and Mrs. Thank you Jim! Love, Alexandra & Salvatore Iannotta
---
Perfect!
Reviewed on

12/22/2014
Brianna H
Mark did an amazing job at our wedding! I think nervousness comes with the wedding but he did a great job at letting us know what was next and how much time we had and so on. He made everything go smoothly and I was not stressed at all! When he played a group dance song none of us were sure how to do - he jumped right into the middle of the dance floor and taught us! I couldn't have asked for a better DJ for our wedding!
---
A DJ with Class did a phenomenal job at our wedding!
Reviewed on

10/30/2014
Savanna C
A DJ with Class was an amazing wedding DJ. They were so helpful throughout the entire planning process and walked us step by step through the entire day to make sure every minute detail was in place. I would say Jim Dalia is a DJ and a wedding planner. He created a timeline for all of the other vendors to follow as well as a list of every song that should be playing for all of the different transitions from before the ceremony to the final exit after the reception. Mark was the DJ who entertained at our wedding and he was amazing. He kept all of the guests engaged and up on their feet the entire night, we even extended the party an extra hour and he stayed without any worries. I would recommend A DJ with Class to any bride out there looking for a DJ or even to any business owners looking for a DJ to entertain at their event. It was an overall great experience and I am very thankful I chose them to be a part of our special day.
---
Highly recommend
Reviewed on

9/16/2014
Amanda S
Jim Dalia was a great DJ. From start to finish he made sure everyone was up and dancing. I highly recommend him. He made an amazing first dance mix for me and my husband. He also had tons of ideas to make the event extra special. I did a voice over for my dad during the daddy daughter dance that I never would have thought to do and surprised my dad. He also was very patient with all my bridezilla moments :)
---
DJ Jim will put your mind at ease.
Reviewed on

9/10/2014
Jim was a God send. He managed the schedule of our wedding and reception and kept things on time. He was a comfort to work with, was very patient and kind with all of my questions and concerns and made the whole process much easier. I highly, highly recommend him.
---
A Dj with Class
Reviewed on

8/24/2014
Jim, Thank you so much for all you did to make my wedding ceremony with Jeannie so memorable! She & I both thought the event went well beyond our expectations and all the feed-back from our guests was universally positive, many saying it was the most enjoyable wedding they had ever been to. You accomplished exactly what I hoped you would. You kept the evening moving efficiently. Jeannie & I were especially impressed with how you controlled the sequencing of the guests through the buffet line. This was a detail we never even considered; you just made it happen!!! The music was fabulous, you read the "crowd" & got virtually all involved on the dance floor! The evening is one we will never forget! Our only regret is not having a Videographer! Heartfelt thanks to you Jim....you truly are A Dj with Class!!!!!
---
Simply the Best!
Reviewed on

8/03/2014
Tessa M
We got married in July 2014 and hired A DJ with Class for our wedding reception. It is very hard to put into words the exceptional service and performance from Jim. He made our party unforgettable. The detail and quality of his work is very hard to beat. Jim took the time to make our day fun, memorable and unique. He had our guests engaged all night long and the party was always rockin. He is very creative and has so many great ideas to make your day just the way you would like it. Jim is extremely professional and very detailed from his appearance to creating a timeline for all vendors. Our guests are still talking about how much fun they had. Having Jim was the best decision we made by far...he is simply the best!
---
Awesome DJ!
Reviewed on

7/30/2014
Christine T
Jim did a fabulous job! Even though my wedding was smaller (40 people), it never felt like it as Jim made sure everyone was having fun all night. People are still telling me what a great time they had. I would highly recommend him. We also got the uplighting from him, which was beautiful!
---
Entertainment at its best!
Reviewed on

7/15/2014
Alanna C
Wow! I cannot say anything, but positive comments about our amazing DJ services!! I spoke with Jim personally to begin with and knew I had made the right call! He got me excited for my wedding! The online planning system is so convenient! You choose all of your own music and detail which song belongs where! If you have any questions or need some help Jim is extremely helpful! Towards the middle and end of our planning process we started talking with our specific event DJs Tom and Carol. They were beyond amazing!! They really get to know you and your style- We were so lucky to have the best entertainment due to Jim, Tom, & Carol from A DJ With Class! Thank you so much for being a part of our big day! If you want the best of the best and really great people to DJ your wedding, then you came to the right place!!
---
Awesome DJ!
Reviewed on

6/09/2014
Lily L
Jim is amazing, and we are so, so happy that he was a part of our wedding. Definitely one of the best decisions we made. Jim helped us with both the ceremony and reception, and his attention to detail and advice were invaluable. Everything went smoothly because of him! All our guests had a great time, and we received so many compliments that our wedding was one of the most fun/entertaining that they had been to. Would absolutely choose Jim again, and definitely recommend him to anyone planning a Naples area wedding!!
---
Best DJ in Naples
Reviewed on

5/27/2014
Jennifer B
Jim was amazing! He sat down with us to get an idea of who we are and what our tastes were in the beginning of our planning stage. He set us up with an awesome website where we could control and plan out our music choices! He had great communication with us and always respond promptly. He helped to create an amazing ceremony which no one will ever forget! You can tell that he put in a lot of time and effort into planning out our wedding songs and making sure it was just right! He worked wonderfully with all of our guests and made sure to incorporate everyones tastes to get everyone dancing. He succeeded in making the atmosphere fun and beautiful and getting everyone involved! He provided us with an uplighting that transformed the room! I believe Jim is hands down the best DJ in Naples!
---
Highly Recommended
Reviewed on

2/21/2014
Shauna G
We could not be happier with our choice to use A DJ With Class for our wedding at Heritage Bay Country Club. We booked Mark for our wedding, but had the privilege of communicating with Jim leading up to the event. From beginning to end our experience was enjoyable. Both Jim and Mark are a wealth of knowledge and helped us a lot. The online "planning center" was easy to use and a great way for us to select songs and ensure the songs we wanted played, were played at our ceremony, cocktail hour, and reception. We chose to use uplighting in the ballroom, which really made a difference in the ambience. Mark made our wedding absolutely wonderful. He is personable, interacted with our guests, and made the evening one to remember! We continue to receive compliments about how enjoyable our wedding and reception was. This would not have been possible without A DJ With Class. Thank you Jim and Mark!
---
The Most Memorable, Beautiful and Best Entertainment!!!
Reviewed on

12/20/2013
WOW... Jim is an outstanding DJ!! He is amazing at what he does... Not only at playing music, but his attitude, sense of humor, and how he interacted with us and our guests. We and everyone had a great time! The BEST!! We are soooo happy we found him! And the small video he had taken of us and our guests at our reception! That just tops things off. We love it!! You will have the Best and Most Memorable Entertainment Experience with Jim Dalia with A DJ with Class!! Thank you again Jim!!! Love Dawn and Joey December 7, 2013
---
Send Message