Home

A Seattle Wedding
About this Vendor
The Wedding of Your Dreams
Choose the perfect words to make your wedding day the most unforgettable day of your life! Seattle Wedding offers a nonjudgmental, openhearted approach to creating and officiating your wedding ceremony. Bestselling author and minister, Dayna Reid, works with you to design your perfect ceremony.
Details
Civil Union, Commitment Ceremony, Elopement, Interfaith Ceremony, Non-Religious Ceremony, Religious Ceremony, Same Sex Ceremony, Second Wedding , Vow Renewal Ceremony
Christian, Interfaith, Pagan, Secular, Spiritual, Unitarian
Contact Info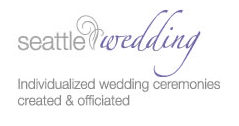 Couldn't have asked for better!
Reviewed on

10/30/2014
Rhiana K
Going into wedding planning, we knew right away that we wanted something that was true to who we are as a couple; so when we found Dayna, we knew we hit the jackpot. She truely customizes your ceremony, listens and finds out about you and then makes great suggestions. I... Read More recommend her book to all my girlfriends when they get engaged (and her contact info!), and our copy (which has all my notes from planning) is saved in our 'Wedding Memories' box. During the ceremony, she is so professional but still makes you feel comfortable and can laugh with. I highly recommend Dayna and we could never thank her enough for the special memories she was a part of.
---
Harvey and Dayna are Amazing!
Reviewed on

10/30/2014
Michelle O
We first met Pastor Harvey and Rev Dayna at the Seattle Wedding Expo. But at Expo's it's impossible to get to know someone, but Harvey and Dayna were very memorable! We contacted Harvey and Dayna to setup a one and one meeting, but we had no idea what we wanted. Dayna has... Read More written a book, which made the process much easier. We were able to choose some passages from the book and personalize it for us. After choosing what we wanted, I feel like we made many changes. But Harvey and Dayna were very patient with us with all of our changes. Harvey presided over our wedding and it was amazing. He really brought the words we chose to life. You can tell that both Harvey and Dayna are both passionate about what they do and you will not be disappointed!
---
Dayna is fantastic
Reviewed on

10/30/2014
My wife and I are not very good at planning, and we were quite lost when it came to having to plan our ceremony. We were very fortunate to find Dayna, who helped us craft a wonderful and moving ceremony that fit our personalities. She met with us in person had us use her very... Read More well-organized book to sort through a number of different options for our ceremony, and even worked with us to make some slight modifications to her recommendations. We read through her book and took our time coming up with a ceremony that worked for us, and this saved us a lot of time and frustration. She was very kind and patient with us, even when one of us didn't have our vows ready until minutes before the ceremony :) The ceremony went better than we could have ever hoped for, and Dayna's delivery as our officiant was beautiful. I still have friends and family members expressing their satisfaction to this day and how they were moved to tears by the ceremony. I could not recommend Dayna enough, she is a wonderful person to work with and the whole process felt very organized.
---
Reviewed on

2/19/2017
Robert K
Dayna did a wonderful job at our wedding ceremony. She is is very professional, kind and thoughtful. It was such a pleasure having her officiate our wedding.
---
Reviewed on

8/28/2016
Shelah M
We found Dayna through The Knot and met with her in person before deciding to continue with her. She was very prompt to respond to our initial contact by email, and took her time talking with us at our first meeting. We were surprised and relieved when she even gave us her own... Read More book providing tons of excerpts and examples for what to include in our ceremony no matter what kind of couple you are. She also gave feedback on our choices for what sections to include in our wedding, and even offered to proof our self-written vows. Unfortunately, we found out at the rehearsal that Dayna had been admitted to the hospital. Thankfully, we learned about this face-to-face from Reverend Mindi Welton-Mitchell, who filled in wonderfully. We would have loved to continue with Dayna, but understood the circumstance and were just as pleased with Mindi. She was timely, professional, and extremely organized with making sure that our rehearsal and ceremony went smoothly.
---
Reviewed on

7/04/2016
Dayna was exactly what we were looking for with an officiant. She personalized our ceremony using our words and guided us in creating the rest of the program. She brought a calm energy that I needed and made the day very special. The ceremony was my favorite part of the day... Read More and was so meaningful.
---
Reviewed on

6/05/2016
Kelly-Ann C
Harvey is A+. We did all of our planning from Las Vegas for our Seattle wedding. He setup very helpful and timely skype sessions to walk us through everything that would go into our ceremony. Dayna's book is also very helpful to determine what we wanted in our ceremony. He... Read More took our ideas and definitely created a memorable ceremony that was fit what we wanted. All of our guests had great praise for his work and leading of our wedding. Thanks again.
---
Reviewed on

9/14/2015
When we first met with prospective wedding officiants, we knew that the person we would choose to marry us would have their work cut out for him/her. Coming from very traditional Catholic families, we needed a ceremony that would be respectful and resonant of the faith in which... Read More we were raised. However, we wanted to have an outdoor, predominantly non-religious ceremony to make our wedding authentic and meaningful for us. To add to the list of requirements, we needed someone who would be a calming presence, skilled at easing family tensions. We needed someone who could command the respect of our guests accustomed to clergy presiding over wedding ceremonies. We needed someone willing to meet with us many times before the wedding to help us plan for not only our wedding, but also our marriage. Thus, we were so fortunate to stumble across Harvey and Dayna's page on the databases of wedding vendor options! After our first introductory meeting with Harvey, we knew he was a perfect fit for us and would help us create a ceremony that was a perfect fit for us too. Before even beginning to write our ceremony, my husband and I went through the "Prepare/Enrich" program with Harvey. Admittedly, we were initially a bit skeptical about assessing our relationship's strengths and weaknesses through an online survey. However, the results we obtained from Prepare/Enrich were fodder for insightful conversations in a few subsequent meetings with Harvey. Additionally, Harvey led us through the "His Needs/Her Needs" exercise, which was equally enlightening for us. We are so glad we spent the time and money to do some pre-marriage counseling with Harvey. Not only did doing so make us feel more prepared to get married, but it also helped us develop a relationship of trust with the person who was going to actually make it happen! Our wedding ceremony was the meaningful, beautiful rite we hoped it would be. Through Dayna's book, Harvey's experience-based insight into what "works" (and doesn't) for wedding ceremonies, and some time spent together writing, we all collaborated on a respectful, reverent, personal, and wonderfully sweet ceremony script. Harvey was hands-off where we needed him to be and extremely helpful when we needed guidance. The most special part of our ceremony was Harvey's "reflection", the one part that we asked Harvey to keep a surprise. Using our responses to questions he and Dayna asked us individually, Harvey put together a beautiful account of our love story that had just about everyone, us included, blinking back happy tears. Harvey was vital to our wedding running flawlessly and being truly meaningful for us. We couldn't recommend him enough.
---
Dayna was wonderful!
Reviewed on

10/31/2014
Catherine N
We were looking for an officiant who would travel to our destination. we got that and so much more. She introduced us to her book Sacred Ceremonies which we used to craft a ceremony that expressed what we wanted to say to each other and our family and friends. She is calm... Read More and supportive as she presides over the ceremony. Dayna encourages those special moments that make the marrying memorable--the laughter the tears--everything planned and unplanned. We received high compliments for our ceremony from family and friends. We highly recommend her!
---
Perfect Ceremony
Reviewed on

10/31/2014
Kim W
Dayna did an amazing job! She met with my now husband and I and worked with us to make our wedding ceremony truly personal and our own. We could not be happier and I would recommend Dayna to anyone.
---
Dayna Rocks!
Reviewed on

10/30/2014
Our wedding was perfect thanks to Dayna. Her book helped us create plan our own ceremony with our own unique twist. Dayna is very professional and will make sure your ceremony goes perfectly. We were lucky to have someone like Dayna there on our special day.
---
Dayna and her book make creating a custom ceremony easy!
Reviewed on

10/30/2014
Wow, it's hard to put into words how awesome our ceremony turned out, thanks to Dayna and her book! During the planning process, her book led the way for us to create a personalized ceremony that really spoke to who we are and what marriage means to us. She was extremely... Read More helpful, both at the rehearsal and at the wedding. She officiated our ceremony and did a wonderful job. I highly recommend her book, as well as her officiating services. Thanks again Dayna!
---
Fantastic!
Reviewed on

10/30/2014
Kayla K
I can't say enough good things about Dayna. She was very open and helpful, and her book was a life saver during the planning process. Our ceremony was short and sweet and absolutely beautiful. I had multiple people come up to me at the reception and tell me that it was the most... Read More beautiful ceremony they had ever been to. We were so pleased with her service. Couldn't be happier. :)
---
Dayna helped us from start to finish
Reviewed on

10/30/2014
Emily M. F
Day a was great. To help us prepare we read her book Sacred Ceremony, which every engaged couple should have on hand when it's time to creating & choosing the special words you'll have read in your Ceremony. So much time and attention go into the venue, menu, the dress, cake &... Read More flowers, etc., Dayna helped us to create the Ceremony quickly and with the wording that fit us. She Showed us many example Ceremonies, the different Ceremony elements you can go with or not, readings/ quotes, and tips on writing your vows. Dayna was thoughtful, professional & pleasant from start to finish. She helped plan & officiated our special ceremony. We couldn't have done it without her! Happily married in a Sacred Ceremony (with Dayna's help).
---
Couldn't have asked for better!
Reviewed on

10/30/2014
Kelly M
Dayna made planning our ceremony easy and fun. Her book is amazing for brides who don't really know where to start when personalizing their ceremony. Her delivery during the wedding was excellent and heartfelt. I couldn't have asked for a more well spoken, professional officiant... Read More to marry us and share in our special day!
---
Dayna is awesome!
Reviewed on

10/30/2014
Rachel R
We found Dayna via the wedding expo, and I'm sure glad we did. The most helpful part about having Dayna as our officiant was the book that she provided for us, that she wrote. It had many different aspects of vows that you could put together to personalize it for your specific... Read More needs. We made it short and sweet, but without that book I would have been lost, as we did not want to write our own vows. Dayna is very professional and helped keep the day organized. She met with us before the wedding a couple times, and was at the rehearsal to make sure it was all going to happen correctly the day-of. Very reasonably priced, and I would recommend Dayna to all of my family and friends!
---
Dayna is amazing!
Reviewed on

7/30/2014
Misty B
Luck was definitely on our side when we found Dayna. She wrote a book that she gave us on our initial meeting which made planning the ceremony personal and easy. She was patient when the wedding party was disorganized at the rehearsal and arrived both days early to ease worry.... Read More Her sense of humor eased the groom when he still didn't have his vows done the night before. She had a smile on her face the entire time and led a beautiful ceremony.
---